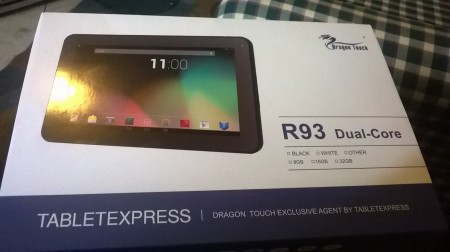 One of the hardest parts of my job as someone who conducts product reviews is being honest. Sometimes that honesty can be pretty easy to express so long as I am enjoying the product that I am reviewing. However, I wish I could say the same about the Dragon Touch R93 Dual-Core Tablet from Tablet Express. Now before I get into the review here is my unboxing of the R93 so you can see exactly what the device comes with.
So let's get down to business. Let me give you the specs of the device as follows:
CPU: RK3026 CORTEX A9 Dual Core 1.2GHZ
OS: Google Android 4.4 Kitkat
Screen Type: 9in 800 x 480 pixels 5 finger multi-touch
Camera: 0.3 Megapixel Front & 3 Megapixel Rear
Wireless Connectivity: WiFi 802.11.b/g/n
So there you have it. One of the first things I noticed when I powered up the device is the screen resolution. The screen seems rather bright well actually a bit too bright and in order to really appreciate the screen or at the very least try to you will need to turn the brightness down quite a bit. That's the problem with this tablet not having a high definition display is that it honestly just looks too pixelated the resolution of 800×480 may be something you can get away with on a 5″ or MAYBE a 7″ screen, but on a 9″ screen it looks far too grainy.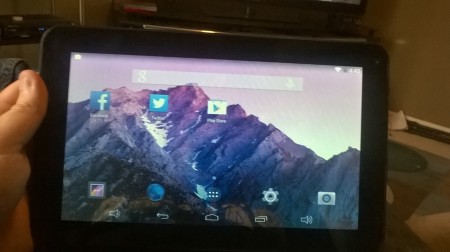 Another thing that I thought was rather odd about this device is that while it does have Android 4.4 and comes pre-loaded with a few Google apps I immediately noticed that it did not come with Google's web browser Chrome already installed on the device. I used the merely titled "Browser" that the tablet comes with and found it to be extremely slow to load pages and maneuver around. I recommend that if you do purchase this device that you install Chrome right off the bat to have a much better browsing experience.
Time to talk about the camera which happens to be quite honestly one of my biggest disappointments about this tablet. The front facing camera is a mere 0.3 MP which is very sub standard and you will notice in the photo of myself below how terrible the photos look. Not to mention when trying to take a photo the display has quite a bit of lag on it as it is not able to keep up with movement. The rear facing camera isn't that much better than it's front facing counterpart at 3 Mega Pixels it still doesn't do any photos real justice at all. I even tried adjusting some of the camera settings and still was not able to find a shot that I was really pleased with.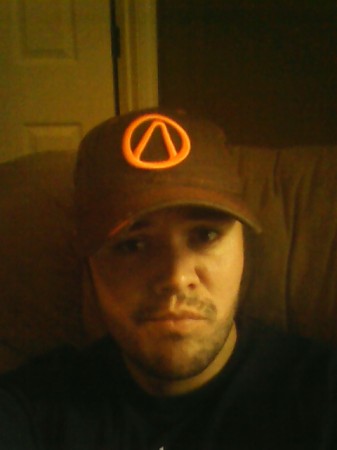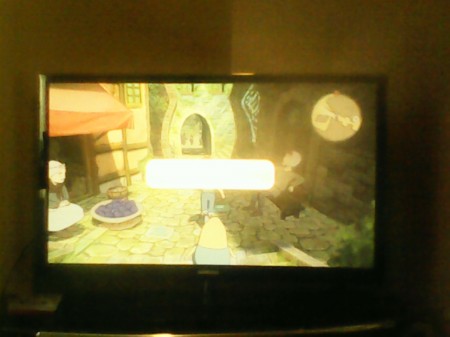 Now whenever I review tablet's or computers I make sure to do a benchmark test so that I can provide you all with some performance stats so you can know just how good or in this case bad a product can be. I attempted to use two different benchmarking applications of which neither of them allowed a full and proper test. Why you ask? Because the tablet caused both applications to crash due to a very low performance. So I don't have any stats for you but I can say that if you are looking for a gaming tablet this is not the device for you.
What I will say about the R93 is that if you are looking for an introductory tablet for your children this would be perfect for them as all I can say it really does well is play simple games like Angry Birds for example. Games like Clash of Clans cannot even run properly on this device and even with Chrome as a browser it still is a tad on the slow side. The response time when it comes to touch can be a bit laggy as well as it sometimes doesn't even notice when it is being pressed.
The Dragon Touch R93 is a great tablet for kids to enjoy to basically use the Internet and play simple games. I will say that if you are looking for a tablet just to browse the Internet then this is the one for you. I wouldn't recommend using this tablet for any sort of e-reading as the display can make prolonged reading pretty uneasy on the eyes, but with this being a $69.99 tablet that does come with free shipping over on Amazon I would say that if you are looking for a tablet that can do more to save your $70 as for a bit more money you could find a much better device.
I've been writing and covering many forms of entertainment such as comedy shows, and arcade bars as well as reviewing video games and more for the past decade. I love to write and I am blessed to be able to have the opportunities that I have had in the entertainment and technology fields.