We are influencers and brand affiliates.  This post contains affiliate links, most which go to Amazon and are Geo-Affiliate links to nearest Amazon store.
So Tablet Express had sent me one of their brand new line of tablets last week, the Dragon Touch R97x and I put it through some testing and have to say that this tablet was very impressive for the retail cost.  Before I go into the review of the tablet I want to point out that you cannot compare this tablet to the latest $500-$600 tablets. However this tablet should be more than sufficient for anyone who needs an Android tablet that has full access to Google Play and wants to be able to do anything from mail, browsing, watching movies, and even play the latest and greatest Android games.
First the Dragon Touch R97x came fully charged, so I didn't have to wait to charge it before testing and I quickly unboxed it and then proceeded to try it after.
Watch the Dragon Touch R97x Unboxing Video
The tablet has a little bit of weight to it which I actually like in a tablet, I don't like tablets that are so thin and light they seem to delicate and can fall from my hands too easily.  This tablet you feel it and it doesn't feel flimsy, unlike most budget Android tablets with a plastic shell you are getting a metal shell on this tablet and it feels like a quality shell around the tablet.  No plastic or cheap rubberized feeling here at all.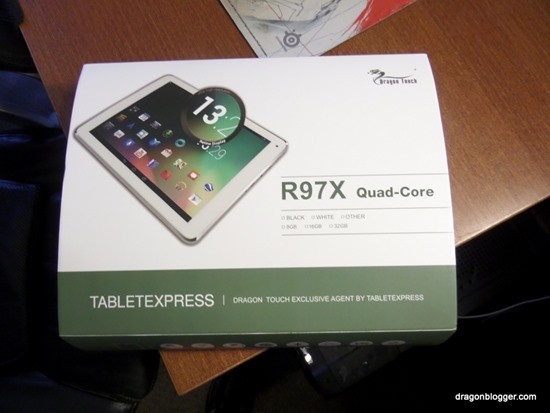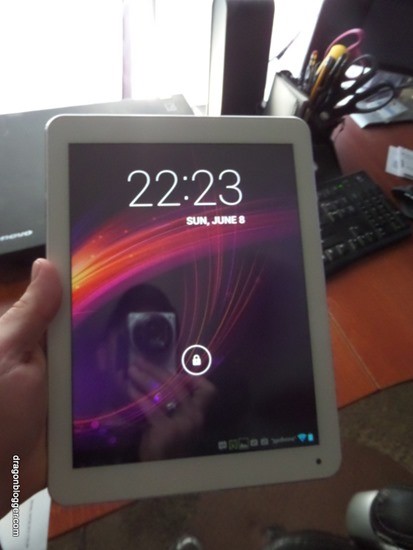 First the one thing about the tablet is the orientation and button placement is a bit unusual, the tablet clearly has a top and bottom when vertical and horizontal, this is noticed when entering some apps that don't support screen rotation.  So the bottom of the tablet has your power, microUSB, Headphone, MicroSD slot and Power/Lock button.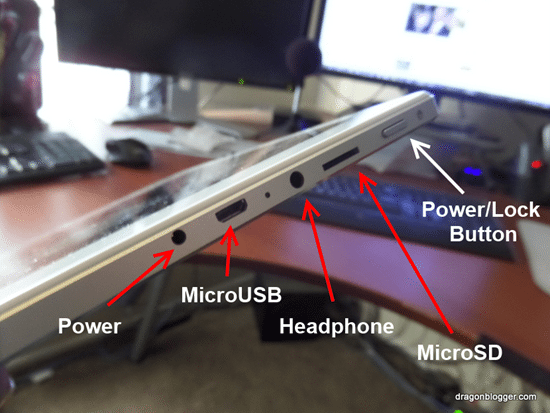 This is easily accessible, but occasionally I would rest the tablet on the desk vertically and it would tap the power button locking the screen on me, it is a bit sensitive, it didn't do this in my lap, but if you are prone to holding the tablet up on the desk vertically and resting it on a surface, you will not want to be in the vertical position when doing this.  This is a minor as most apps support rotation and you can simply flip it around, but some apps do not and for those you don't want to rest the bottom on the table.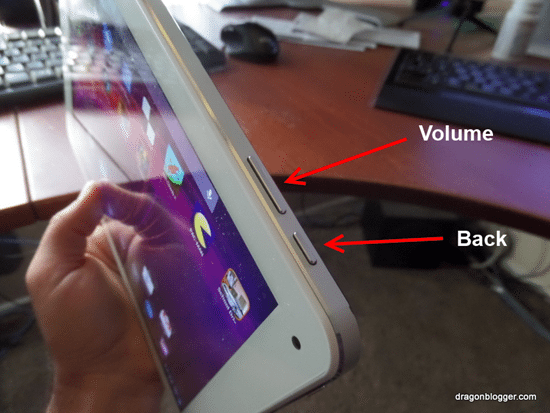 Just on the right side of the tablet are the only other external buttons, the Volume and Back button (back as in it backs you up in your application to previous step).  The placement of these is just different than other tablets I am used to where the volume buttons themselves are on the top or bottom of the tablet, instead of the side.  Because this is Android, it does make taking screenshots a bit harder as you have to hold the power button at bottom right and lower volume button at right and to take a good screenshot you kind of make a J with your thumb and forefinger on the bottom right edge of the tablet to take screenshots.  Again this isn't a functional issue, just some odd design choices because the buttons are so close you can't use two hands to press the volume and power button, you kind of have to use 1 hand to hit both buttons, this isn't as user friendly as it would have been if they put the volume buttons on the exact opposite top left corner instead of bottom right corner where you can use your left index finger and right thumb to take screenshots faster and less awkwardly.
Ok, so cosmetically and a slight user friendly button placement issue aside, I have nothing but positive things to say about the rest of the tablet and those minor quips above do not diminish my endorsement that this is a fine budget Android tablet.  AnTuTu Benchmark puts it solely just below the Galaxy Note 2 and above the Samsung Galaxy S3.  This tablet is 33% less expensive than any equivalent smart phone or tablet that performs on par with it, and it had a really nice high quality 9.7′ screen.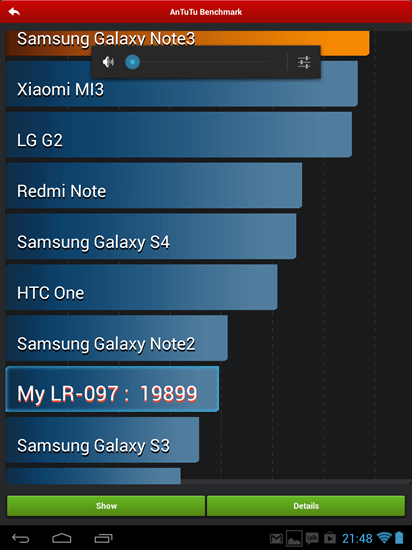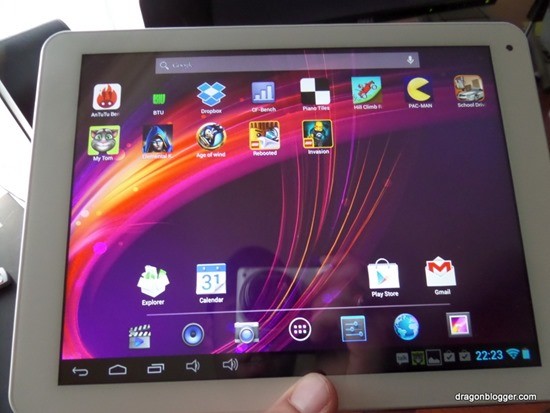 The Dragon Touch R97x supports Bluetooth and I had no trouble pairing a keyboard and Bluetooth speaker with the device.  The full Google Play store is available and installs applications quickly, all applications run quick and without issue.  It outperforms my 2nd generation iPad with ease and with much better video resolution and re-furbished iPad 2 devices are still more expensive than the Dragon Touch R97x.
My kids compared it to their Kindle Fire HDX and immediately liked it better, granted they liked the 9.7″ screen better than the 7″ screen of the HDX but the fact it has so many more applications in the Google Play store than the Amazon Android App store is what really appealed to them.  The tablet ships by default in SD video resolution mode, you have to switch it to HD mode and reboot for it to take effect.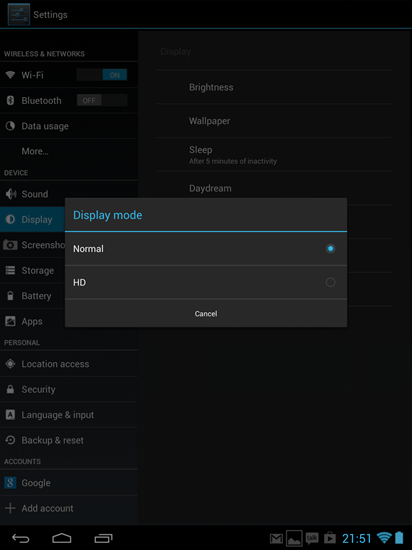 Battery Testing of the Dragon Touch R97x
I ran 2 complete battery tests on the Dragon Touch R97x and normally the battery is where most budget tablets suffer, the Dragon Touch A97 (previous model without Bluetooth only had just over 3 hours battery life).  The Dragon Touch R97x which is much more powerful sported over 4 hours of battery life testing during 2 different types of tests.  Browser testing, where the BTU application just randomly opened websites over and over for 4 hours and 9 minutes before battery dropped to 14% from its starting point of 90%.
Then video testing, where I played a video over and over for 4 hours and 3 minutes, here you notice that I had brightness the same and Bluetooth off.  You can extend your battery life longer if you don't need Wi-Fi and you can reduce brightness to get a little longer battery life as well.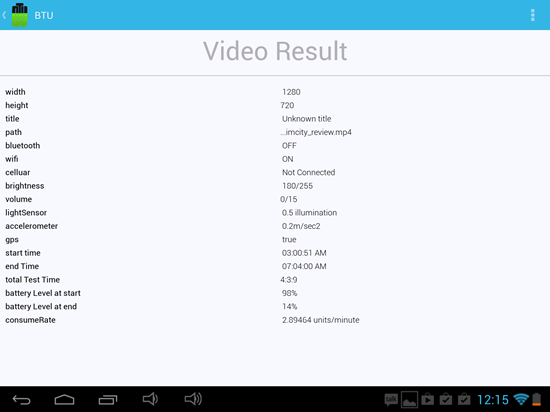 Now 4 hours of battery life isn't in the top class of tablets but it is close for running video constantly for 4 hours, but is better than any < $200 Android tablet I have tested in this tier, it does not have as much battery life as the 7″ Kindle Fire HDX however, but it also has a larger screen.  On and off usage playing games, setting it down, watching something, setting it down, I was easily able to exceed 9 hours of battery life with the tablet.
Now overall for the price tag of $199 I have no trouble at all recommending this tablet as a great budget Android tablet if your family needs another Android tablet or you want to get your kids an Android tablet.  This tablet was able to play ANYTHING I put on it and was able to task switch between applications with very little latency or slow downs.  It has a very responsive 10 point touch screen, and you never have to click 2 or 3 times for it to read what you are trying to do.
Front and Rear Camera Review
Like most tablets, the camera is one of the weaker components, there is no flash (isn't here) and the resolution is a bit grainy.  The front camera is fine for doing Skype video calls.  But doesn't win any awards for resolution or image clarity.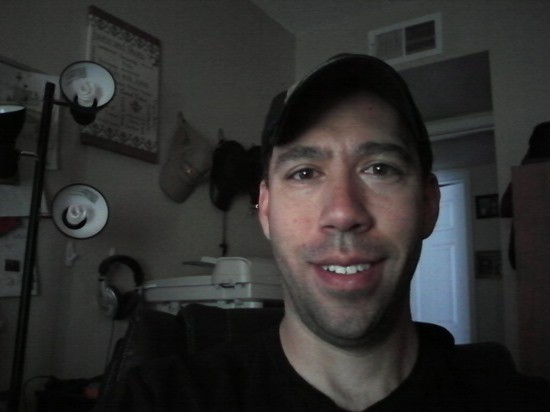 The rear camera sports 5MP camera but again, we are talking about a very tiny lens without any flash so you can only take decent images in bright light.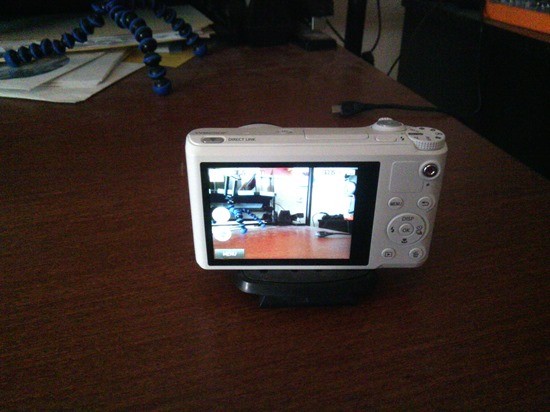 Images are a bit grainy, but I will tell you the front and rear camera had better photos than my iPad 2, but not as good as the Kindle Fire HDX for the front facing camera.
The only other minor issue I have with the camera is that it uses a 12V battery which means it comes with an A/C charger and does not really charge well via MicroUSB, Tablet Express says you can charge it via MicroUSB with a 9V battery charger like a powerpack, but I found it to be extremely slow and hit or miss and not notice if it was charging.  So if you want to charge the Dragon Touch R97x you will need an external battery that supports 12V output and this has to be done via the same type of input port as some camcorders.  They exist, but they aren't your standard MicroUSB external battery chargers and your typical 5V 2.1 Amp battery packs can't charge this tablet unfortunately so you won't be able to stray far from that A/C outlet so you need to make sure you pack it with you when you take this tablet.
All in All the Dragon Touch R97x gets a solid rating for it's price range, and is worth recommending if you need a 9.7″ tablet that offers full access to Google Play and don't have a $500 budget.  Just remember because it is a Tablet Express tablet, you will have to buy a matching keyboard/case from the company you won't be able to find too many choices in covers/cases online due to it being a niche tablet.
Enter for a Chance to Win a Dragon Touch R97x Android Tablet
Now that you read the review, here is your chance to enter to win one of these great Android tablets.  Android enthusiasts will appreciate the full open Android Jelly Bean OS, and the power to do just about anything you need in an Android tablet.  All you have to do is enter via the PromoSimple widget below.
Drop us a line and let us know what you think of the Dragon Touch R97x tablet, also ask any questions you have about the device, as I have one with me I can answer, or test anything you need an answer about.
Can't wait to win one?  Buy a Dragon Touch R97x Tablet Right Now, it is only $199!
We are influencers and brand affiliates.  This post contains affiliate links, most which go to Amazon and are Geo-Affiliate links to nearest Amazon store.
I have been obsessed with computers, tech, gadgets and games since the early 1980's having grown up on the Commodore 64 and Amiga computers.
By day I work in the IT Security Industry and have been in IT for over 20 years. On my spare time I am a Vlogger, Blogger, Streamer, Gadget Reviewer, affiliate marketer, influencer and entertainer. I am also an avid movie fan, TV Show fan, Anime fan, video game fan and fan of trying anything and everything new.