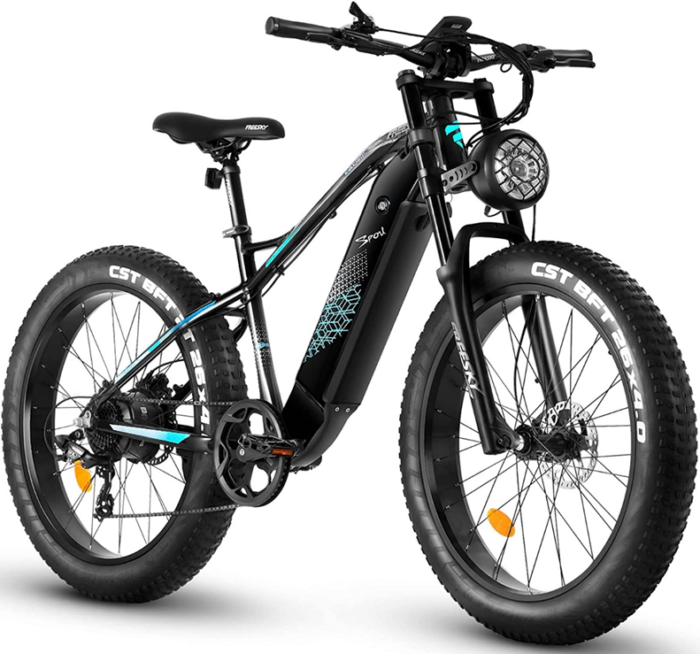 Looking for a high-performance electric bike to speed through the streets of your city?
If you are an adventure lover you will surely know that there is nothing more fun than using a bike on rough terrain or hills, they are great and fun for people of all ages. But I'm sure most people feel that riding a bike can be exhausting, which can be true at times. So, if you want to ride without worrying about fatiguing your body then the electric bike is what you need to try. Electric bikes are twice as fun and offer great performance, but there are plenty of points to keep in mind before choosing an electric bike.
As I mentioned earlier, not all electric bikes offer the same performance, motor power, and rechargeable battery determine how fast an electric bike can be, in addition to the range. Cheap electric bikes usually have limited performance, and good quality materials are not usually used, so if you do not want to worry about replacing a component, then investing in a good quality product is what you should consider. Price may vary, but a powerful electric bike can cost around $1,000.
The FREESKY electric bike is a great option to consider if you are looking for a fast and powerful bike, so you can successfully overcome all types of terrain. It offers a great performance, in addition to being built with high quality materials which guarantee long useful life. Below, discover the most interesting features of this product.
Features of the FREESKY electric bike
If you are looking to get anywhere in a fun and healthy way, then the FREESKY electric bike will help you achieve it. The main feature of this electric bike is the powerful 750W brushless motor, which offers enough power for you to overcome all types of terrain (hills, rugged terrain, and more). You don't have to worry about speed, this electric bike is designed to deliver a top speed of up to 32mph, which is quite surprising, so you'll be able to drive everywhere without worrying about engine performance.
Another feature of this electric bike is the rechargeable battery, powered by Samsung, the 48V battery allows you to reach up to 80 miles on a single charge. The maximum distance may vary depending on the mode you choose, by choosing the pure electric mode, you will be able to get a maximum distance of up to 50 miles, this means that the bike will take care of doing the hard work for you. If you choose pedal assist mode, then you can get a maximum distance of up to 80 miles. The FREESKY electric bike uses high-quality disc brakes on both wheels, ensuring safe and fast braking. It also uses wide 26″ tires so you can drive on all types of terrain. In general, the materials used in this electric bike are of high quality, which guarantees that your electric bike can last for many years in perfect condition. FREESKY also offers a warranty and personalized technical support.
You can buy this item here on Amazon
My name is Joel! I love to read, I go to university like most people my age.
In my free time I usually train boxing, I love music, I also know how to play the guitar and the harmonica.