We are influencers and brand affiliates.  This post contains affiliate links, most which go to Amazon and are Geo-Affiliate links to nearest Amazon store.
We all have done a little touch up on some sort of image. Touch up's being anything from removing some smudges on a picture, drawing a quick sloppy idea, drawing a cartoon and some of us editing a professional photo and drawing a complex landscaping idea. There's a multitude of things you can draw on paper and on your computer, on paper might be easier for most since you have a pencil or a pen, most of us have a mouse for a computer and it can usually be the most cumbersome thing ever to draw something with a mouse. If you draw with a pencil and paper and have always wanted to graduate to drawing on the computer but dread drawing with a mouse or you currently draw on your computer with a mouse, this review is for you.
I bring you my review of Perixx Graphics Tab Peritab-502. The perfect affordable solution for a budding artist all the way to a professional, even for those of you that want to use it to write notes, yeah it can do that too.
Check out the specifications of the PERITAB-502
Specifications
• A huge 9 inch x 5.75 inch Working/Drawing Area
• 2048 Pen Pressure Sensitivity Level
• 4000 Lines Per Inch Resolution (LPI)
• 133rps (Report Rate)
• 2 Programmable Hot keys
• 8 Programmable Macro keys
• Battery Free Pen Technology
• Support Sketching, Hand writing, Coloring, Picture Editing
• 2 Pen Tip Replacements with Tool to Replace Tips
• USB 1.1 (about 5 feet long)
• Compatibility with Windows XP/Vista/7/8/8.1 and Mac OS X 10.4 and Higher
Software Suite Included
• Power Presenter EX (Allows you to draw presentations within Power Point.)
• Free Notes & Office Ink
• Macro Key Manager
• Magix Photo Designer (Free Version)
• Magix Xara Photo & Graphic Designer (Trial Version)
Whats in the box
• Perixx Graphics Tablet Peritab-502
• Battery Free Pen/Stylus
• 2 Extra Pen tips
• Tip Extractor
• Driver and software DVD
• Instruction manual
Seems pretty awesome so far right, let's take a look at an unboxing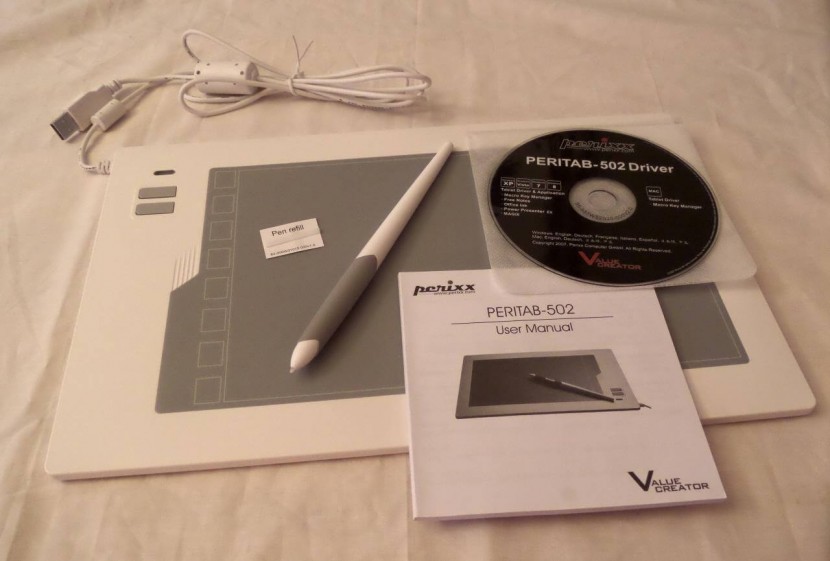 So as usual, when you get a new toy for the PC, you have to install some drivers and if you like to install their software to use you can as well. I tested the Free Notes, and it's like writing on a sheet of paper, you know with the lines on it and it seems to work very well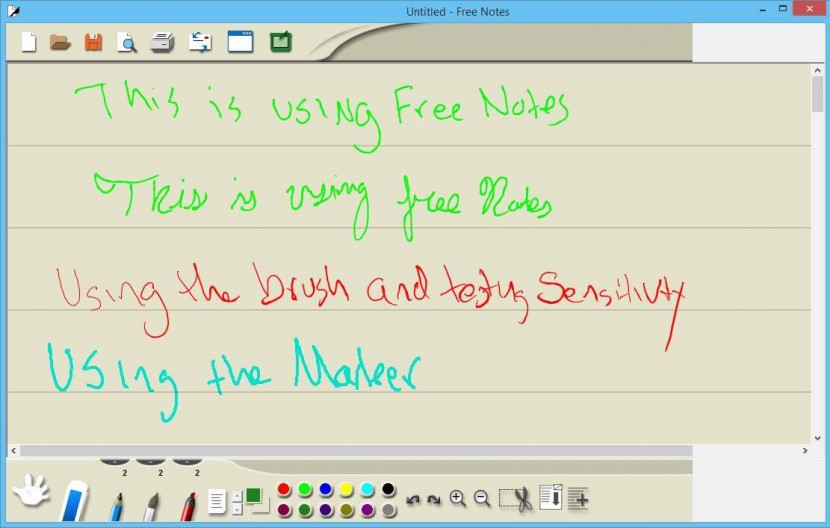 Free Notes takes advantage of the sensitivity, and can make you cry… well maybe if you write something really touching. By sensitivity I meant it uses the pressure sensing ability the tablet and pen provide.
This is using the Office Ink, as the name implies, you can use this program inside of Office applications like Word.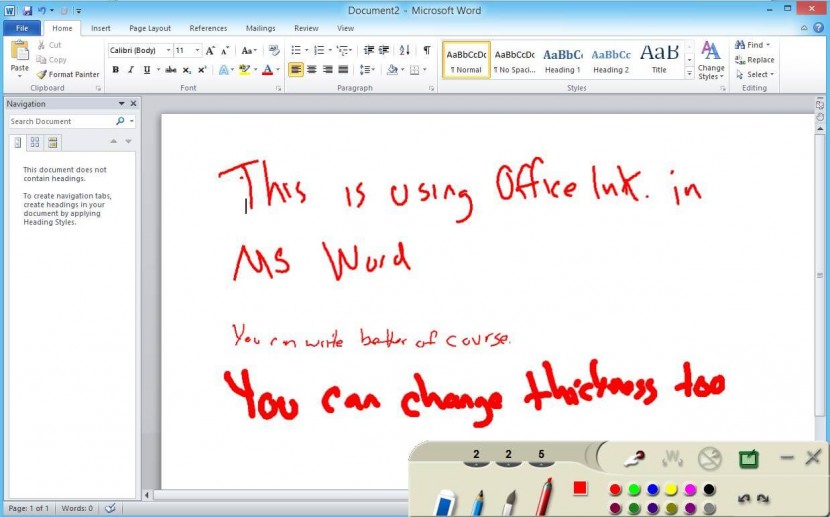 You can write much better using these programs, but I just did it quick to give you an example.
I could not test Power Presenter EX or any of the Magix suite of software because it took me a very long time to draw a dragon to showcase a bit of how cool this tablet it. The software gives you a 14 day trial so that you can use it and the Magix Photo Designer is free but you need to register for it and I did, but for some reason I am not able to use it. No worries, there are plenty of free programs to work with.
My favorite program is Paint.NET though it does not have pressure sensitivity but I will say, it didn't bug me much. I draw in my sketch book with my pencil and with it I am able to rub the led creating shading and use the sides of the tip and I also draw on canvas using paint brushes and acrylic paints, so I am used to brush strokes but Paint.NET still works out great. It is of course compatible with Adobe Photoshop, Autodesk Sketch, SmoothDraw 4 using the pressure sensitivity, but it will also work with Corel Draw (but I have not tested so I cannot comment on the pressure sensitivity) and of course Paint.NET thought with no pressure sensitivity at all.  There are tons more programs I am sure it will work with both pressure sensitive and not, but it would take me much longer than a month to try them all.
Take a look at my progression on my first drawing using this tablet, a dragon using Paint.NET.

This was my finished product.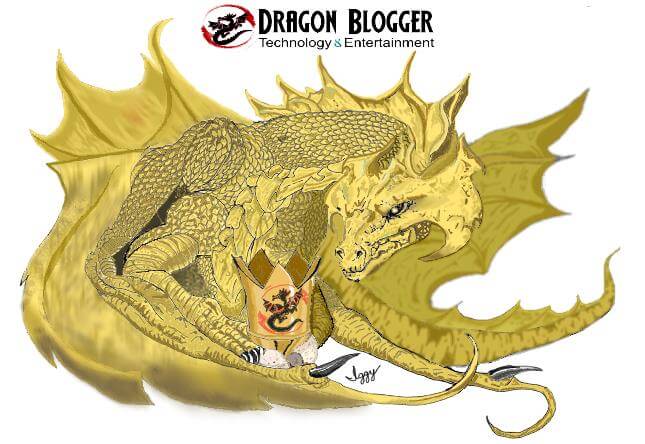 Everything was done using the Perixx PERITAB-502 tablet and the stylus, and I was even using the tablet and Stylus to click the Windows Start button and load Paint.NET, you can replace your mouse with this. Maybe not for gaming, but it is a great mouse replacement. Please keep in mind, this was my very first drawing and it took me about 4 weeks to do, I would spend anywhere from 30 minutes to an hour a day drawing this as finding time is a bit rough, I am a father of 2, I have a wife, a dog, a house to keep up and a day job. Being that I am always on the computer, I don't need to move away from the computer to grab a sketch book and draw, I can do it all here and it not interfere with my busy schedule, its great.
If might be hard to tell, but the dragon is holding a DragonBlogger trophy with our logo and under the trophy she guards her eggs, she keeps what's important close to her.
Now, this helps me save a little time and draw, but since I was doing reviews, it took more time than it should so to make it up to my kids and wife, I drew the kids their favorite characters, Cyborg and Firestar off of DC and Cartoon Networks "Teen Titan Go". While drawing the dragon would have taken too long to record and play for you, I was able to catch drawing these too, check it out.
Here is me drawing Starfire, not the greatest but I was drawing it quick to show you.
And this is me drawing Cyborg with the PERITAB-502, I did him no justice.

Now, it's not always fun and games, sometimes you need to replace the tip, but that's a great thing. More expensive graphics tablets don't allow you to replace these tips, so after a while you need to replace the entire pen, but this tablet lets you replace the tips. This graphics tablet brings 2 extra tips aside from the 1 included in the Pen/Stylus and even brings the extractor to remove the tips and replace it with the newer ones, you don't need to use your teeth.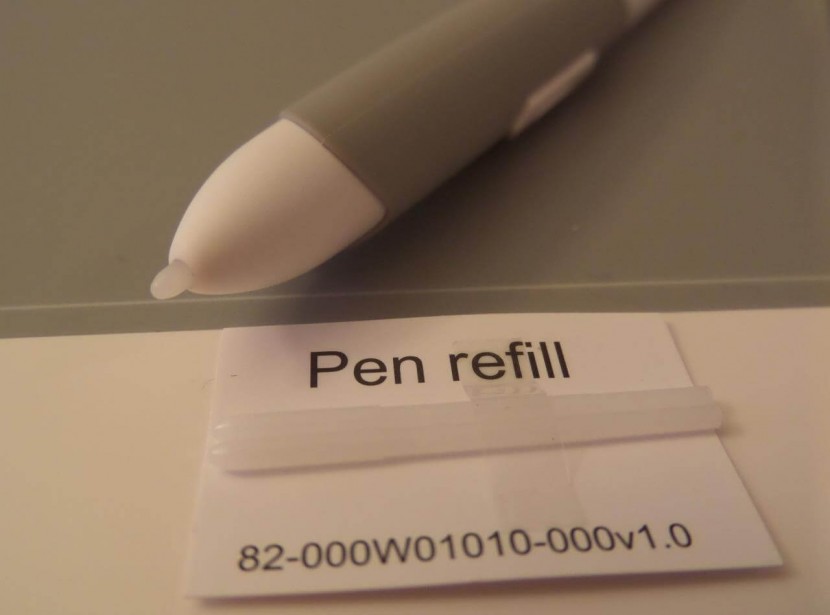 Check out this video that shows you how to replace them.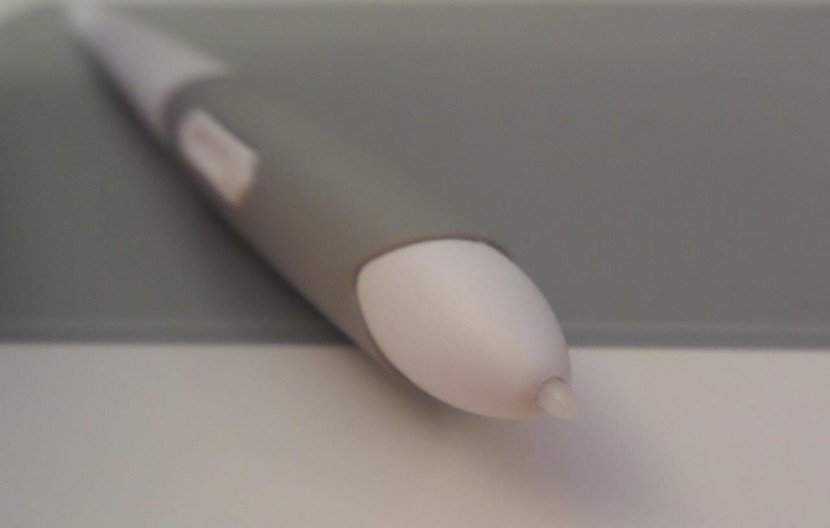 As I mentioned previously, you can replace your mouse with this tablet, so in the Tablet Properties you can configure what the 2 buttons on the pen/stylus do.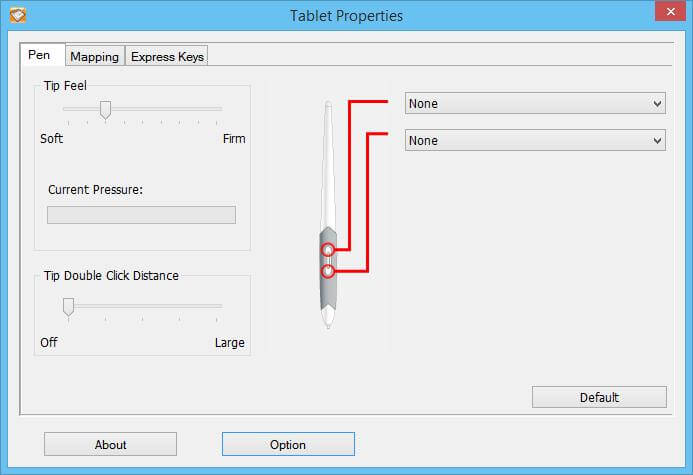 Both buttons let you change the following attributes of the pen.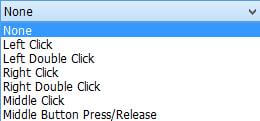 Though I just actually double tapped when I wanted to double click something and tapped and held the tap for a second and then released to do a right click, you can chose either.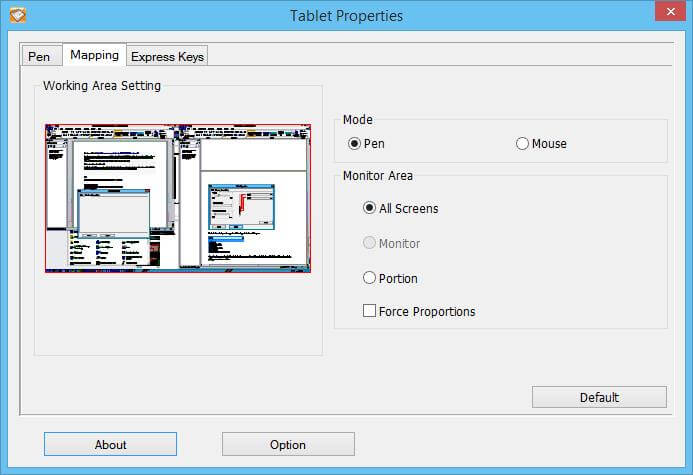 Over on the Mapping section of the Tablet Properties, you can choose to have the Pen work as a Pen or a Mouse, I don't get this option because I always chose pen and I could use it as both.
On this screen you can also chose to only have a portion of the monitor be your canvas or the entire screen, I chose "All Screens"
One of the features I used the most is the "Express Keys" tab. Here you can change what the 2 physical keys do, both keys will let you select the following options.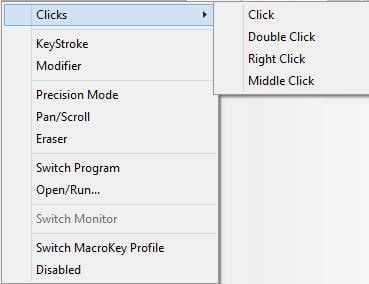 Aside from the physical keys, there are 8 tap keys that you can select from the following options for each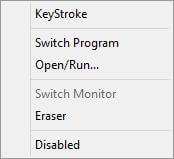 I chose key strokes for the top 4, haven't chosen for the rest, but there is always time. For the 1st, that is my "Undo" key which is a keystroke combination of "Control+Z", 2nd key is "Redo" which is "Control+Y", 3rd is Zoom in which is "Control++" and for the 4th is Control+-". These are saved under the "Iggy" profile but if I wanted another set of macro keys, I could just create a new profile with the same process and switch using one of the 2 physical keys, as long as it was mapped to "Switch MacroKey Profile"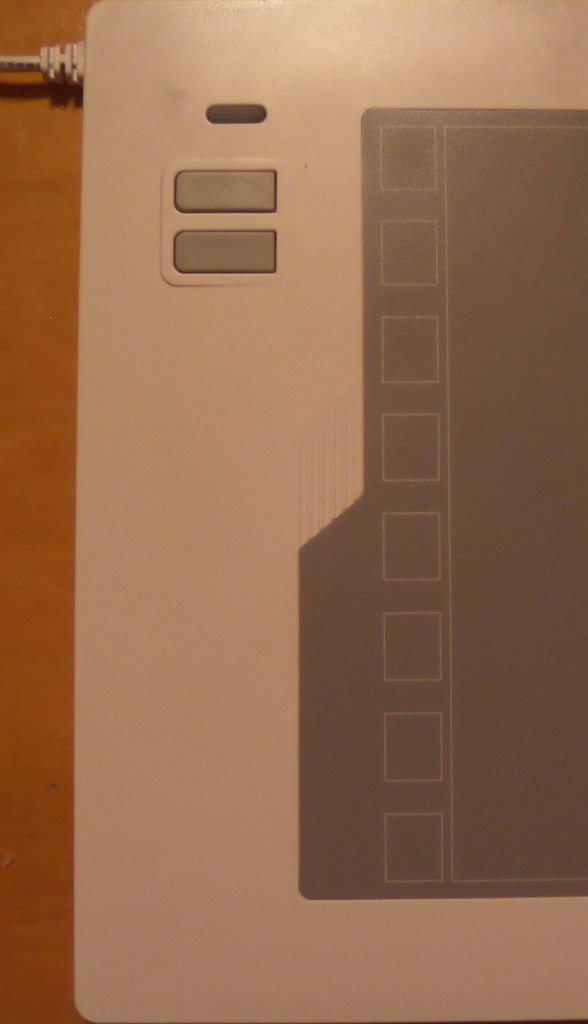 I love the tablet and could only find a single thing wrong with it, a single thing but it does affect the score a half. When the tablet is plugged in and let's say you set it aside at an angle, not perfectly flat, the cursor will stay stuttering on the top right hand corner of the screen until you move the tablet, repoint your pen or disconnect the tablet, moving the mouse itself will not do it. It seems to fight the mouse, but it does make sense, it is essentially a mouse itself.
The tablet is perfect aside from this one tiny flaw, it would have been a full star off since this can be annoying but the price more than makes up for it, it is an amazing price for the features, software and large surface area.
So what did you guys think about this tablet, I love it but because of that 1 small issue, I had to give it a 4.5.
We are influencers and brand affiliates.  This post contains affiliate links, most which go to Amazon and are Geo-Affiliate links to nearest Amazon store.
I have spent many years in the PC boutique name space as Product Development Engineer for Alienware and later Dell through Alienware's acquisition and finally Velocity Micro. During these years I spent my time developing new configurations, products and technologies with companies such as AMD, Asus, Intel, Microsoft, NVIDIA and more. The Arts, Gaming, New & Old technologies drive my interests and passion. Now as my day job, I am an IT Manager but doing reviews on my time and my dime.