We are influencers and brand affiliates.  This post contains affiliate links, most which go to Amazon and are Geo-Affiliate links to nearest Amazon store.
Thanks to the generous people at Thermaltake, recently I got the opportunity to review what some people, specifically those who like to show off their hardware in the chassis (like me) or modders who want the freedom for mods, will call heaven. And what's better than the Thermaltake Core P3 which not only is an open frame design but also features a transparent front panel and can be used either as Tower or test bench or wall mount, so you have enough angles to appeal the audience to your build from the surrounding.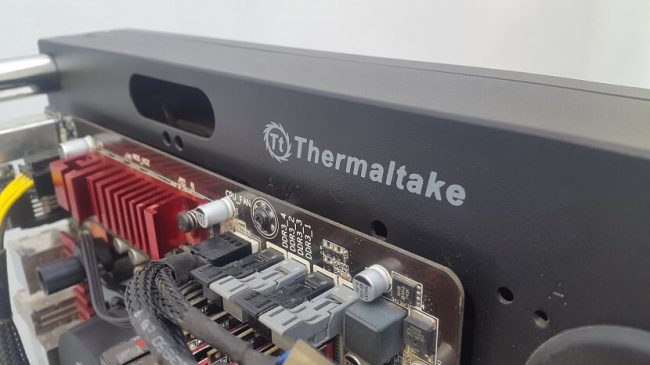 So let's start the review with little details about the chassis and go deeper as we proceed. The Thermaltake Core P3 is a mid-tower chassis that supports standard ATX, ITX, and MATX motherboards and can hold a 420mm radiator and a reservoir on the right side.
Not only that, the Core P3 features what thermal take calls DMD or Dismantlable Modular Design which means you're getting a plane body with a lot of screw holes, and almost everything/brackets separately. So you can install only the stuff you need and keep other stuff you won't be using packed for later for a clean look. The DMD gives modders some good options to play with like making their own custom brackets for the hardware or drill new holes for the brackets on the body. So yea, e have so many options with the Core P3
Core P3 Unboxing:
You can check the unboxing videos and some pictures below.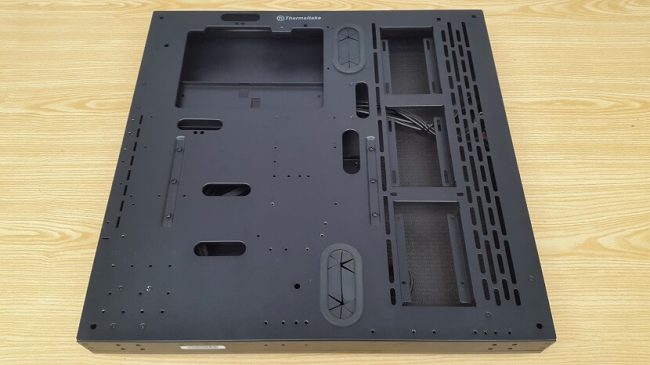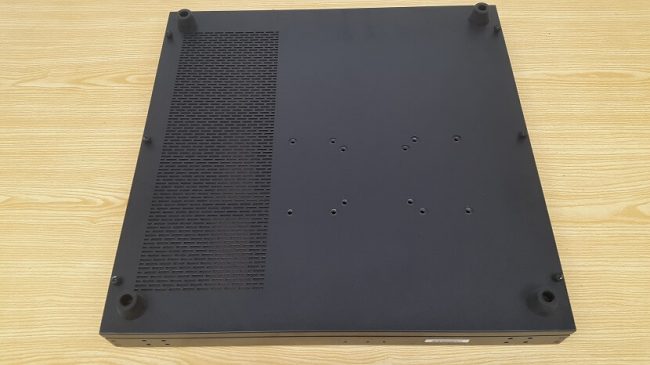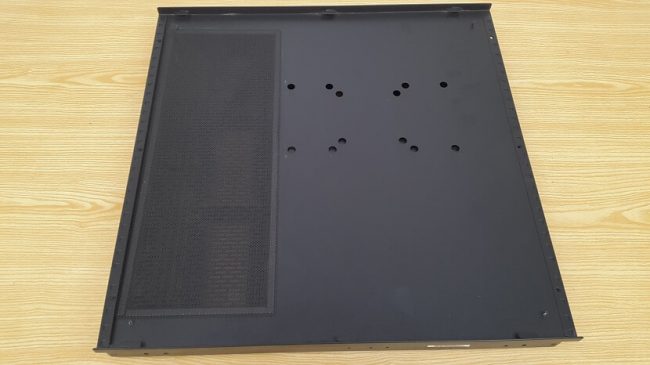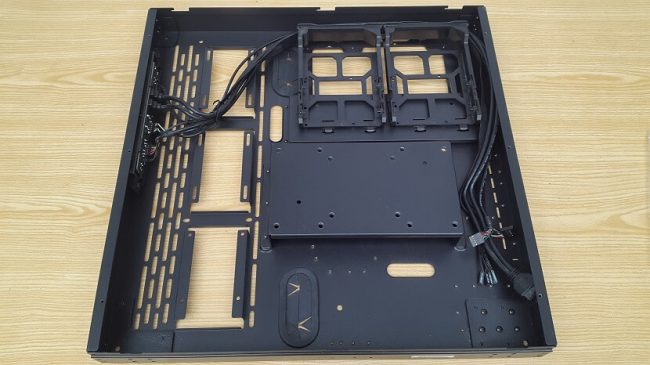 Core P3 Specification:
Model
Core P3
P/N
CA-1G4-00M1WN-00
Case Type
Mid Tower
Dimension (H x W x D)
512 x 333 x 470 mm
(20.2 x 13.1 x 18.5 inch)
Net Weight
10.3 kg / 22.7 lb
Side Panel
Transparent Window
Color
Black
Material
SPCC
Drive Bays
-Accessible:
2 x 3.5″ or 3 x 2.5″ (Outside the chassis)
-Hidden:
2 x 3.5'' or 2.5'' (Inside the chassis)
Expansion Slots
8
Motherboards
6.7" x 6.7" (Mini ITX), 9.6" x 9.6" (Micro ATX), 12" x 9.6" (ATX)
I/O Port
USB 3.0 x 2, USB 2.0 x 2, HD Audio x 1
PSU
Standard PS2 PSU (optional)
Fan Support
Left Side:
3 x 120mm
3 x 140mm
Radiator Support
Left Side:
1 x 360mm
1 x 420mm
Clearance
CPU cooler height limitation:
180mmVGA length limitation:
280mm (With Reservoir & Radiator)
450mm (Without Reservoir & Radiator)
PSU length limitation:
200mm
Core P3 Assembly:
The assembly of Core P3 was really easy. You just get the brackets for the parts you're going to use, install them via screws, install the hardware, and you're done. Check out the below video for the assembly of all the brackets we get along the Core P3.
Though one thing to keep in mind before you starting slapping and tapping all your hardware on the Core P3, you want to plan out the complete chassis. You want to install the motherboard and the PSU first in the test bench position, and maybe other mounting brackets you're going to use, then install the feet for vertical position and install the rest of the hardware for your ease. Still, there are other ways to approach a complete build, so follow the steps whichever feels easier for your build.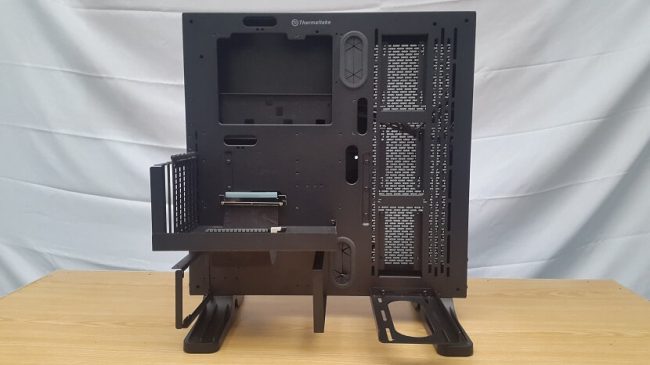 Core P3 Final Build:
Building my PC with the Core P3 was really easy as there's nothing to hold me back from viewing any angle or approaching tight space, oops, forgot, not much tight space in this chassis :D. The true beauty of this chassis lies in a custom water loop but even without much high-end parts and LEDs, the Core P3 look awesome and neat. To add some more ugliness, I used a semi-modular custom painted Chieftec Nitro 85+ Bronze 1200W with branded cables, but even with that, the build looks pretty neat and a lot better than it would in any other chassis (maybe exaggerating??)
Check out the above video to see how to build a complete PC with Core P3 as shown in the pictures.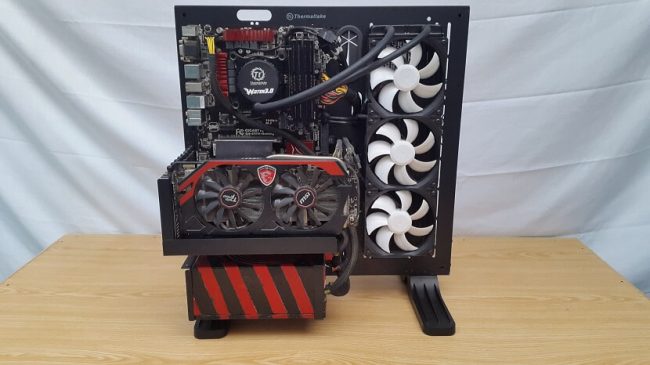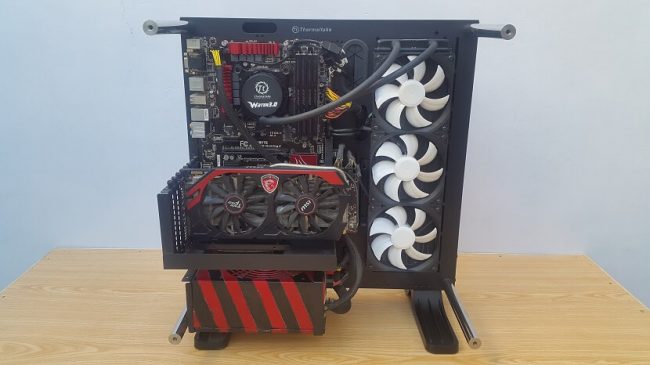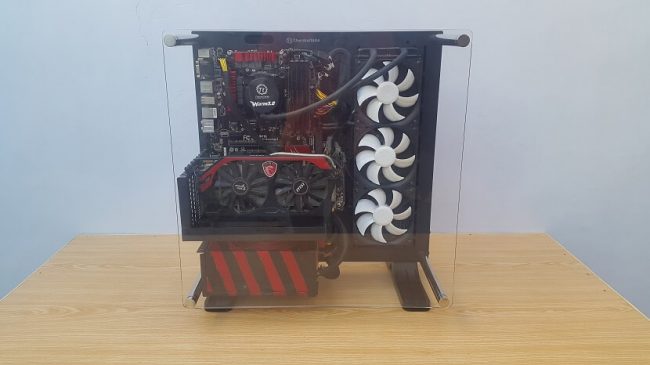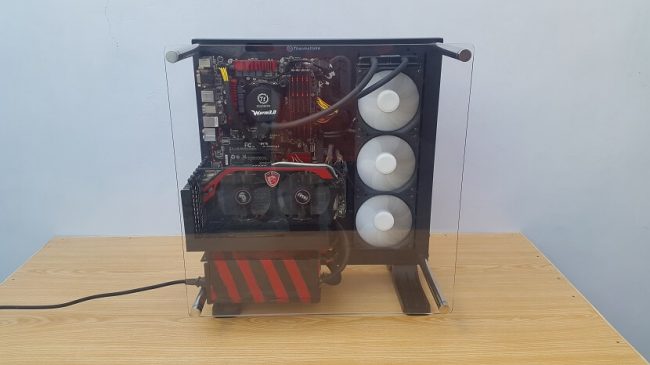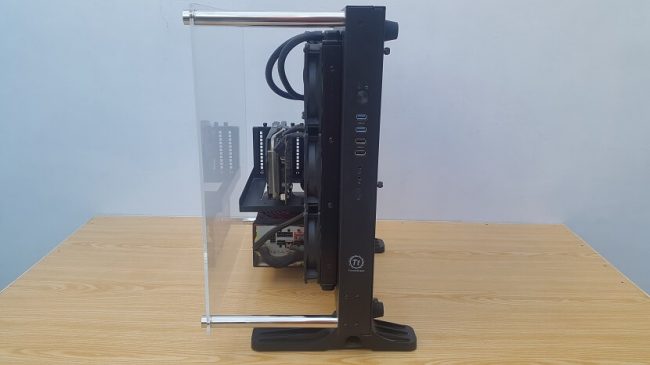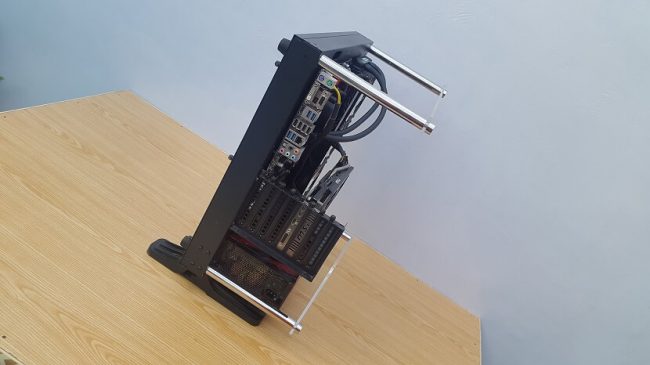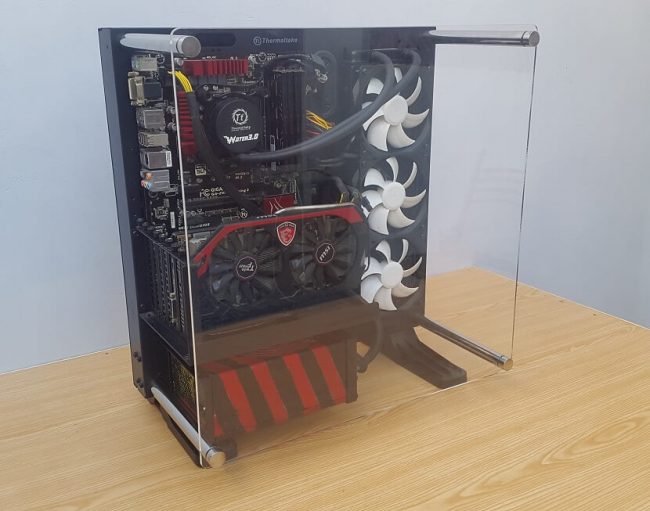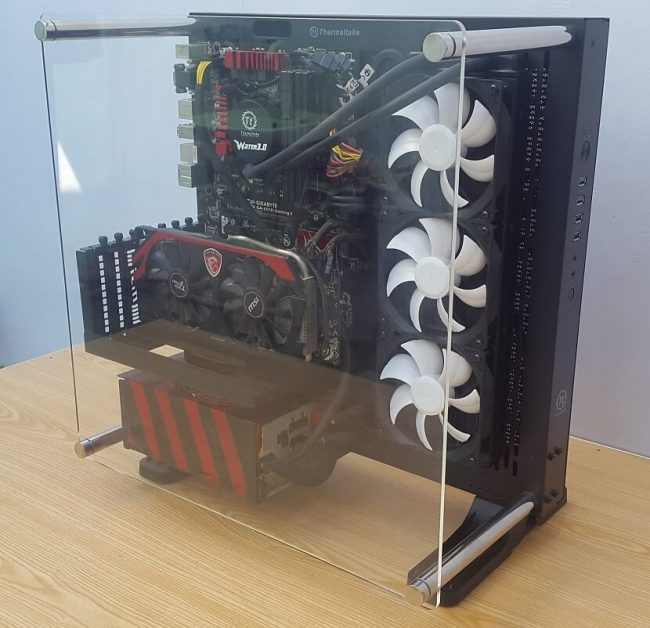 Final Build Specification:
Conclusion: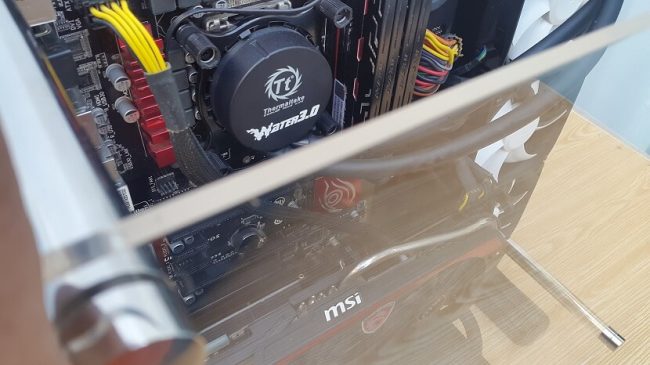 There's a lot to say about the chassis so let's try to keep it short. Personally, I think the Thermaltake Core P3 offers a lot of options with it's DMD design and the freedom of installing the parts where ever you want with your custom drills if you want to reach its true potential.
The installation process was really easy as it's an open design so there's not a lot of parts or compartments to hold you back from installing anything. Almost everything can be installed in the test bench position but you may need to turn the chassis over a few times so it's better to approach the installation in whatever way you find easy.
I'm not a professional case modder but having the Core P3 in front of me, I can brainstorm on so many ways the Core P3 can be modded. To mention a few ideas, a new bracket can be designed for the parallel GPU mount or have some flame-ey design added to the lower front of it. Also, I wasn't able to do it during the review, but I'm going to install a Red LED strip on the base between the foot and replace the fan with Red or RGB fans to match the Red/Black theme. And I can only imagine the awesomeness of the build once we're at that position.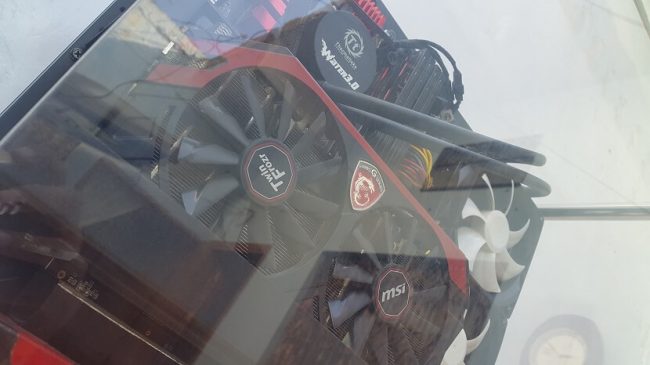 Even though it provides freedom for so many things, I did find a few cons about the chassis. Let's start with the back panel. Once the rubber feet are installed at the back, the upper back feet (in vertical position) prevents the back panel from locking in perfectly. I think it's getting stuck in the drive cage. I was unable to install the screws on the back. To make the back panel sit perfectly, I had to unscrew that particular foot, then slide the back panel in and it went in correctly, then install the rubber feet. That's one thing that Thermaltake needs to look at.
Secondly, the drive cages itself can be considered as a con. Or maybe I just feel insecure about the way they're held in position. The drive cages only use one screw to be installed which is present at the top. Now I'm using the chassis in tower position, and having something mounted with a single screw at the top with just the friction can be considered dangerous. If someone were to install the screw lose and use the chassis in tower position, a small nudge can drop the cage from its position. A two-sided screw would've been better in this situation.
And thirdly, it's the PCIe Riser cable that comes along with the Chassis. The Riser cable isn't long enough that you can use it with the topmost PCIe slot in your motherboard and the outermost position on the parallel bracket. The Riser does attach to both ends, but the stretch or stress on the cable prevents it from functioning correctly. The PC just won't boot once it's stretched that much. So I tried installing the riser in the second, x8 slot but I got the same result. Though in the lowermost, x4 PCIe slot, I was able to boot the PC without any issue. So Thermaltake does need to have the quality of their risers improved. In most of the cases the riser should work fine but maybe I tangled it a little too much. Though if anyone of our readers come across this trouble, the TT support should be more than willing to help you get a replacement for it.
Also, with Core P3, we only get two cut through with grommets, and the other cut through are somewhat smaller. They could've made them the same size with grommets. Other than that, I've only got the good stuff to talk about the chassis. So let's conclude the review by mentioning the price. The initial release of Core P3 has an MSRP of $119.99 which includes the riser and I think it has a perfect price for the options provided with the chassis. Now considering that the PCIe riser alone costs $29.99 if bought seperately, and then we also have the quality in question, Thermaltake did come out with another option and are selling the Core P3 without the PCIe riser for only $99.99 deducting the riser price. So let's conclude our review considering we got ourselves the $99.99 package, I would like to rate the Thermaltake Core P3 4.5/5 stars and give it our Editor's Choice and Recommended Buy award!
Core P3 with Riser: http://amzn.to/2lBeIA5
Core P3 without Riser: http://amzn.to/2kBzmAF
Core P3 Snow Edition: http://amzn.to/2mh7RsA
Core P3 Tempered Glass upgrade: http://amzn.to/2mgPwvU
Core P5: http://amzn.to/2c7Ro4n
Core P5 Green Edition: http://amzn.to/2cvFGBp
Disclaimer: Thermaltake provided me with the Core P3 Chassis so I could do a showcase and share thoughts on the product. All opinions are 100% mine and mine alone. For more information visit http://bit.ly/dbdisclose
We are influencers and brand affiliates.  This post contains affiliate links, most which go to Amazon and are Geo-Affiliate links to nearest Amazon store.
Hi, I'm Ahmed Kazim and I've been a gaming freak since like 7-8. I'm also a geek-o-nerd who keeps looking around for latest development in hardware/tech/gadget industries so expect some quick news from me. I'm also interested in anime (Japanese animation) and can't stand a day without music and gaming.