When it comes to wanting a great listening experience for your music and movies, you want to make sure that you have some very quality headphones that are going to give you that top-notch experience that has you fully immersed into whatever you may be listening to. The Cowin E7 Noise Canceling Headphones are what you are looking for. They are going to help you provide exactly that by giving you an experience unlike any other. Coming with incredible Hi-Fi Stereo that is going to absolutely blow your mind, these headphones as built for quality. The great thing about these headphones is that they are noise-canceling. Now, you're probably asking yourself why is that so important? Well, it is very important because it completely blocks out any sound and allows your ears to focus on only the sound coming in from the headphones themselves and not having to contend with any outside interference. Because we all know that true immersion into whatever we are focusing on can be really easy to be interrupted due to any surrounding noise.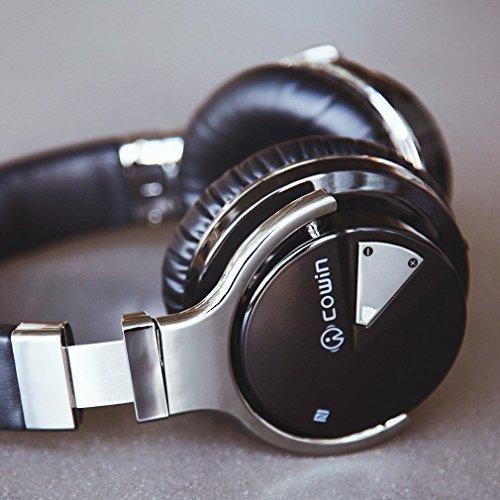 Another great thing about these headphones is that it has quite a long battery life. At a full charge, you will be able to enjoy 30 hours of content when using the headphones on Bluetooth Mode, which is also great about these is that you don't have to worry about any cords. I myself hate when cords get in the way of whatever I am trying to enjoy. You can also use the built-in microphone to manage calls while listening to your music or watching your favorite flick.
Product Features

Professional Active Noise Cancelling Technology. Significant noise reduction for travel, work and anywhere in between. Advanced active noise reduction technology quells airplane cabin noise, city traffic or a busy office, makes you focus on what you want to hear, enjoy your music, movies, and videos. The noise cancellation function can work well both in wire and wireless mode.

Proprietary 40mm Large-aperture Drivers. Deep, accurate bass response. The Active Noise Cancelling around-ear headphones from COWIN give you crisp, powerful sound and quiet that helps you enjoy your music better. The goal that provides Customers with better sound quality, is our constant pursuit.

High-quality Built-in Microphone and NFC Technology. COWIN E7 provides a high-quality built-in microphone for hands-free calls, Which is convenient for you to free yourself from wires. NFC pairing aided by voice prompts promises quick and stable connection with your Bluetooth enabled devices, Powerful Bluetooth Function.

The Professional Protein Earpad and 90° Swiveling Earcups. More durability and comfort, Enjoy high-quality, Long-listen comfort. Skin texture, lightweight comfortable around-ear fit you can wear all day long. Gentle Reminder: please take off the headphone every 2-3 hrs to get your ears to relax, in order to get better hearing enjoyment, and keep the head comfortable.

30 Hours Playtime Per Charge at Bluetooth Mode. A built-in 600mAh battery won't allow your headphones power off, you can enjoy your world without noise for 30 hours' long time. Don't need to worry about the power shortage problem on the long travel. 18-month warranty and quick response & friendly customer service. Note: The exclusive authorized seller is COWIN.