So a laser engraver is something that I would make a lot of use of and ones that can engrave both wood and plastic are valuable assets.  This one by NEJE does support wood even though it wasn't specifically listed, you can see examples of wood laser engravings on the product page and from people who have purchased it.  With the software you can engrave logos, images, letters, symbols and more into any object made from that material.  This would be cool for laser engraving items made from: Mahogany, bamboo, paper cards, ivory, leather, flammable plastic, PCBA, etc.
You can laser engrave your 3D Printed creations so a laser engraving machine can be used to sign your 3D printed works even.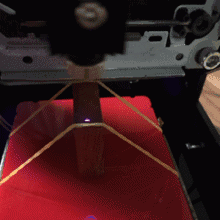 1 * Engraving Machine
1 * Protective Glasses
1 * USB Cable
1 * Instruction CD
1 * Wrench
1 * Whiteboard Marker
1 * Wood Block
2 * Wood Chips
2 * Paper
1 * User Manual(English)
NEJE DK-8-KZ Specifications:
Material: Acrylic + Aluminum + Stainless Steel
Main Color: Black
Power: 1000mW
Laser Wave Length: 405nm
Image Format: jpg
Image Size: 512 * 512 pixels
Image Engraving Pattern: Bitmap Engraving
Support System: Win7 / Win8 / XP / Win10
Supply Voltage: 4.2-5.5V
Supply Current: 1A
Work Area: 38 * 38mm
Item Size: 16 * 14.5 * 19cm / 6.30 * 5.71 * 7.48in
Item Weight: 976g / 34.43oz
Package Size: 30 * 20.5 * 21cm / 11.81 * 8.07 * 8.27in
Package Weight: 1641g / 57.88oz
I like how you get a bunch of template and sample blocks to test with and there is full illustrations and pictures how to use the Laser Engraving machine on the TomTop product page.  This laser engraver by NEJE uses 2 USB connections to your PC at the same time.  So even if you have a 3D printer, there is potential use and need for a Laser Engraving machine and this one will at $68.99 is pretty affordable.