We are influencers and brand affiliates.  This post contains affiliate links, most which go to Amazon and are Geo-Affiliate links to nearest Amazon store.
For year's now it seems we have been waiting and waiting for CDProjekt RED's latest game, Cyberpunk 2077 to release. The game was first announced back in May of 2012, that's right, 8 years ago and we didn't see the first trailer until 7 years ago back in January of 2013. The original intended release date for Cyberpunk 2077 was supposed to be April 16th of this year, however, CD Projekt RED decided to delay the game due to needing some more finishing touches which ended up seeing some crunch time happen. The game was pushed back to September 17th and fans were hoping that they would get their hands on the game around then. It was then reported that CD Projekt RED made employees work long, tireless hours and making them have to work more than they should on the game.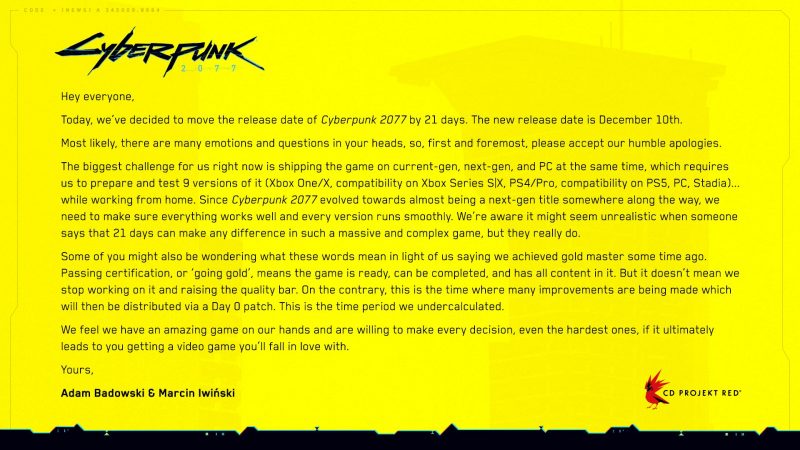 Fast forward to the month of June when the game was once again delayed to November 19th. Fans of the game were curious if the game was ever going to release and many wondering why the game was continuing to be pushed back. CD Projekt RED apologized stating that they wanted to provide players with the best version of the game possible. Many, including myself, wondered if they were working on a next-gen version of the game considering they had pushed the games to release out to November 19th which is right after the new consoles are set to release. As we approached closer to the November release date, CD Projekt RED made their latest announcement via Twitter telling people to "please accept our humblest apologies" and letting the world know that the game would once again, be delayed and this time for all platforms, until December the 10th. The game is set to release on 9 different platforms including current-gen (Xbox One and One X, PS4), next-gen (Xbox Series S & X, PS5), and PC. That is an awful lot of consoles to have to release one game on and especially considering the sheer amount of labor that CD Projekt RED is putting their employees through just to make sure the game gets in the hands of as many people as possible seems a bit much to me.
I understand that CD Projekt RED wants so many people to experience what I would believe to be the most anticipated game of the current generation of gaming, however, I feel that trying to get one game to release on 9 different platforms is a bit much. I am very curious as to why they simply did not do a staggered release of the game? How come they didn't simply release the game on current-gen and then do a separate release of the game on next-gen platforms or even use Smart Delivery on the Xbox or a similar means on the PlayStation 4 so people can play the game sooner, rather than later. I don't understand why make everyone wait all at once, maybe to weed out spoilers? I kind of understand that since this game is likely to be one of the best video games ever made, however, I am also a bit concerned that maybe the game is overhyped or maybe the game might still be shipped with some bugs or glitches. While I am all for a developer to delay a game to help make said game be the best version possible, I firmly believe that too many delays can cause this sort of idea to backfire and cause gamers to feel as if they will never get their hands on this game. I understand that while CD Projekt RED wants to get this game in the hands of as many people as possible, I also would think it would make more sense to get the game in as many hands as possible now instead of the constant need to push back over and over again. The reason this time for another delay is to make sure the game is ready for next-gen consoles, which makes sense, but I simply do not understand the need to not release the current-gen version of the game just to make sure the next-gen is ready to go.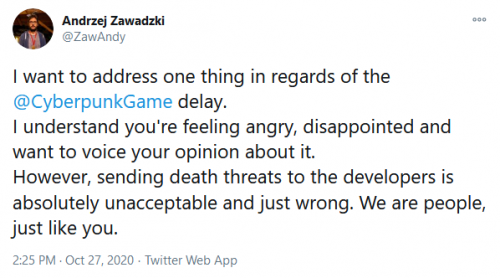 Time crunches in the video game industry is nothing new. There were multiple reports of time crunches after the release of Rockstar Games Red Dead Redemption 2, of employees being treated poorly with some even needing to work overnight and stay in their offices just to make sure the game had a timely release. While I understand the want to have a game be as near perfect as possible when it releases, developers do always have the option to have a patch come out later to fix any bugs or glitches post-release of a game. CD Projekt RED has also been receiving death threats due to the game being once again delayed. Senior Game Designer at CD Projekt RED, Andrzej Zawadzki, decided to take to Twitter last week to address the fact that he and many others working on the game have been receiving death threats by asking for basic human decency in regards to the team working on the game. I firmly believe that death threats are never a resort when speaking out against game delays and those that do this very thing is pathetic.
While I feel that CD Projekt RED should've done a staggered release of the game and waited to release the next-gen versions for the PlayStation 5 and Xbox Series X. I still fully trust CD Projekt RED to make the right decisions when it comes to the game and its release. However, it has recently been stated that although they have announced the December release date that they are not confident in having that date as it's release. I do hope that the game does come out before the end of the year, but it seems like we will all just have to wait and see.
We are influencers and brand affiliates.  This post contains affiliate links, most which go to Amazon and are Geo-Affiliate links to nearest Amazon store.
I've been writing and covering many forms of entertainment such as comedy shows, and arcade bars as well as reviewing video games and more for the past decade. I love to write and I am blessed to be able to have the opportunities that I have had in the entertainment and technology fields.