Do you use Picasa Web Albums (Google's free photo storing and sharing service)? Apart from being a handy and desktop-software based platform for uploading images, Picasa is also being used by Google to store the images on its free blogging platform, Blogspot. All images from all your blogs are stored in folders in your Picasa account.
You can also store up to 1 GB of photos directly, using the nifty photo editing and management software, also called Picasa.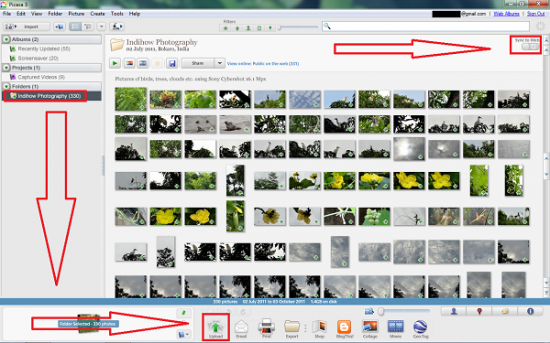 Unlike other photo-sharing websites like Flickr or Photostream, Google's Picasa Web Albums allows you to automatically synchronise pictures between your online account and the local hard disk/ removable disk. You can set up sync for as many different folders as you wish, and add more features like watermark, resizing, adding changes in features like brightness, sharpness, contrast and tuning effects like sepia, grain, focus etc.
Once added, these amazing attributes will be applied to all the pictures before they get uploaded. Especially if you store a large number of pictures on your computer, you would be glad you synced them to your Picasa Web Albums if something goes wrong and you lose the files on your hard disk.
I've been using Picasa for over three years now, and have absolutely no complaints! Well except for one. If you have been using the Auto-sync feature of Picasa, you might have noticed that sometimes new/different folders get created when you re-sync the folders on different days. Thus, all the pictures on the old folder which have already been uploaded will be re-uploaded to the new folder, using up extra space. Since you only have 1 GB of free storage, it would be better to avoid this problem. So, here's a tip:
Instead of sync-ing the folders, select the folders from the left side-bar and click "upload" to ensure that the same folder is used each time. This might not be automated, but it isn't a lot more effort either!
Please share your experiences with Picasa and other photo-sharing services with us :)