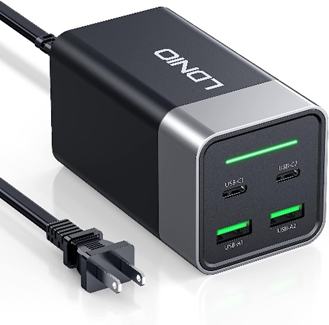 Isn't your charger powerful enough to offer fast charging to your phone?
If there is something great in the latest cell phones launched by the brands, it is undoubtedly the fast charge. Previously charging a cell phone was somewhat tedious and slow, so having our phones charged again was not the most fun, so manufacturers began to realize that fast charging was the ultimate solution. Chargers that offer fast charging have a higher power capacity, which allows cell phones to charge significantly faster. Not all phones support fast charging, but the latest models from iPhone, Samsung, Xiaomi, Google Pixel, and other brands offer fast charging that will depend on the manufacturer. Most cell phones support 20W charging.
If you do a quick search on Amazon, you will realize that there are many types of chargers that offer fast charging and it is possible that most fulfill their job, but, how about a charger with multi-ports? It sounds like a great idea, you can charge not only a cell phone but up to 2 to 4 cell phones at the same time, this is ideal if there are not many outlets available and your friends or family need to charge their cellphones. These types of ports are typically split between USB A and USB Type-C ports, so they typically deliver a different amount of power (more power in USB Type-C ports).
The LDNIO 120W charger is a great option to consider if you are looking for a charger that offers great performance to charge not only a cell phone but up to 4 devices at the same time. Best of all, you can also charge laptops with native USB Type-C ports. Next, discover the most interesting features of this product.
Features of the LDNIO 120W charger
One of the main features of the LDNIO 120W charger is probably the 120W charge that it can distribute between devices, which is amazing if you consider that the best Apple chargers usually offer 20W maximum, so it is certainly a great advantage, although you should keep in mind that the LDNIO charger is designed to charge no only a cell phone, but up to 4 devices at the same time and that's crazy.
Another feature of the LDNIO 120W charger is that it can offer fast charging on all 4 ports and yes, you can do it even when you are charging 4 devices at the same time. This charger includes 2 USB Type-C ports and 2 USB A ports. But not all ports have the same power, USB A ports will only receive a maximum power of 18W regardless of whether you are charging one or 4 cell phones. On the other hand, the USB C port can offer a maximum power of 100W in case you only use one port, the power can decrease to 60W for the main USB C port and 20W for the secondary if you are using all 4 ports at the same time.
The LDNIO 120W charger can not only work for charging cell phones, but it can also charge an incredibly fast MacBook if you use 100W fast charging. An unusual feature of this charger is that it works with a power cord of almost 4 feet, which allows you to be able to place the charger in a more comfortable place in case your cables are not very long. Finally, the charger uses GaNIII technology to ensure the security of all your devices.
You can buy this item here on Amazon