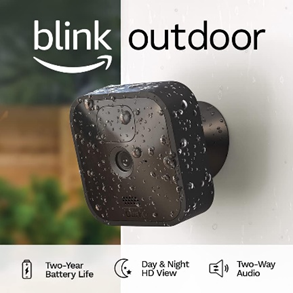 Do you feel insecure in your home? Don't waste time, the Blink Outdoor security camera kit is what your home needs
Thieves have less and less respect, so burglaries in homes are becoming more common. The chance of a robbery can vary depending on where you live, but a robbery can happen at any time and that can be a big problem if you don't have enough evidence to turn it over to the police. So, if you want to feel safer in your home, then it's important to start installing security cameras. Although you shouldn't install just any security camera, they don't all offer the same video quality, so I would recommend investing in a good security camera kit.
There are different types of cameras, for example, some cameras work with an SD card, which may seem great, but using an SD card can be uncomfortable, as storage is limited. On the other hand, security cameras that work with a cloud service allow you to watch the recordings at any time without worrying about storage, the only disadvantage is that you need to pay a monthly subscription (it usually has a low price). Other aspects to consider are recording quality and battery life.
The Blink Outdoor security camera kit is an excellent option to consider if you are looking to keep your home monitored 24 hours a day. I would say that this is the most popular security camera you can find on Amazon, with thousands of positive reviews that support the quality of these cameras. Next, discover the most interesting features of this product.
Features of the Blink Outdoor Security Camera Kit
Incredibly long-lasting battery
I know that the recording quality should be the main aspect to consider, but the battery life of Blink Outdoor security cameras is amazing. You do not have to worry about recharging the batteries, or using a power supply, Blink Outdoor security cameras have two AA lithium batteries that can last up to 2 years, without recharging the batteries, this is simply incredible. AA lithium batteries can be replaced if they are ever discharged, so forget about recharging the batteries or replacing them every 3 months, Blink Outdoor security cameras are designed to offer the best performance.
Another feature of Blink Outdoor security cameras is probably high-quality recording. You can get recordings in native 1080p. This camera can also get a good recording during the night, it's not perfect, but you will definitely get a good recording in low light conditions. The Blink Outdoor security cameras are also characterized by withstanding most climates, so it does not matter if it is raining or if the weather is very hot, they will work without problems. Unlike other security cameras, these can record audio, which is much more useful. Other features like motion detection alerts are also available on these security cameras.
Forget about SD cards they are usually not very profitable if you want to get continuous recordings. You can buy the monthly subscription by paying only $ 3 dollars for each camera or an unlimited camera subscription for only $ 10 per month, this is a great deal if you consider that you will get unlimited storage, in addition to being able to watch the recordings at any time, the recordings are automatically saved in the cloud. Blink Outdoor also offers the possibility to use a USB flash drive to obtain the recordings without having to pay the monthly subscription. Cloud storage is definitely a better option, as it offers many more benefits than disadvantages, you just need an internet connection. Please note that all new customers get a 30-day free trial.
You can buy this item here on Amazon