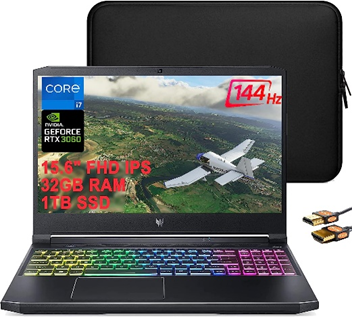 Do you need a powerful gaming laptop to run any game without problems?
If you are a casual or professional player, you will know that current games are increasingly demanding, so you will need good components if you want to enjoy your favorite games in good graphic quality. There are many aspects to consider, such as the processor and graphics card and as you know, the graphics card is arguably the most important thing if you want to run realistic games. Nvidia recently launched the RTX 4000 series, which has a ridiculously high price and unless you want to invest thousands of dollars in a computer, I don't think it's worth that graphics card, the RTX 3000 series is still great and enough to enjoy most games in high graphics quality and at a good refresh rate.
If you need a good quality gaming laptop, then make sure you buy from well-known brands. I would only put my money into MSI, ASUS, Acer, Gigabyte, and any prestigious brand. Another important aspect to consider is the quality of the screen, processor, RAM, and graphics card, everything must be modern to enjoy your favorite games in the best way.
The Acer Predator Helios 300 gaming laptop is a great option to consider if you're looking to get the best value for money. For just over $1500 you get a high-end laptop that will allow you to run any current and upcoming game without any problems. Below, discover the most interesting features of this product.
Features of the Acer Predator Helios 300 gaming laptop
RTX 3060 and i7-11800H processor
I would say that the main feature of every gaming laptop is the graphics card, so, you need something powerful to enjoy your favorite games in high quality. The Acer Predator Helios 300 laptop includes an Nvidia RTX 3060, which will be enough to run most games with a refresh rate and high graphics. This laptop also includes an i7-11800H processor, which is incredibly fast to run programs. The i7-11800H has 8 cores, plus it has a maximum turbo frequency of 4.6GHz, which is a great help when you need to run design programs or run a demanding game. The i7-11800H is considered one of the best processors for laptops.
Another of the most important features of the Acer Predator Helios 300 is the 15.6″ screen that will be enough to enjoy your favorite games in a comfortable way. The screen has a resolution of 1920×1080, and it also has FHD IPS technology, which significantly improves the quality of the screen. As it can not be missing in a PC or laptop gaming, a good screen should offer a good refresh rate. The Acer Predator Helios 300 can offer a 144Hz refresh rate, meaning you'll be able to take full advantage of the power of the RTX 3060.
Although the amount of storage and RAM may vary according to your needs, you can get the Acer Predator Helios 300 with 1TB SSD, which will be enough to download some games and programs, as you know, a good SSD will always help to run the programs faster, so having 1TB SSD is enough for most people, remember that there are other options with more storage. RAM can vary too, but definitely, 16GB may not be enough for current and later games, so get the 32GB version of DDR4 RAM so you can play without limitations.
The Acer Predator Helios 300 not only includes a powerful and modern graphics card and processor, but the other components are also of great quality. This gaming laptop includes Wi-Fi 6 for blazing-fast, latency-free internet speeds. It also has Bluetooth 5.0 so you can connect keyboards, mice, speakers, and other peripherals with ultra-low latency. It also includes 3 USB 3.2 ports, 1 USB Type-C port, an ethernet port, and HDMI 2.1 port. This laptop is compatible with Thunderbolt 4. Another feature is that it also has a webcam so you can talk to your friends or family. Finally, a free HDMI and case are included.
You can buy this item here on Amazon