We are influencers and brand affiliates.  This post contains affiliate links, most which go to Amazon and are Geo-Affiliate links to nearest Amazon store.
Thanks to the Internet and technology, you no longer have to worry about debt management even as a business owner. You will find that you can now use your smartphones and iPad for debt management wherever you go. When it comes to mobile apps for debt management and reduction, you will find that they use the snowball method for the reduction of debts.
Snowball Method- what does it mean?
The Snowball Method is a method via which you can reduce your loans and debts by eliminating them one by one. With this technique, you can still make your minimum payments as a business owner on the other debts that you have taken. Here, the method works in such a way that it eliminates the first debt that you have placed on your list. Now, when the first debt is paid, the app will take the same monthly amount and use it to pay off the second debt. This is an ongoing process, and with the passage of time, you will find that your debts are reducing one by one. This technique is automatic, and this means that you can save time and money while focusing on your core business functions and activities. This method of paying off your debts is called the snowball method as it works like a snowball that is paying off the debts that you owe.
Get rid of all your debts with these top 3 mobile iOS apps
As a business owner, you can now use your iOS smartphone and iPad to get rid of the debts that you owe. You just need to download the mobile app and install it on your phone. These mobile apps will organize all your debts in a single place and will choose a structured plan for you to eradicate them one by one. In this way, you can track progress as you reduce the balance in your debt account. The following are some of the top and best iOS mobile apps that you may download and install for the eradication of debts-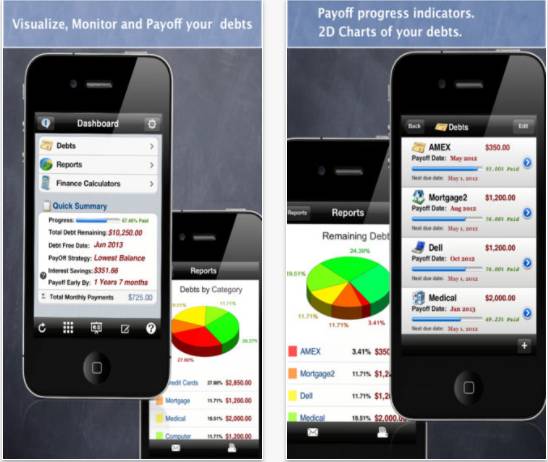 Debt Free- This mobile app is completely free for iPhone and iPad users. Both these versions are simple for you to use as they have an interface that is clear and direct. Once you have downloaded the app, you just need to enter the debt amount that you wish to pay off. Here, you can pay off your debts by choosing a repayment strategy that is based on options like high-interest rate, lowest balance, the highest balance or simply the list of business debt that you wish to eliminate as soon as possible. Besides the elimination of debts, this friendly mobile app will also show you how these strategies affect the sum amount of debt you owe as well as the interest that you need to pay. The payoff date is also added. The moment a payment is added to the existing debt, you will find that the variables like amount of interest, balance remaining and more are updated! This mobile app will also give you calculators that will help you with mortgage and loan repayments. You can set notifications for the due dates of payments, and there is a special table that helps you get insights on the interest and principal rates for the balance that is associated with every debt payment that you make.
Debt Payoff – Debts are of course a headache, and if you are not careful with the debts of your business venture you will be in deep trouble. Debt Payoff Pro is a unique mobile app for iPhones and iPads that help you to reduce your business debts with the Snowball Method. Now, for those business owners that have many apps on their mobile phone and concerned about storage space and speed, this app is ideal as it also has a Lite version called Debt Payoff Pro to help you reduce your existing debts. The app both original and lite versions have been uniquely designed. They sport calculator buttons that are large, and the currency you use can be set as per your region. You may enter your loans and choose from the different payoff options like highest balance, lowest balance, custom order and highest interest rates first. Certain reports display the debt amounts, and you get insights with the aid of a progress bar. You can also see how making extra payments will affect your debt elimination plans. This mobile app also includes a table where you can see the interest rate, the principal and the remainder of payments and balance amounts for every loan. You can also set payment reminders on their due dates.
Debt Strategy- This is a mobile app that helps you to reduce debts. However, it has lesser strategies for you to pay off debts over the first two mobile apps that have been discussed above. Nevertheless, it is useful for you to reduce debt if you have taken lesser loans for your business. The USP of this mobile app is that it gives you terrific graphical reports that the above two apps do not. You also get the advantages of having your financial data protected with a password. Like the other two apps, you can set notification reminders for payments and due dates; you can view the current status of your pending loan, you may also check the interest rates, etc.
Therefore, if you have taken debts for your business, you do not have to worry about their reduction thanks to the advent of these three mobile apps for debt reduction. This means you are aware that your business loans and debts are being managed in a professional and organized way. These apps also take the onus of reducing stress and pressure. If you are a small business owner, it is essential for you to download and install these mobile apps on your iPhone or iPad so that you do not fall into the vicious cycle of debts and make your loans go out of control!
Author Bio: Isabella Rossellini is a debt management expert in the USA, and she recommends the use of mobile apps to reduce business debt and keep them in control.
We are influencers and brand affiliates.  This post contains affiliate links, most which go to Amazon and are Geo-Affiliate links to nearest Amazon store.
This is the Dragon Blogger Guest Bloggers account for author's who want to submit articles and only have credit in the post instead of having to manage their own WordPress profile.