PC Gaming is not even close to being dead as those would proclaim, even with consoles becoming more PC like in architecture in 2013 the PC still reigns supreme and provides gamers the most options and flexibility for any style of gameplay.  Previously we focused on gaming laptops in previous articles for their portability but gaming desktops on the high end will still outperform any gaming laptop.
Here are arguably the top 5 gaming PC's of 2013 (at least to date, this list could be antiquated in just a few months).
Alienware Aurora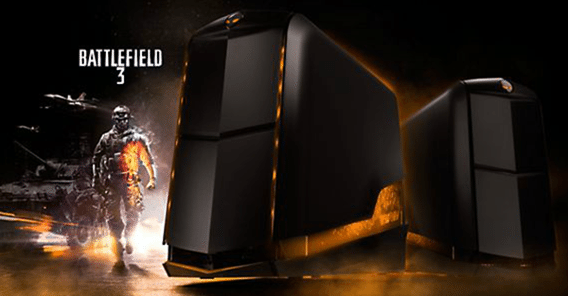 The highest end of the Alienware Aurora sports some impressive specs including a core i7-3820 processor overclocked to 4.2 ghz, Dual AMD Radeon 7950 3GB GDDR5 graphics engines, 32GB DDR3 SDRAM, and 3 TB of 7200 RPM drives.  It was ironic the stock didn't include an ultra fast SSD drive for Windows boot and maybe hybrid SSD/RPM drives but these could be options you can swap out.  You can always toss on this option 512GB SSD 6Gb/s MAIN + 1TB 7200RPM Storage for example instead of 3TB if you need the speed of drive over the space.
Falcon Northwest Mach V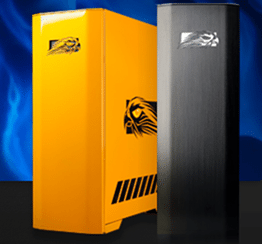 Of course the customized Falcon Northwest Mach V gives you some uber impressive options as well which include not only the Intel core-i7 but the Mach V also has NVIDIA 3-Way SLI™ Support and you can fit in 64GB of DDR3 ram in the x79 chipset of this beast.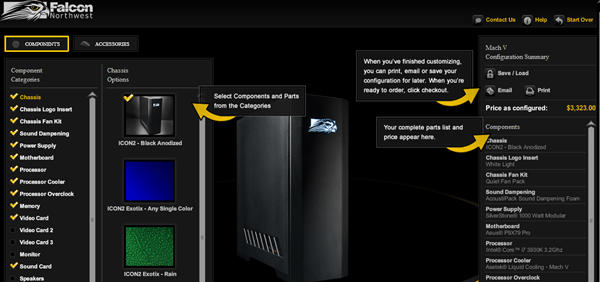 Falcon Northwest has probably the best custom configuration interface out of any computer manufacture that I have seen and the plethora of options may be daunting to those who aren't enthusiasts.
Origin Genesis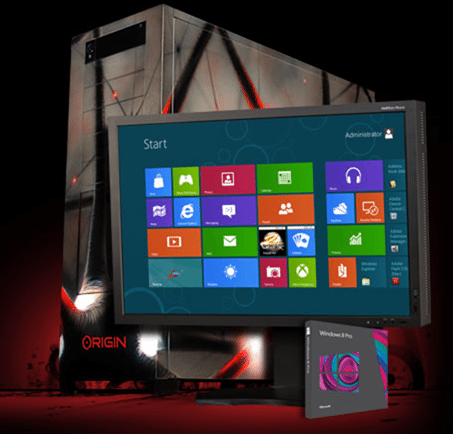 The Origin Genesis is one of the highest tiers of customizable gaming computers on the market and has some amazing case customization options.  This is probably one of the most expensive of the highest end gaming PC's but if you have the budget for this I consider it the Ferrari of the PC line.  Where else can you get a customized PC with an Overclocked Intel Extreme Edition Core i7 3790X that is ranged from 4.5 – 5.2ghz.  Where else could you get Dual Origin Cryogenic Liquid Cooled 6GB GDDR5 Nvidia GTX Titan GPU's?  This option alone adds $3,008 to your build and is just for the video cards.  If you have the budget to buy a car and want to get a gaming rig instead, Origin Genesis will have a PC that will probably be as future proof as a PC can get.
CyberPower Gamer Xtreme SSD-K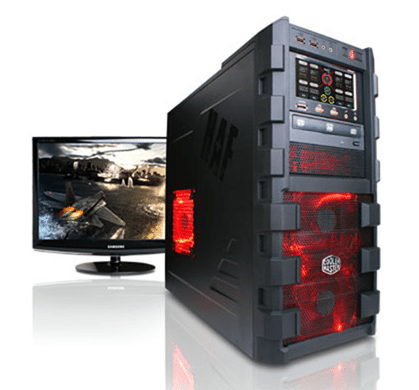 The customizable CyberPower Gamer Xtreme SSD-K comes with all the bells and whistles you can find in the Alienware as well as you can put in the Geforce GTX 690 4GB or the Geforce GTX TITAN.  Cyberpower however is known for being able to configure some amazingly powerful rigs for a fraction of the price of competitors so they may be worth considering if you want power but price is something you balk at.
Velocity Micro Overdrive BigBlock.GTX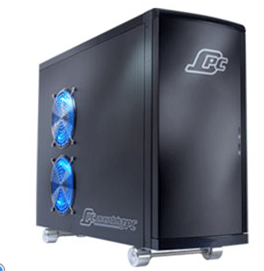 When the starting price of a computer is almost $8,000 you know you are in for something CRAZY.  The 1,500 watt power supply alone tells you this is a beast of a computer.  We are talking about Intel Extreme Edition i7-3970x 15mb cache CPU's overclocked to 4.6ghz, 64GB of DDR3-1600 RAM and not two but 3 eVGA Geforce GTX Titan video GPU's in a Tri-SLI configuration.  You can hook this up with dual 240gb Intel 520 SSD drives as the primary and 2 2TB 7200 RPM drives for a total of 4TB storage capacity plus your 240GB SSD drives for your boot drives.
This whopping configuration comes at over $10,000 and makes this the most powerful and expensive gaming rig I could put together so far in 2013.  Not counting rare or precious metals integrated into cases or extreme case mods.
In Summary
There are some of the most powerful and expensive gaming desktops for 2013, and most of these are many times outside what my normal budget is.  If you are like me and have to balance price and performance, you also could always check out what's for sale at Vibox which sells a whole line of gaming PC's whether based on Intel Core i-7 or AMD FX41xx based processors and you can find a gaming rig to match any budget too.
I have been obsessed with computers, tech, gadgets and games since the early 1980's having grown up on the Commodore 64 and Amiga computers.
By day I work in the IT Security Industry and have been in IT for over 20 years. On my spare time I am a Vlogger, Blogger, Streamer, Gadget Reviewer, affiliate marketer, influencer and entertainer. I am also an avid movie fan, TV Show fan, Anime fan, video game fan and fan of trying anything and everything new.