We are influencers and brand affiliates.  This post contains affiliate links, most which go to Amazon and are Geo-Affiliate links to nearest Amazon store.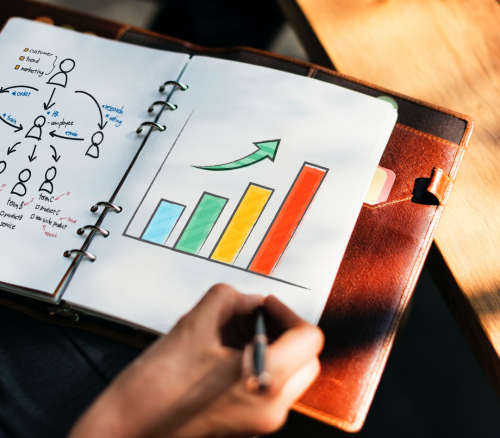 Big data and automation continue to drive the personalization of digital marketing for increased conversion rates.
A recent Forrester Consulting study found that 80% of marketing decision-makers said improving their company's customer experience was among their top priorities in the year ahead, and 81% cited increasing customer loyalty as equally important.
In this new age of customer experience, a combination of data, creativity, and flexibility is going to set the market leaders apart from companies that don't fully embrace their clients' needs. The study also revealed the need to have a greater focus in 2019 on marketing approaches that create personalized interaction and more immersive mobile experiences.
Satisfying customer experiences correlates to an increase in conversions, so it's not surprising that the customer experience interrelates the top inbound marketing trends for 2019. Efforts to serve customers quickly, efficiently, and ethically with marketing designed to move at the same tempo as customers will be well rewarded with an increase in customer acquisition and retention.
Here are the top inbound marketing trends to help you create a great customer experience in 2019.
1. Content marketing
Content is a critical component of a strategic marketing approach. By executing a strategy that's focused on creating and distributing relevant and value-rich content to a targeted audience, businesses will not only attract new prospects, but will also enhance current client relationships. This marketing concept seems easy enough to understand, but implementing it successfully can be complicated.
For content marketing to be fruitful it must provide valuable and consistent insights that inspire and drive profitable customer actions. In order to personalize each touch point of the customer life-cycle, it is important to distribute relevant content both at the right time and to the right customer. This customization tells your customers that your focus is on their experience and that you're tuned in to their needs.
But to market content effectively, you must first create content that offers education, insight, and real value. Creating consistently valuable content requires a focus on what's important to your customers. Done correctly, this value-driven content requires a certain level of financial investment, but with the right approach, you can create the content your customers want without breaking your budget.
Leslie Carruthers, President of The Search Guru, emphasizes the coorelation between quality content and budget, saying that, "To remain in the game, smaller companies will need to find ways to produce content at a cheaper price. They don't have budgets to compete with high-quality video campaigns and huge social media initiatives, and they cannot go for the trendy topics. But if they focus on efficiency and evergreen content, they will stand a chance."
2. Artificial intelligence and machine learning
From smart content curation to analytics and targeting, artificial intelligence (AI) is an exciting innovation in marketing that can positively impact nearly every component of your marketing strategy. Used correctly, machine learning and AI can help streamline creative efforts, distribution, and analysis to fine-tune your marketing efforts. AI and machine learning can help build faster, better, and more targeted marketing strategies.
While there's no doubt that AI can do all of this and more to automate marketing efforts, there is a challenge that must be addressed from the start. Your customers probably appreciate the efficiency that AI and machine learning bring to the table in their world, but they can be somewhat suspicious of these applications in marketing.
Successful marketers must often work to first change their customers' perception of AI before turning it loose in their marketing strategies. Consumers don't mind the AI element as long as it doesn't interfere with their experience. More importantly, consumers want a sense of personalized engagement, and too often, AI efforts can fall short. The solution is to focus on implementing AI and machine learning as seamlessly and invisibly as possible and still deliver a better experience.
3. Marketing automation and email marketing
As a recent Forbes article states, "Email is not dead, it's evolving." That's a perfect summary of the current state of email marketing. Contrary to some beliefs, recent research shows that consumers don't mind frequent emails as long as they are relevant to their needs. With that in mind, it seems like a logical step to use marketing automation to create effective email marketing campaigns.
Automated email marketing not only saves time and effort, but it also utilizes trigger email points to automatically send relevant messaging to the right customer at the right time. A marketing automation platform can help you focus on your customers' needs and provide valuable feedback for tweaking your email marketing campaigns and other marketing strategies.
It's important to note that top performing marketers don't use marketing automation technology to just put their marketing efforts on autopilot. Rather, they use this technology to become smarter marketers in addition to fine-tuning and streamlining their marketing efforts. Smart marketers will continue to take full advantage of marketing automation, but they will temper it with human effort, insight, and engagement.
4. Big data
Big data has been a popular marketing lexicon for a decade, but it's only recently that the concept has become more accessible with marketing automation. Large data sets can now be effectively analyzed to reveal trends, patterns, and associations regarding consumer interactions and behavior. The marketing and customer insights derived from big data will become the driving force behind digital marketing as we move into 2019 and beyond.
Big data as a concept is not difficult to understand. Understanding big data and how it can be mined for minute details that lead to improved customer engagement can be more complex, but the return is hard to understate. Nick Worth, Chief Storyteller at Selligent, looked at consumer engagement, and in his article in Marketingland noted that, "Now more than ever, consumers expect brands to understand them and treat engagements as evidence that they are committed to knowing them better as individuals."
More than anything, big data allows you to understand your customers at a deeper level than ever before. It's that detailed understanding that enables you to create marketing strategies that not only speak to your audience in a way that encourages interaction but also allows you to adjust your message, its timing, and more based on the behaviors of your customers throughout the customer journey. If you want to send a well-designed offer to a prospect at precisely the right time to have the most impact, you're going to need big data.
5. CRO
Conversion rate optimization (CRO) is simply the process of improving your ability to get customers and prospects to take a requested action. CRO is intricately tied to data-driven marketing, which allows you to use feedback and analysis to improve your efforts to convert prospects into customers. Your investment in optimizing conversions creates a return that goes well beyond just an increase in conversion rates. By working with the traffic you already have, instead of relying on driving traffic, you'll save marketing dollars because you are more focused on viable prospects.
CRO helps you identify and address any pain points and conversion issues with your website at the source. By making some simple changes to your website or other marketing platform, you can get visitors to take action more often. By adjusting your efforts over and over until you get it dialed in you will improve both the quantity and the quality of the prospects who convert.
Improving your CRO is an ongoing process that requires careful planning and thoughtful revisions. Your visitors are always on the move, so you have to move with them. The data you glean about your customers through CRO, will give you a better understanding of their thought processes, problems, and needs.
For anyone involved in digital marketing, we hope learning about these inbound marketing trends will inspire you to learn more about how to effectively engage your customers. To compete in digital marketing, you will have to invest in automation, data management, and content creation whether it's done in-house or with the help of an automated marketing campaign service. When you create your marketing strategies with your customers' needs front and center, your marketing will build your brand and create a larger customer base.
We are influencers and brand affiliates.  This post contains affiliate links, most which go to Amazon and are Geo-Affiliate links to nearest Amazon store.
I am interested in all things technology, especially automation, robotics and tech that helps change how society will live in the future.