Being an avid mobile phone user, there are an endless amount of games out there that you can play that make for either great time wasters or games that you can get really addicted to that will have you keep coming back over and over again. Let me share with you six games mobile games that you can easily spend 50+ hours playing that are easy for anyone to get into.
1. BitLife – Life Simulator
BitLife is a game that is going to keep you playing quite literally over and over and over again. The game starts by having a randomly generated character created and you start out at birth making all kinds of decisions along the way. Will you get married at a young age? Will you go to college and get a better paying job or will you decide to skip college altogether. BitLife is essentially the game of Life but in a text-based game. There will be multiple random events that will pop up with decisions to make, such as your boyfriend breaking up with you over things like using the word "hashtag" too much and you can decide to beg him to stay, wish him well or flat out insult him. You can even decide to have your own social media account within the game that you can post things to as well. You will always try to live longer on each playthrough which starts right over after you die. BitLife is a game that I highly recommend to anyone.
2. Playerunknowns Battlegrounds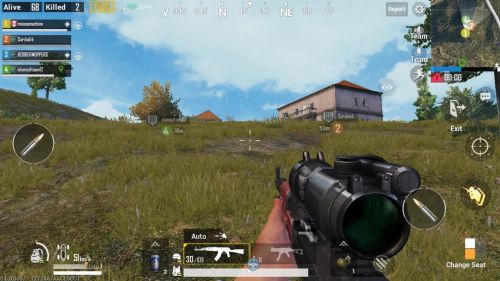 PUBG Mobile is one of those games that I just didn't imagine having as much fun with as it's PC and console gaming counterparts. However, once I decided to give it a spin I was quickly shown just how much fun the game can be on a mobile device. The game plays exactly like the others. A battle royale game where it is you versus everyone else. Squads are also available for you to be able to squad up with two others to take on the competition. There are tons of unlockables to be had which will give you even more of a reason to keep coming back not to mention the daily and weekly challenges the game has to offer. This game, like the others, is free to play with some in-game purchases but is still a great game to play that will give you hours of fun.
3. Stardew Valley
I mentioned this in a previous article for top games on the charts in April but Stardew Valley is definitely up there when it comes to games that are going to provide you with hours upon hours of fun. Stardew Valley is a farming simulator one that myself and many others consider a spiritual successor to Harvest Moon. The game has you playing like someone that has just inherited their family land and has you tasked with taking it over and restoring it to its former glory. Along the way, you will make friends with the townspeople as well as build up those relationships all the while celebrating holidays and even be able to get married and raise your own family. This game also has its own little story that will have you discover some very interesting facts about this town.  Also, the game works so much better on a mobile device where one can easily maneuver the menus with a touchscreen.
4. Reigns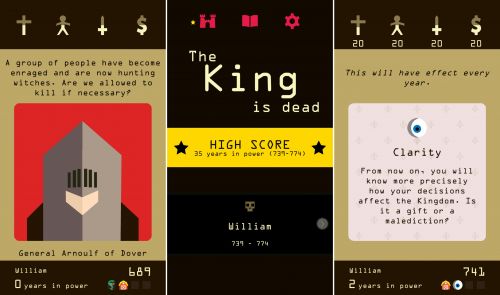 Reigns is a very unique game in the sense that it is a very roguelike game that uses cards to have you make decisions each and every round that you play. The game has you play as a King of an unnamed Kingdom where you get to make decisions in regards to your kingdom by swiping each decision card left or right depending on what decision you want to make. However, you could be one decision away from the one that will end up costing you your life. Decisions do carry over in each playthrough as when you die you end up being the next in line for the throne. The game does have a bit of a story within it that you can follow and complete depending upon your choices. This game is a great time killer and one that you will find yourself coming back to on multiple occasions.
5. 888 Casino: Slots, Live Roulette and Blackjack Games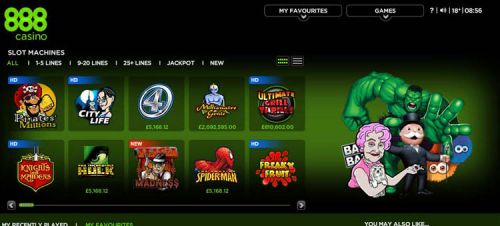 Lastly is 888 Casino another great game that delivers tons of fun when it comes to providing lots of great casino game action with slot machines that will have you playing for hours as well as live roulette tables that are always going on throughout out the day and well into the later hours of the night. Just look at this page on bestcasino.co.uk and you will see 888 Casino has a no-deposit bonus, 24×7 operation and if you look for a 888 Casino App review you will find nothing but high star ratings in the app stores.  For first time users, the game gives you 30 free spins on one of their slots to get you started earning currency to use for any of their other games. You can also hit up the blackjack table to play against others online and the game even includes online leaderboards that will allow you to compete with others.  This is one casino game that is sure to give its players plenty of fun and provide hours upon hours of excitement with every single pull of the handle. A game that is every bit worth your time and worth downloading.
6. Plague Inc.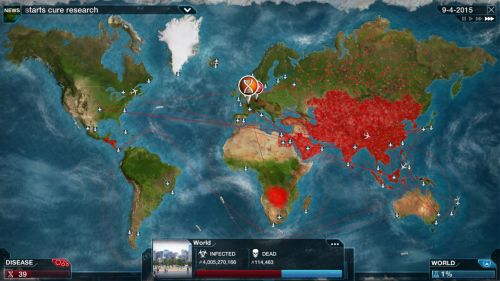 Plague Inc. a game that has you creating viruses and diseases to cause an outbreak and effectively kill the entire world population. Along the way you are competing against humanity as they will do everything they can to stop the spread of your infection from shutting down travel such as sea and air as well as working on every way possible to find a cure. This game requires a lot of strategies to play as you try to find multiple ways to spread the infection as well as trying to find ways to fend off the cure. You can even earn upgrades to help spread your infection and make it a lot easier to infect and yet harder to cure. The game does a great job of showing stats when it comes to how many people in the world have been infected as well as how many have died from your disease. You begin by picking where you want the outbreak to begin and then earn upgrades along the way. This is one game that I highly recommend anyone download and is free to play.
I've been writing and covering many forms of entertainment such as comedy shows, and arcade bars as well as reviewing video games and more for the past decade. I love to write and I am blessed to be able to have the opportunities that I have had in the entertainment and technology fields.