Now alas I had a lot of trouble with my Razer Blade 2014 and in the end I had to send the laptop back into repair, but I did a lot of problem solving and troubleshooting before finally realizing it was a hardware problem and many people have reported their battery problems can be solved if they are software related problems with Windows and the Laptop Battery.  So before sending any laptop back to the vendor for repair for an issue where laptop battery is not charging, or laptop does not show it has a battery issue I recommend the following trouble shooting tips.
Mostly this involves removing the Microsoft ACPI Compliant Control Method Battery in Device Manager, shutting down your PC and letting it charge, then restarting while not having A/C plugged in forcing it to recalculate battery.  Then plug A/C power back in after.
Click Start and type device in the search field, then select Device Manager.

Expand the Batteries category.

Under the Batteries category, right-click the Microsoft ACPI Compliant Control Method Battery listing, and select Uninstall.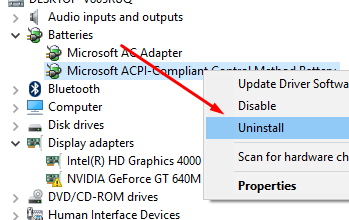 Power off your computer, and now let your battery charge for 8 hours or overnight.
Then unplug your A/C charger and power on your laptop running off of battery only.
Windows will scan your computer for hardware that doesn't have drivers installed, and will install the drivers needed to manage your battery's power. Now check if this issue persists, see if your laptop recognizes your battery and percentage.

Note:  If you have the A/C unplugged and your laptop won't even power on at all, then this is clearly a hardware battery issue and not a Windows Battery driver problem.  If you can boot your laptop into Windows and it still doesn't show a battery being there, yet the battery is the only thing giving power, this could be a software issue still but can also be hardware issue.  I used this tip to help narrow it down to a physical battery issue, but there is still a chance your A/C power isn't charging the battery or problem is with the battery not being able to charge from the plugin port, it is more likely however the battery is failed at this point however.
My Razer Blade 2014 ended up being sent into repair (it should have still been under warranty) to replace the battery.  Good luck with your own laptop battery issues if you stumbled onto this page.