We are influencers and brand affiliates.  This post contains affiliate links, most which go to Amazon and are Geo-Affiliate links to nearest Amazon store.
Thanks to the generosity of Tt eSPORTS and Thermaltake, we'll be doing a series of Tt eSPORTS and Thermaltake product reviews and first up is the series is the Tt eSPORTS Draconem RGB mousepad.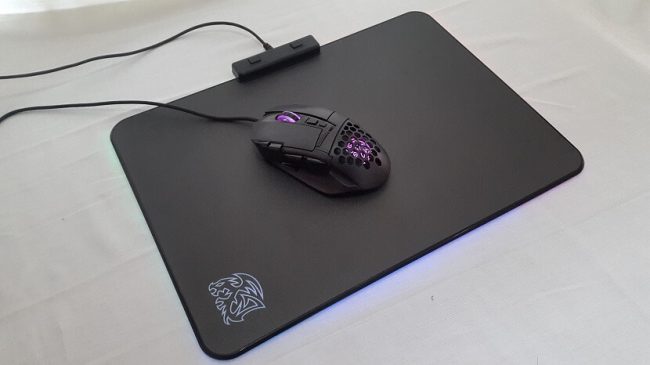 The Draconem RGB mousepad is the 2nd revision of the original Draconem which didn't have LEDs and also had a mouse wire holder, but in the RGB edition, the mouse wire holder has been replaced with RGB mode and brightness level button. But it's not all about the LEDs, is it? So let's see how its performs alongside with the fancy LEDs.
Unboxing:
Usually I do only picture unboxing, but this time around, I had the opportunity of doing video unboxing as I've moved to a new house and there's enough space for recording so that more videos will follow in future reviews.
Some better quality pictures below: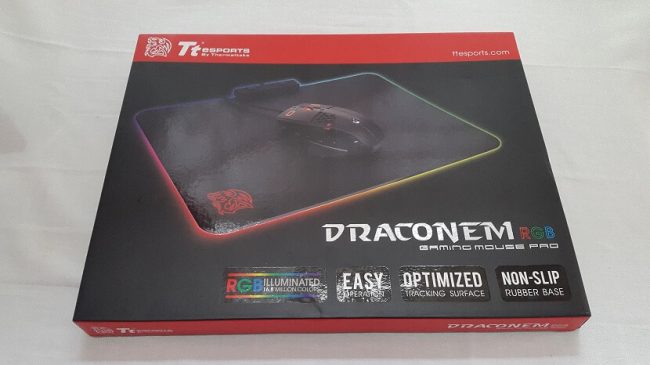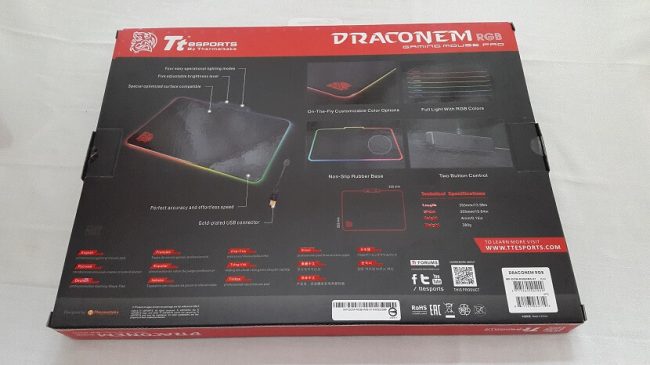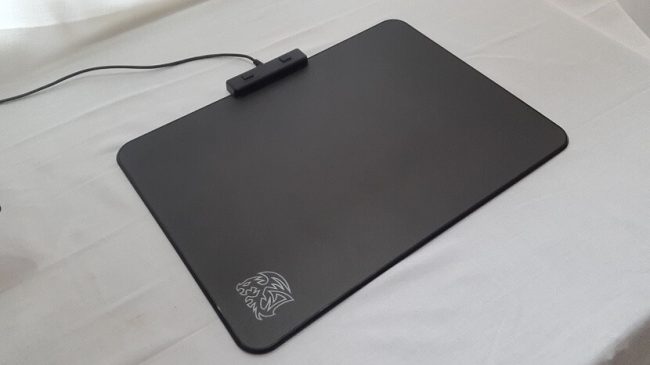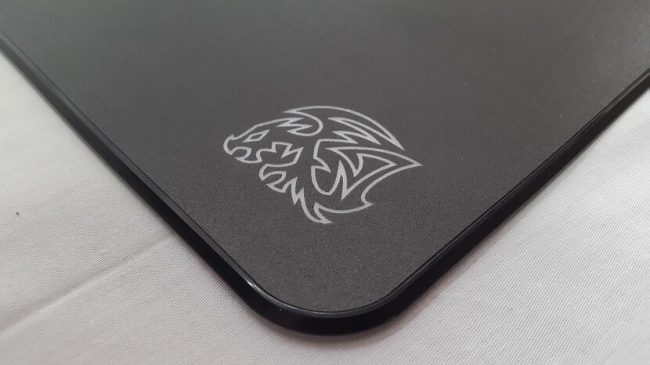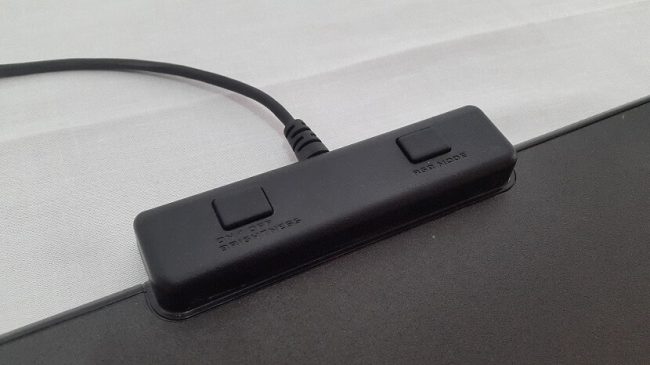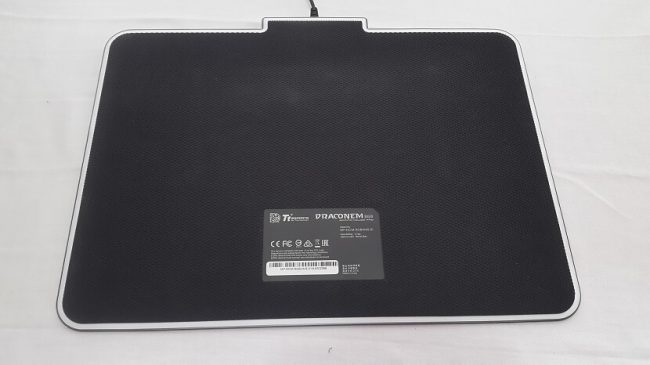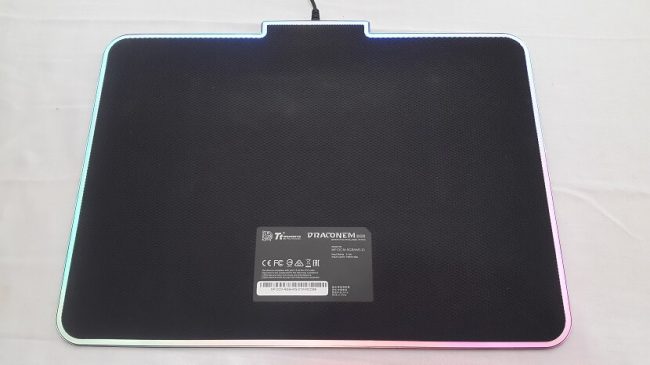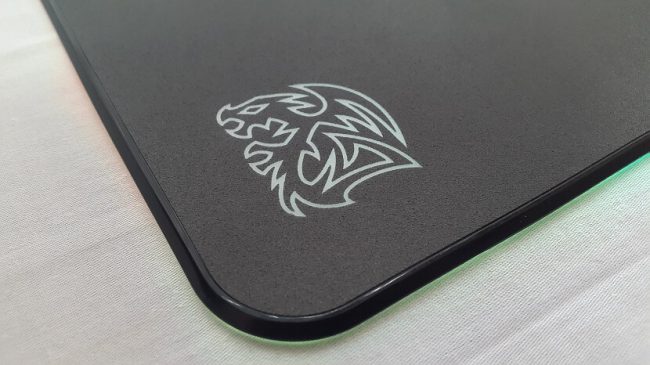 Draconem RGB Specifications
DIMENSION
355 X 255 X 4 MM, 13.98 X 10.04 X 0.16 IN
SURFACES
SPECIAL OPTIMIZED SURFACE COMPATIBLE
BASE
NON-SLIP RUBBER BASE
FEATURES
– ON-THE-FLY CUSTOMIZABLE COLOR OPTIONS
– FULL LIGHT WITH RGB COLORS
– TWO BUTTON CONTROL
Build Quality:
So according to the website listing, the Draconem RGB uses specially optimized hard surface with a plastic edge. The mousepad is a tiny little bit flexible, so it doesn't get cracked being hard if it was exposed to high pressure or got stuck between two objects. I don't know why that will happen though. Also, the surface is scratch-proof, I tried making some scratches with a screwdriver on the surface, but it got mixed up with the surrounding of the surface and wasn't detectable and was barely feel-able. So we can easily say that the build quality of the Tt eSPORTS Draconem RGB mousepad is superb.
LED Effects: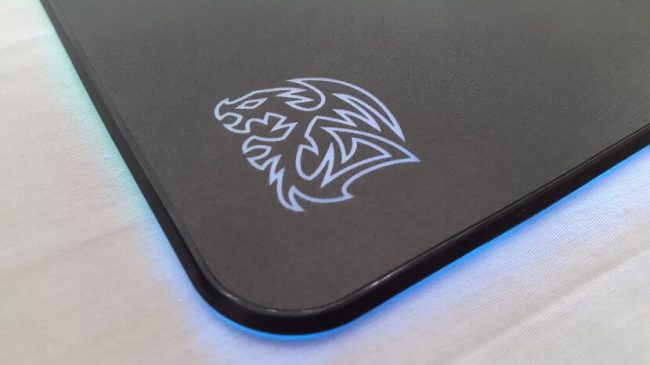 The Draconem RGB features 5 LED effects, static, pulse, jumping, spectrum running, and wave.
Static: Single stationary light
Pulse: Single color is turning on and off.
Jumping: Color changes each time as LEDs turn on and off
Spectrum Running: Color changes into other colors in slow motion.
Wave: Rainbow color moving along the edges
The LED effects can be seen in action in the above video.
User Experience and Conclusion:
So I've used the Tt eSPORTS Draconem RGB for about two weeks, and I'm pretty satisfied with the experience. In the unboxing video I mentioned that I prefer cloth mousepad over hard surface and I still would, but if I were left alone on an island with a computer, electricity, and the Tt eSPORTS Draconem RGB, I will make peace with it. Leaving the biased part behind, I've never lost traction on the Draconem RGB and the size of the mousepad is big enough that you may not even reach the corners unless you use the mouse at very high DPI.
Though there're two issues with the Draconem RGB. One, it lacks a software to control the LED effects and second being the buttons position on the mousepad. Let's talk about the second one first. The buttons are present at the top mid of the mousepad, and if your mouse has somewhat hard braided cable then you can easily feel the mouse wire touching the buttons which become annoying after a while. I like my mouse wire being as soft, as flexible and as free as possible, so I got annoyed from time to time. This annoyance could have been easily rid off if Tt eSPORTS used thin buttons on the surface or decreased the size or maybe even moved the buttons to the top left or right side of the mouse. And if that's not possible, then a better way would've been just having the LED controller laid out on the top somewhere and have the LEDs controlled via software. Since Tt eSPORTS has gone the universal software route for their mouse, an option for binding the LED effects on the mouse or syncing the LED effect with the mouse would've been awesome.
Other than that, I've got no dislikes for the mousepad as it performs well without any loss of traction or any haywire movements of mouse because by the surface. But in the end, it all comes down to the price, and the Tt eSPORTS Draconem RGB has an MSRP of $39.99 which is about $20 lower than the present famous competitor in the market. So considering everything, I would like to rate the Tt eSPORTS Draconem RGB mousepad 4.5/5 stars and award it a "Recommended Buy" and "Best Value" award within it's category.
Disclaimer: Tt eSPORTS provided me with the Draconem RGB mousepad so I could do a showcase and share thoughts on the product. All opinions are 100% mine and mine alone. For more information visit http://bit.ly/dbdisclose
We are influencers and brand affiliates.  This post contains affiliate links, most which go to Amazon and are Geo-Affiliate links to nearest Amazon store.
Hi, I'm Ahmed Kazim and I've been a gaming freak since like 7-8. I'm also a geek-o-nerd who keeps looking around for latest development in hardware/tech/gadget industries so expect some quick news from me. I'm also interested in anime (Japanese animation) and can't stand a day without music and gaming.