We are influencers and brand affiliates.  This post contains affiliate links, most which go to Amazon and are Geo-Affiliate links to nearest Amazon store.
Coming hot off of the heels from my last ThermalTake/Tt eSPORTS review, I am reviewing the Tt eSPORTS by Thermaltake Theron Infrared mouse. Their catch phrase for this mouse is "Take No Compromise Design", but check out this review to see how true this is.
ThermalTake/Tt eSPORTS is known for creating great peripherals and this mouse is no exception.
Check out the specs and features below
Specs and Features
1. Infrared LED based optical Sensor
2. 125 – 1000Hz polling rate adjustable from within the software or a button under the mouse for more accurate movements.
3. Adjustable DPI buttons and software adjustable between 100 and 4000 adjustable from within the software or a button under the mouse through Profiles.
4. Adjustable double slick speeds, Cursor Speeds as well as Scroll Speeds
5. 8 Fully customizable buttons with up to 5 profiles with up to 40 Macro keys
6. 128Kb for Macro's
7. Industrial rubber matte coating
8. 70.9in braided cable
9. Gold Platted USB connection
10. 5 x 4.5 Gram adjustable weights, up to 22.5Grams
11. Customizable lighting
12. Omron button switches for long lasting clicks, 5 million click lifespan.
13. Cushioned bag to carry mouse for LAN parties and more
14. Various colors of mice to choose from, White, Black, Green, Red and Yellow
Check out the unboxing, lots of nice stuff in this little box.
Opening the box, I was impressed by everything, but mainly by the cushioned bag for carrying the mouse to LAN parties, hiding it from siblings, kids or anyone. The package also included the standard stickers, warranty document and drivers disc provided by Thermaltake. To top it off, the mouse felt great with its rubberized coating.
This is a cabled mouse, a feature which I prefer so that I would not have to deal with batteries or lag (although I would still love to review one sometime). The cable length on this mouse is amazing at 70.9 inches and is protected by its very tightly braided sheath, a nice touch and thankfully more common now a days. At the end of this nicely sheathed cable is a gold plated USB connector. To aid in plugging in this cable correctly, Tt eSports/Thermaltake provides a logo that should be face up when plugging it in so that you know where it goes, another cleverly thought out touch.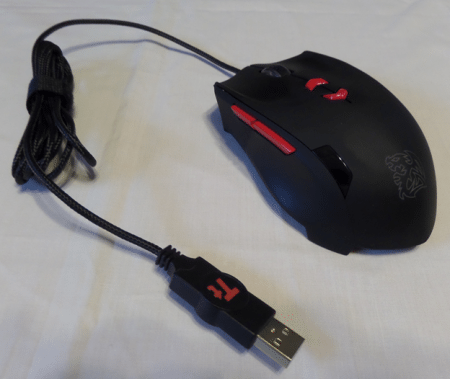 The software as well is cleverly thought out and easily learned without having to read a manual, a nice feature on its own. The keys on the bottom of the mouse also allow you to adjust the polling rate, change profiles as well as lock it so that if others were curious enough to press them, nothing would change. Right below the scroll wheel the DPI can be changed as well.
Check out the video on this software and how it works with the hardware.
The DPI, while not the highest I have tested seems to work better than most, possibly related to the infrared sensor. I seem to be able to control my character in BF4 much better and handle tight ranged shots at better distances, I am not a sniper but it comes in handy. I did play with the DPI and polling settings and preferred to keep it all at its highest, 4000 DPI and 1000 polling, a nice combination.
If I have learned one thing from reviewing mice it is to always install the driver, and I did but I also installed a little more. I went a little too far and installed from their website the Infrared Lift Off Control Tool. This software allows you to adjust the sensor to read the surface of the mouse pad, a nice feature I have reviewed in another mouse previously, but use it carefully.
When I was playing with it, I slid the bar to the highest options for Generic and Fine Adjustment and it left my mouse 100% useless, I had to use another mouse to correct the settings I trashed then finally was able to use the Theron again. I am sure this software does come in handy, but be careful with it unless you have another mouse handy, just to recover from mistakes. Please pay attention to my warning, do not use this feature if you don't need to, unless you have another mouse to recover from setting the sensitivities too high or too low.
This is the message that first appears when you start the software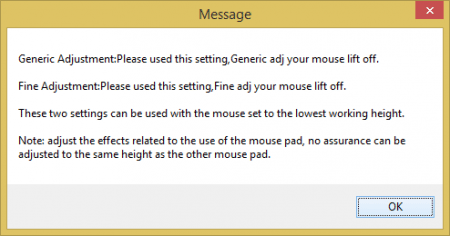 When you click OK, this screen appears. After my experimenting with it this is what I am currently using, I will play with it some more.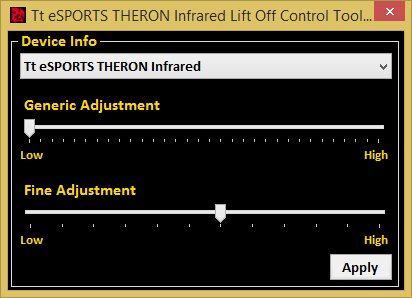 To no surprise, the most common thing left out from other mice was also left out of this mouse, a place for my pinky. While this finger is one of the least used fingers, it does require attention as well; can someone please look after it for me while I remove it and play a game? It does have a handy button on the right hand side that the ringer finger can use, but the pinky is kept muffled. I can't really say anything bad that the pinky was forgotten, as everyone does forget about it, I don't think it would be good for gaming but it does need to sit down while his brothers play a game.
I will be managing these services as I file for this patent, and unlike regular daycare's and/or before and after school care at "Pinky Daycare" I will charge very reasonable rates.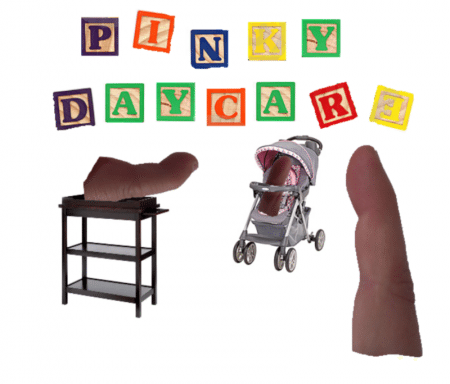 This mouse had features coming out of every possible opening in the box, and more from the mouse itself, the bag made me fall in love, as well as the coating, braided sheathing and DPI controls, I would recommend this mouse to anyone.
We are influencers and brand affiliates.  This post contains affiliate links, most which go to Amazon and are Geo-Affiliate links to nearest Amazon store.
I have spent many years in the PC boutique name space as Product Development Engineer for Alienware and later Dell through Alienware's acquisition and finally Velocity Micro. During these years I spent my time developing new configurations, products and technologies with companies such as AMD, Asus, Intel, Microsoft, NVIDIA and more. The Arts, Gaming, New & Old technologies drive my interests and passion. Now as my day job, I am an IT Manager but doing reviews on my time and my dime.