We are influencers and brand affiliates.  This post contains affiliate links, most which go to Amazon and are Geo-Affiliate links to nearest Amazon store.
The In Win D Frame Mini is for those of us that don't want to deal with a huge PC, have a small desk or like the fact that it's so quiet.  Aside from the small size, it can take just about any video card and even supports liquid cooling units, really?  Well, let's take a look at the specs.
 In Win D Frame Mini Black Case Specs
Motherboard Support: Mini-ITX
Case Material: Aluminum
Side Panel Material: Tempered Glass
Maximum power supplies up to 220mm (8.66 inches)
Maximum Card Length and Height 340mm length (13.39 inches) and 150mm height (5.91 inches)
2 Expansion slots to support double wide video cards or 2 of any cards.
Rounded Corners, no sharp edges
External Connections

2 x USB 3.0
1 x HD Audio
1 x Microphone

Drive Slots:

3 x 3.5" or 2.5"
2 x 2.5"

2 x 120mm Bottom Fan's
240mm Liquid Cooling Radiator
CPU Heatsink up to 165mm (6.50 inches)
3 Year Warranty
Weight: 11.57lbs
Dimensions: 405 x 230 x 501mm (16" x 9" x 19.7")
Here is my unboxing of the In Win D Frame Mini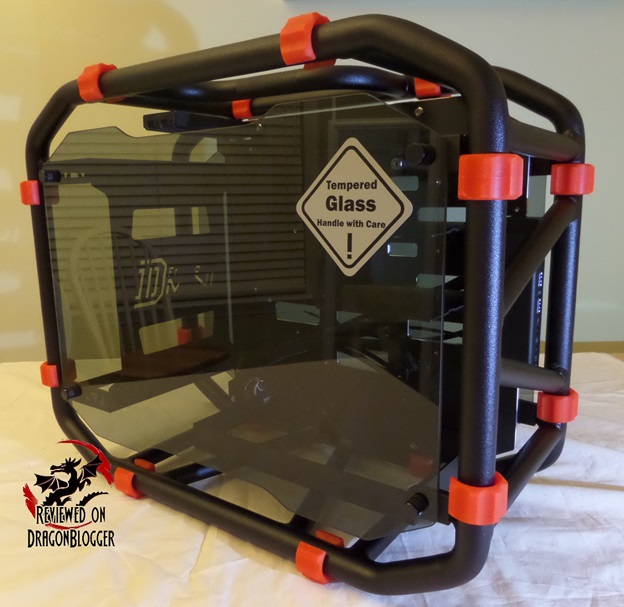 Being that this is a relatively tiny case, it will only support a Mini-ITX motherboard, but as good as onboard video, audio and as many USB ports as these Mini-ITX potentially can have, do you need a bigger board?  For this particular build, I used an Asus AM1I-A motherboard with an AMD Athlon 5350 APU.  Not a bad combo, my son uses it for all of his games and it does pretty good for him, but lets get back to the case.
Once you open the box, it's topped with a resalable bag full of screws, clips, a manual and a nice clothe to wipe the case down after you are done building it.  I promise, unless you use gloves, you will get finger prints everywhere.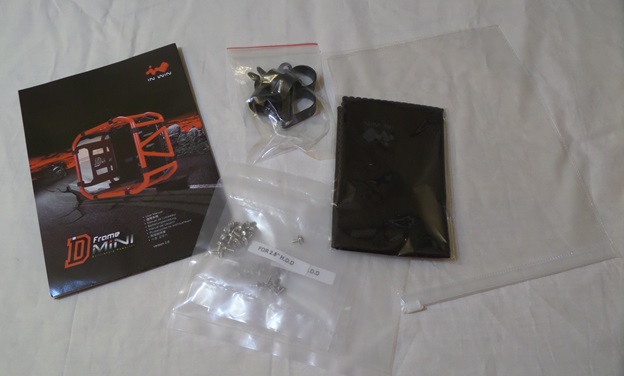 Screws for the motherboard, 2.5" SSD's or Hard Drives, 3.5" Hard drives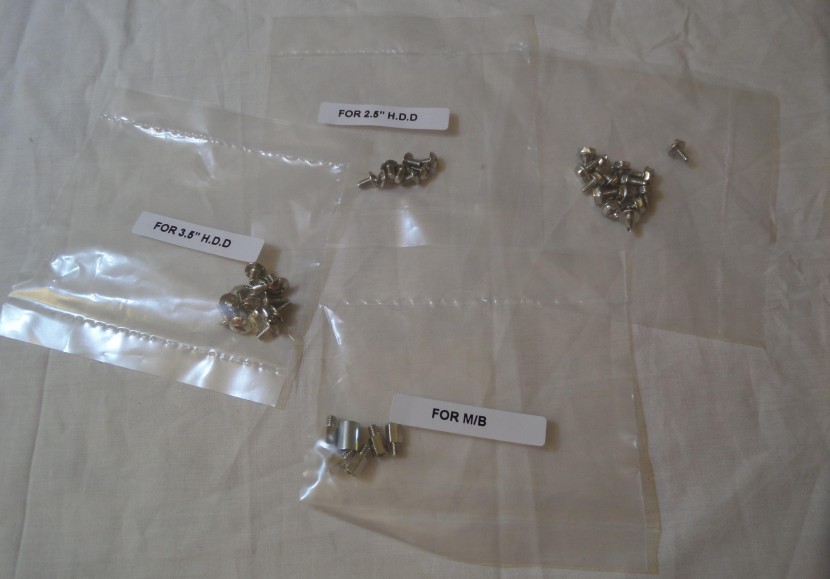 Clips for cable management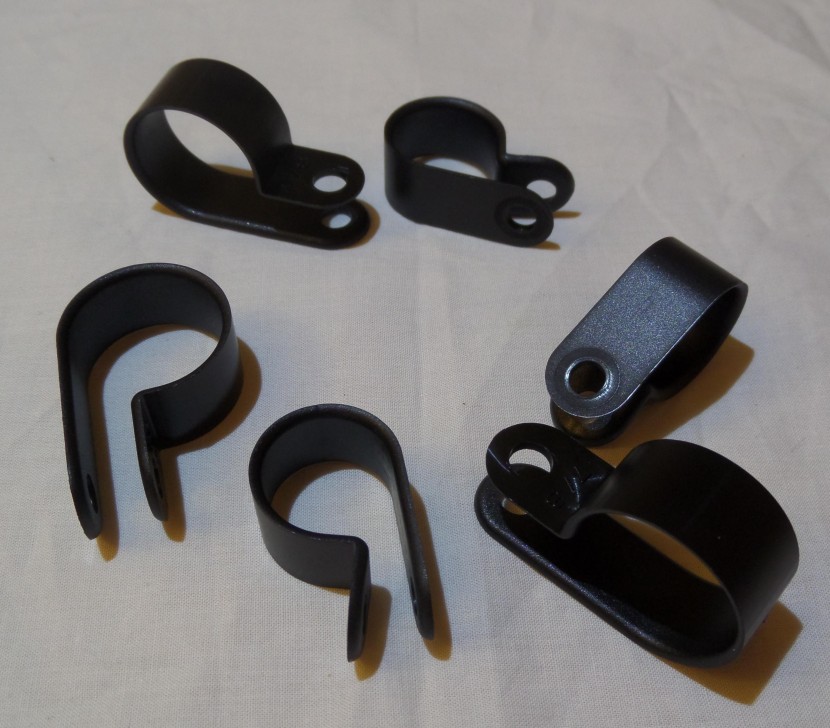 And the fold out instruction manual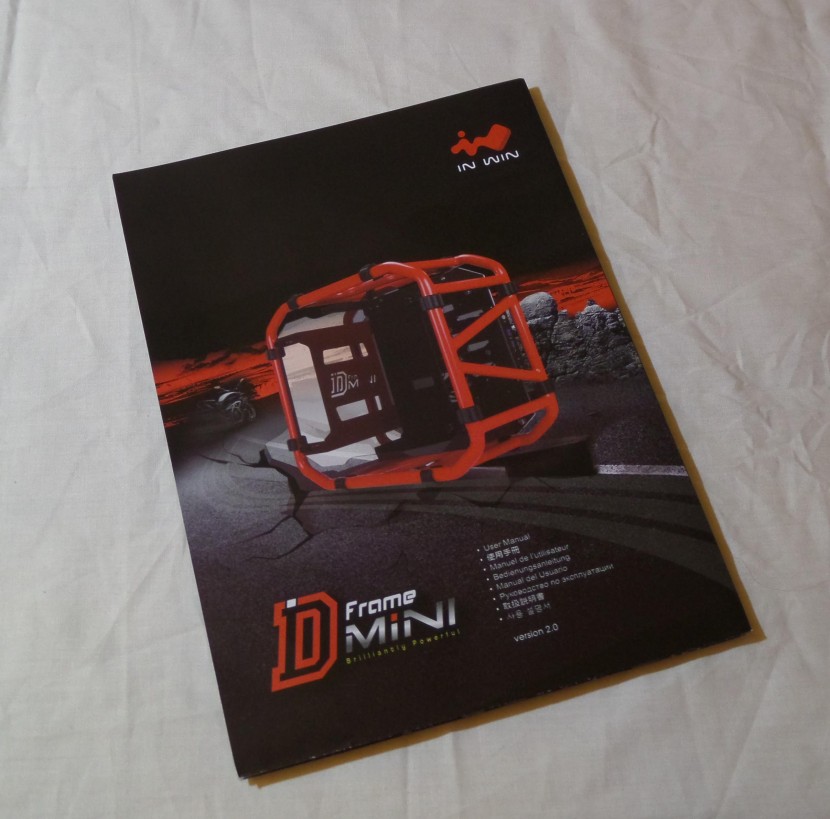 and here is the manual expanded, front and back.  You can use it as a poster,… if you want?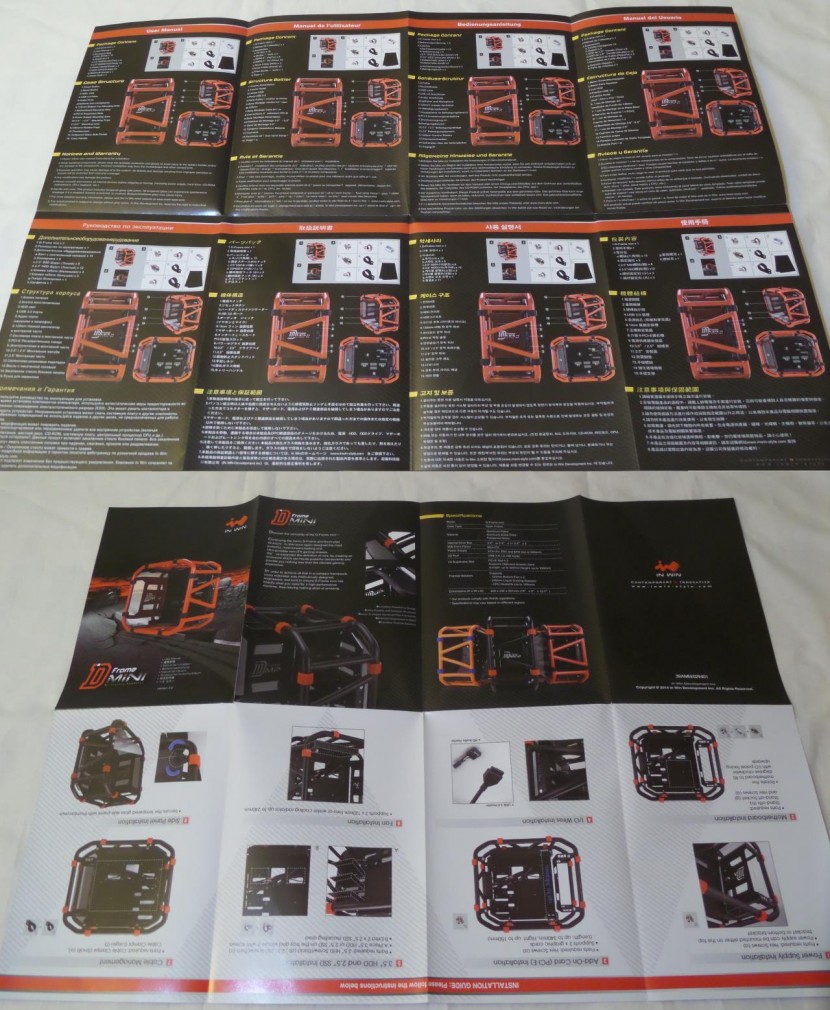 Here are all of the components I installed into this case.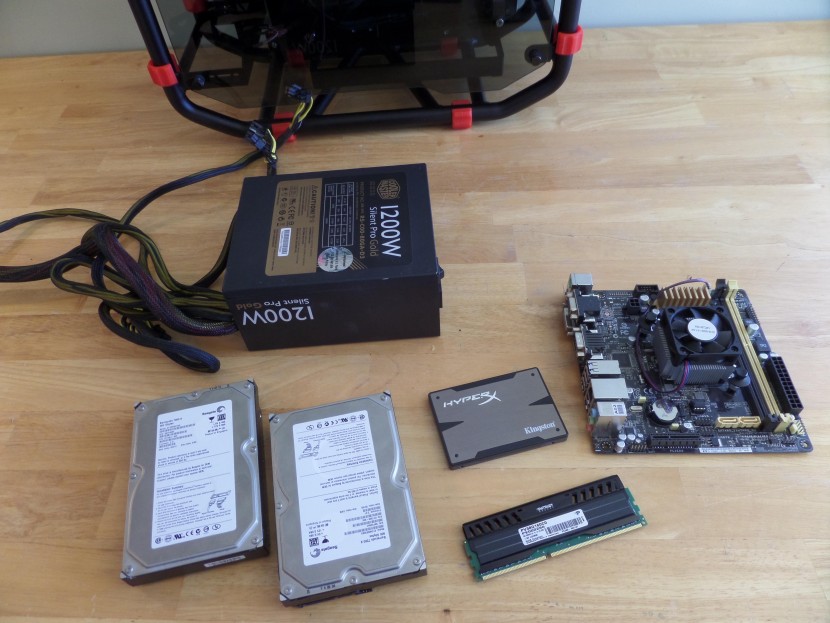 While you build and cable throughout this case you might think "Man, this paint job must be all scratched up afterwards" but no, In Win thought about that.  With its rounded corners, you can roll the case over and the rubber rings around the case help protect it.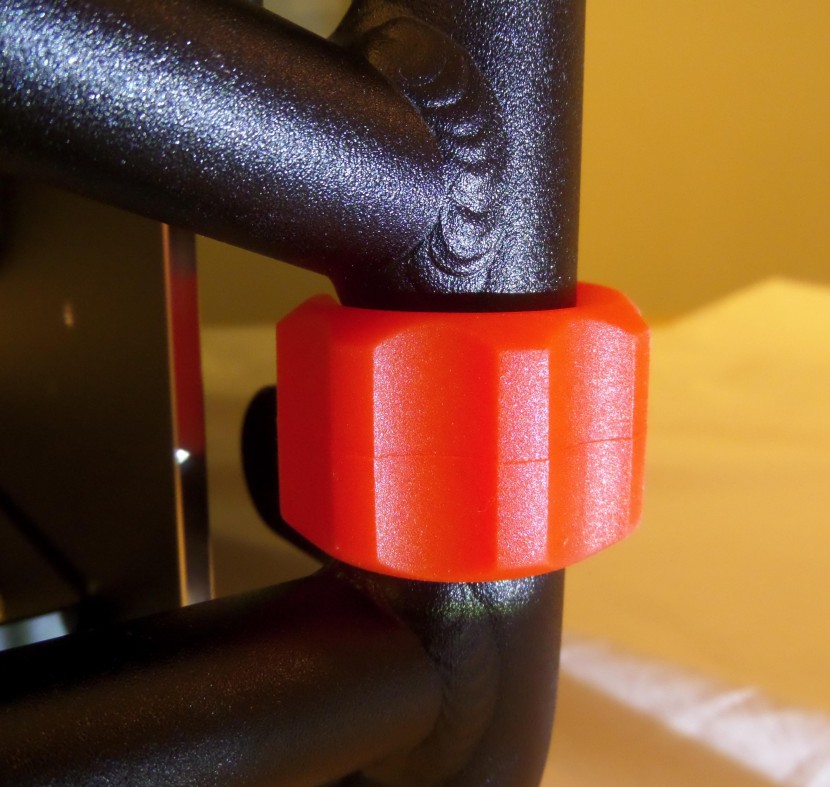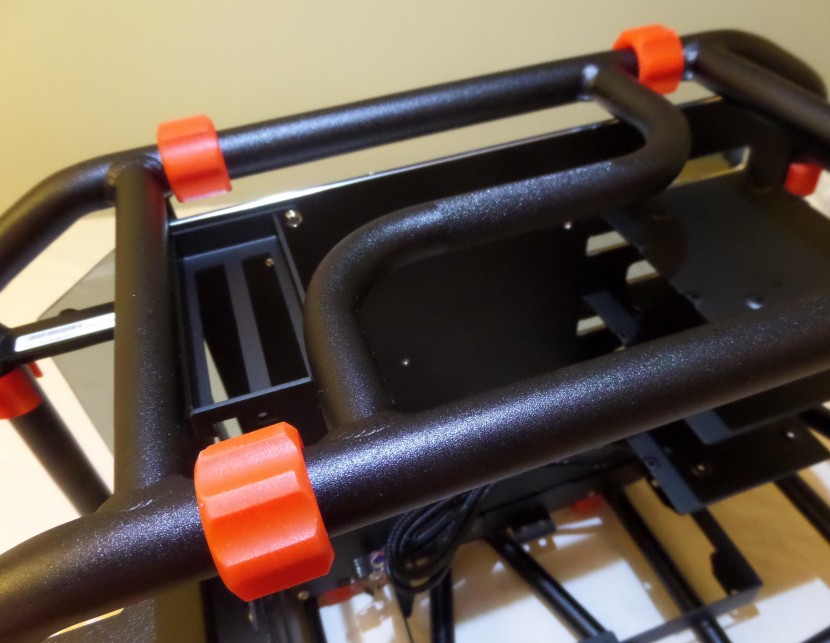 You will notice in the picture above, aside from the red rubber rings, the back of the case has 2 expansion slots so that you can pop in a nice video card and make this an awesome gaming PC, workstation or a decent video card and a sweet sound card for all of you audiophiles out there.
This case also comes with 2 front panel USB 3.0 ports, HD Audio and Microphone jacks, not everyone likes the reach around.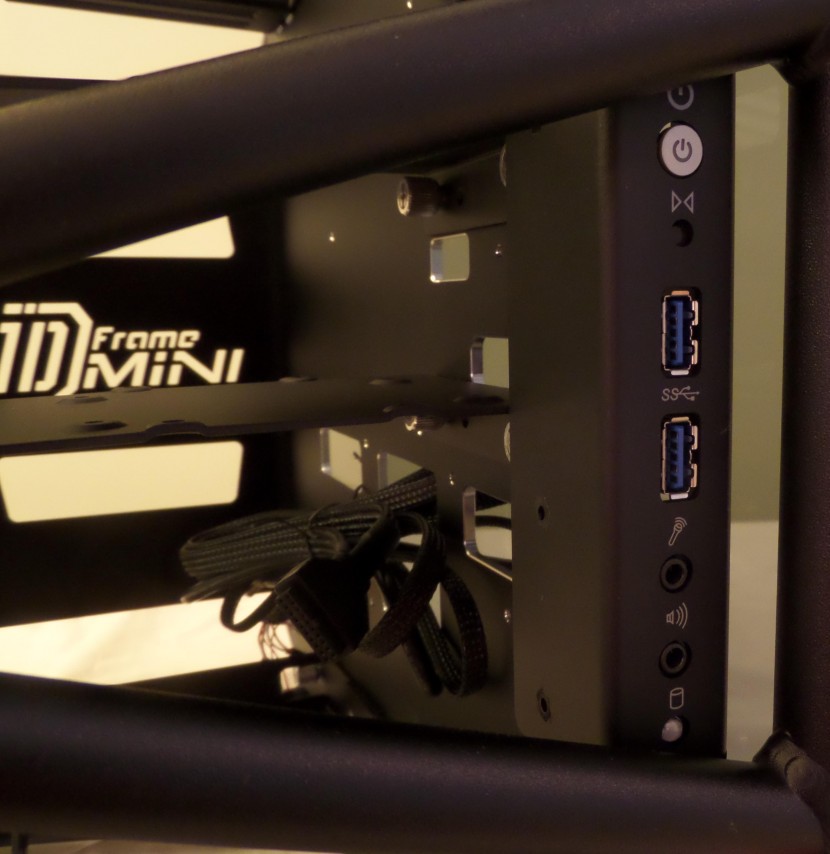 For those of you wondering how well everything fits in it, disregarding the specifications I listed above, just want a demo, or want to learn how to build inside of it, check out this video of how to build inside of this little beast.
Here are the thumb screws that hold the tempered glass side panels in place, simple but effective.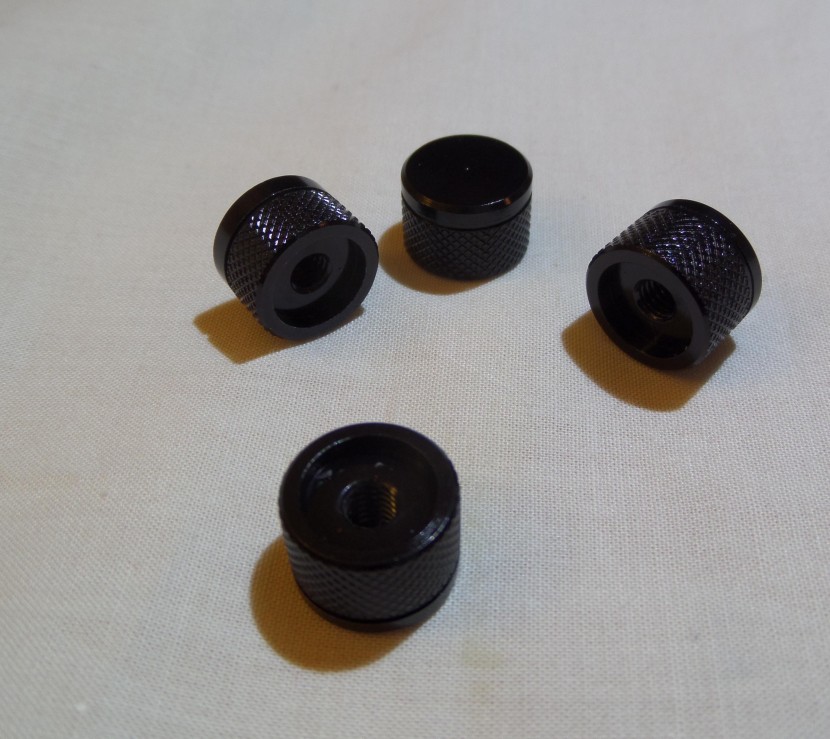 One thing that made the installation a little easier is the included stand-off screw driver head they included.  In this picture I show you one end of the head next to a stand-off.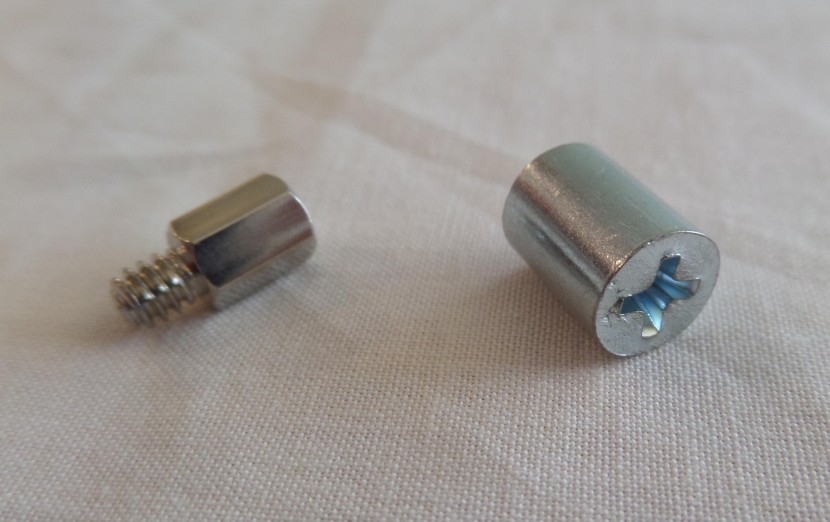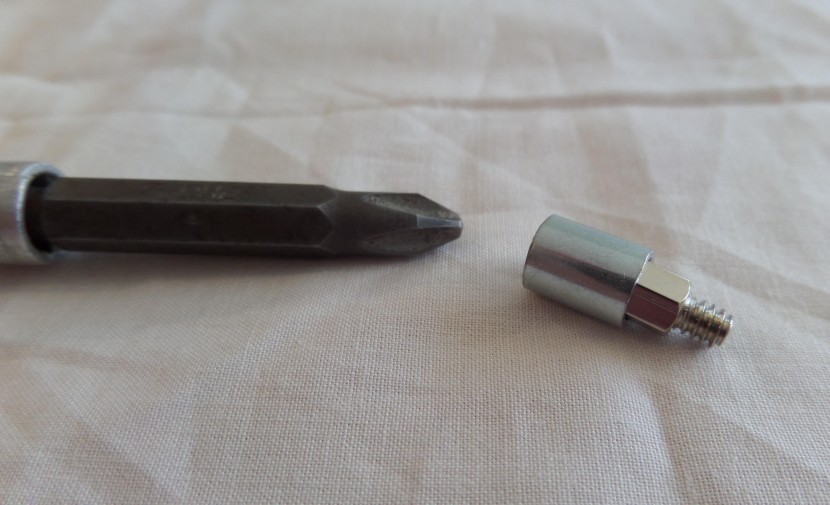 To protect form scratching the glass, there are little rubber grommets that protect the glass from touching the metal while you slide it on and screw it in.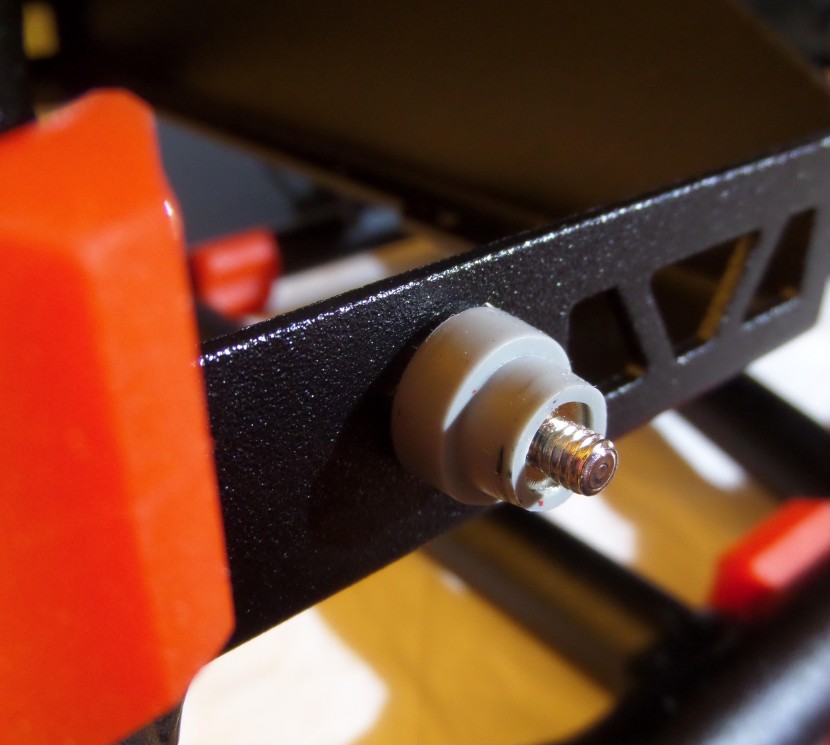 And during the build video and in the specs I mentioned fans you could attach on the bottom of this case and the specs mention about liquid cooling.  I don't have a liquid cooling unit myself to test and install with, but I can show you where they would fit.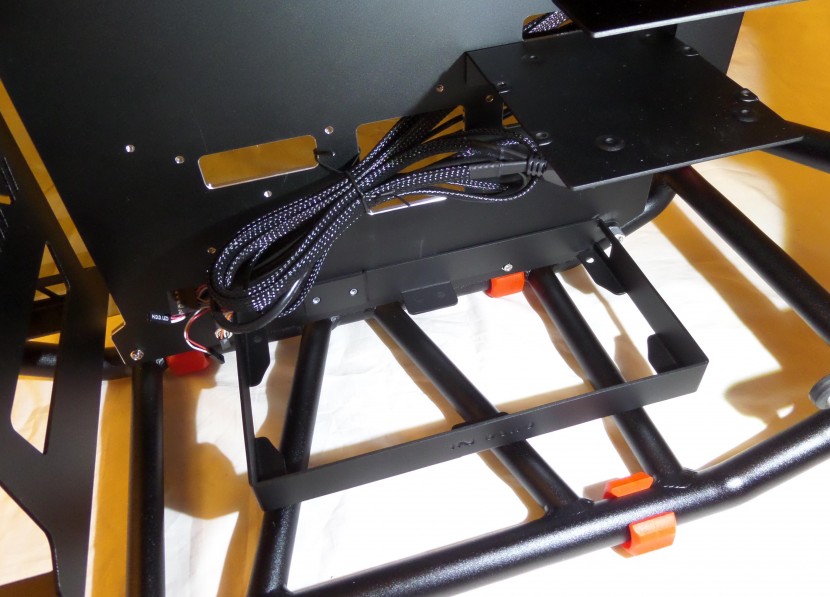 Now, while I don't myself have a liquid cooling unit to test and use in my build, luckily I do have a friend that does and did an amazing job building this system with it.  I rushed a bit to build it as it is not my case.  Another friend of mine, Bjornar Berntsen let me borrow it for a bit to do the review.
Since my good buddy Kenny Ha does have this case and used it in his own personal machine with liquid cooling, he provided me with some amazingly beautiful shots of his build in all its glory.  Let's take a look at them.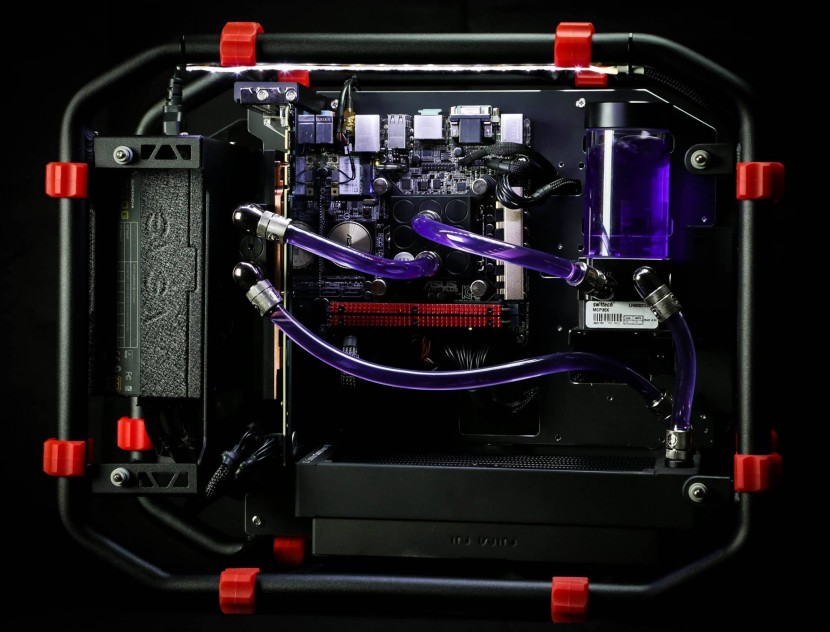 A profile pic if you will, showing you from afar what his system looks like.  He not only did a great job of building it, the black looks great with the red, and matching red RAM and the purple seems to slide right in there, very elegantly.  If you look closely, you can see an EVGA power supply back there, matches perfectly.
Now clearing some of the tubing and shedding some more light into the build you can see how the liquid cooling fits into this case.  It almost looks like this block was made for this case, it just works.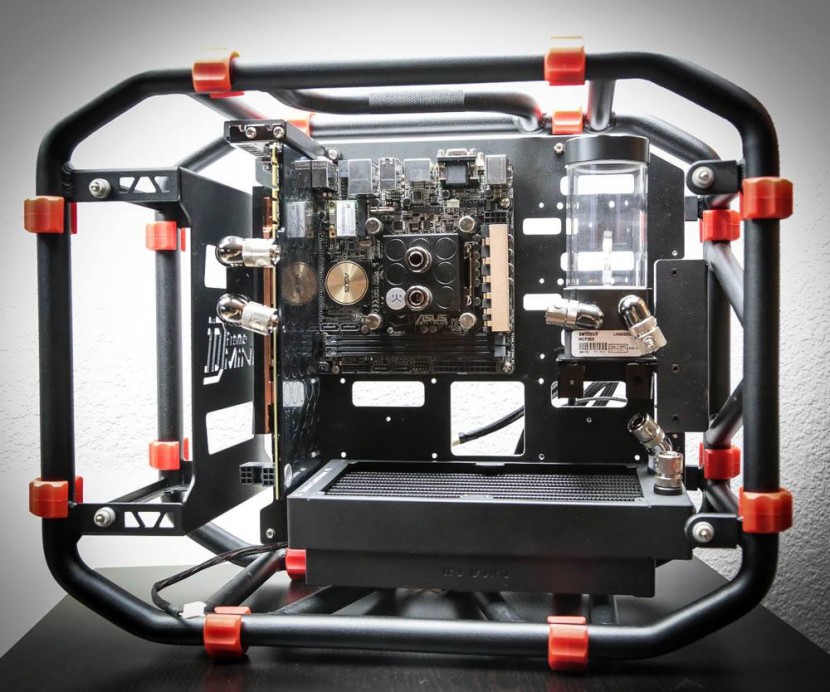 Now taking a trip to the backside, we can see just what those clips I mentioned earlier were made for and properly installed.  I could not install them as they should have been during my install video since I had run out of the screws.  The case came with enough for 2 x 3.5' hard drives and yeah, I used them all.  In the picture, it also shows how you can fit an SSD along the back, a great idea.
Notice how the power and SATA cables seem to wrap around the back as if they were veins, and rightly so they are.  Veins pump blood through our body keeping us alive, these cables pump data and power through the system keeping it alive.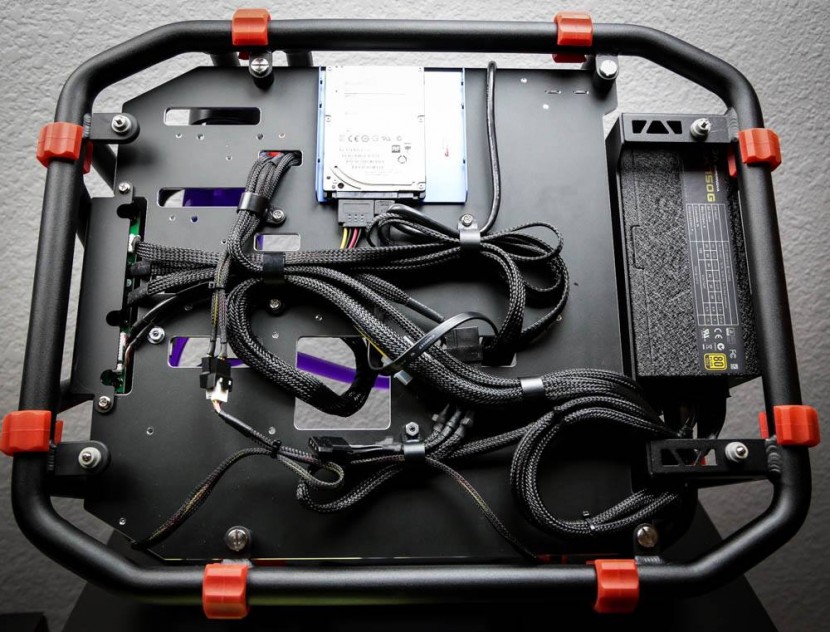 Also notice how the case, even with the liquid cooling unit allows for an EVGA GTX 680 to fit in there perfectly with some room to spare.  That's a 10″ card.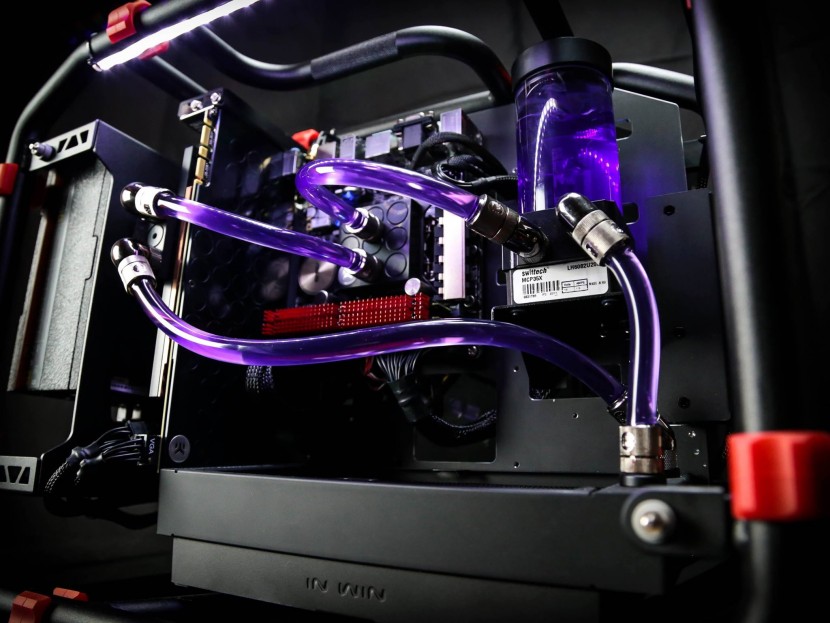 The D Frame Mini looks too small to hold all of this doesn't it, but pics don't lie.  Well, they can lie but this isn't a Playboy or Sports Illustrated shoot here, none of these models are air brushed or photoshopped, these are all live shots.  I will also mention, these curves are sexy, and for an ITX board, this model is a plus size.
Pros:
Very spacious, odd thing to say for an ITX case
Nice hard placement, almost tool less.
Unique liquid cooling placement
Awesome Glass side panels.
Great Materials
Almost tool less design
 Cons:
A bit pricey, but with the quality of the case and of the materials, you get what you pay for
Kind of large for an ITX case, but lets you install just about anything you want.
I can recommend this case to anyone looking for a nice case for their nice ITX motherboard, especially if you want to add a nice video card and liquid cooling, a great option.  If you are a little strapped for cash though and are buying an ITX board because you want a plain little machine, no frills no thrills this might cost about the price of all you parts combined.  I usually have 1 star reserved for price, but I can say that because of the high quality of this case and components, I will only remove half a star giving it a 4.5.
Great job In Win.
We are influencers and brand affiliates.  This post contains affiliate links, most which go to Amazon and are Geo-Affiliate links to nearest Amazon store.
I have spent many years in the PC boutique name space as Product Development Engineer for Alienware and later Dell through Alienware's acquisition and finally Velocity Micro. During these years I spent my time developing new configurations, products and technologies with companies such as AMD, Asus, Intel, Microsoft, NVIDIA and more. The Arts, Gaming, New & Old technologies drive my interests and passion. Now as my day job, I am an IT Manager but doing reviews on my time and my dime.