We are influencers and brand affiliates.  This post contains affiliate links, most which go to Amazon and are Geo-Affiliate links to nearest Amazon store.
Nexus devices are doing a pretty nice job in terms of sales across the globe (especially in the US) and one of several reasons why people love Nexus devices is that they have the unaltered stock Android OS on them.  Although Nexus devices are being sold with a locked bootloader, it is fairly easy to unlock it including doing it on the Nexus 10. However just a bit of fair warning, unlocking the bootloader on an Android tablet may not be easy for an average or first time Android user, however this guide will definitely be helpful and show you how to unlock the Nexus 10 bootloader no matter which type of user you are.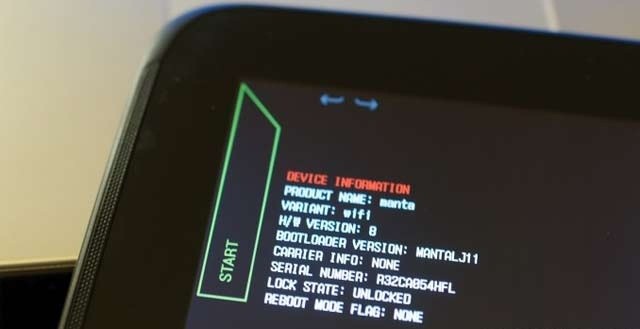 What Does Unlock Bootloader Mean?
The term unlocking the bootloader has several definitions but the comprehensive way to define it would be – Unlock Bootloader on Android devices means allowing anyone to access your device, specifically for  putting custom ROMS in.
Be Aware of These Things Before Unlocking Android Bootloader
When you unlock the Nexus 10 bootloader, all your personal data is wiped out.
No one is responsible to help if you mess it up
It may or may not void the warranty
Take a backup of your important files
Have a good stock battery. Recommended – more than 60% charge as well.
Downloads
Steps to Unlock the Nexus 10 Bootloader
Shut down your Nexus 10 and reboot into fastboot mode. To do that, hold volume up, volume down and power buttons at the same time.
Once you get the green robot and the word "start" at the top, you can let go of these buttons
Connect your Nexus 10 to the computer via USB port.
If you're on windows, it will install the appropriate drivers automatically.
Open the command prompt or command line and navigate to the folder in which you've placed the fastboot program downloaded from above.
Type "fastboot devices" (without quotes) and check whether you're getting your device ID.
Remember, you can't proceed until you get the device ID. So, if you're not getting device I would recommend you to stop right there and check troubleshooting steps which I've mentioned at the end of this article.
Once the device ID is being shown on the command line screen, type a new command "fastboot oem unlock".
The tablet will ask your permissions to proceed.
Be aware that from this point, you won't be able to undo anything and this includes the personal data being lost.
Once the tablet is rebooted, you're all done and ready to install custom software, boot images and so on.
Re-locking the Nexus 10 Bootloader
The steps to re-lock the Nexus 10 bootloader are the same as above except at the end, you need to use "fastboot oem lock" command.
This will once again lock the bootloader of your Nexus 10.
Troubleshooting
If you're not getting a device ID by entering "fastboot devices", chances are more that not that the fastboot drivers have not been installed properly.
You may try re-installing these drivers because without them, you won't be able to proceed.
If you run into any more problems or have questions feel free to share them here.
We are influencers and brand affiliates.  This post contains affiliate links, most which go to Amazon and are Geo-Affiliate links to nearest Amazon store.
A young and passionate blogger who loves writing about Android and Geeky Stuff.