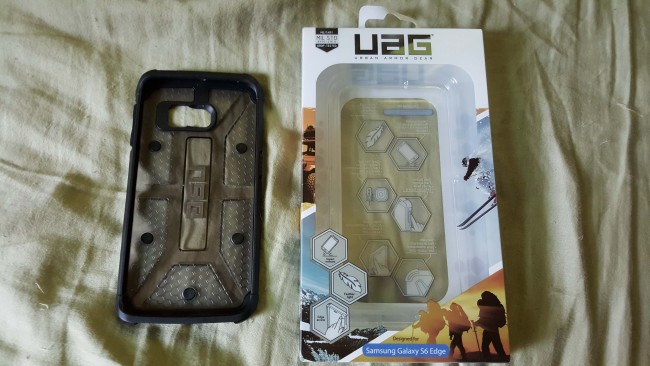 It's hard out there being a Samsung owner. Today it seems like all the retail stores are just jammed packed with Apple products. While I'm not the biggest fan of Apple or any of its devices, I still don't understand why the ratio between Apple and Samsung accessories seems to be, excessively, in Apple's favor. So, needless to say, I have to venture out and shop for my accessories online. However, online shopping, especially when it comes to cases and accessories, can become a huge gamble. I started doing a little research and ended up being a little lost. Thankfully, Urban Armor Gear and their case came to the rescue.
While there are only two options for the S6 Edge, there are dozens of options for Apple, Samsung, Microsoft, HTC, Nexus and LG. The case I received for my Samsung Galaxy S6 Edge was the Ash option. It's made of a feather light composite construction. The sides are a non-slip rugged rubber with over-size tactile buttons for easy use. It has an impact resistant core and meets all military drop-test standards. The ports on the phone are still easily accessible without the integrity of the case or phone being compromised. The case is surprisingly sturdy for how light it feels when holding it.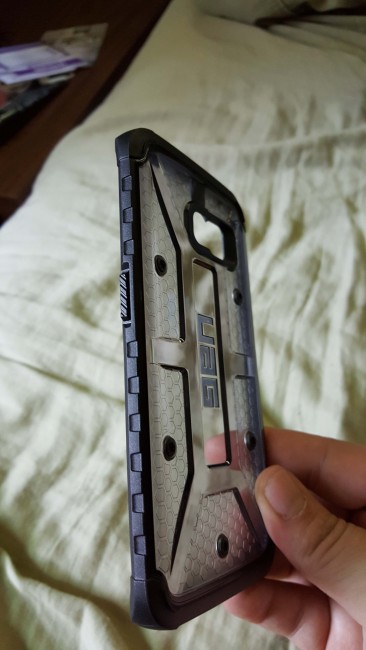 Now I'm not ready to drop my phone from any height just yet, but I'm very comfortable with keeping it in my pocket while at work. I work with a lot of different types of flooring, including hardwood and tile, so my legs are always getting banged up. The case feels very durable without making my phone feel bulky or heavy. It's not a complete case, however, since it does not have any type of screen protector. It's not waterproof so please try and avoid the water if you can. My only real problem with the case is that it is causing my screen pr0tector to bubble up on the bottom. The screen protector is on properly and it still causes it to come up a little. This isn't a deal breaker, by any means, it's just unfortunate that a lot of these cases tend to do that.
All-in-all the Urban Armor Gear Ash case is a good buy. The price is only $34.95 which makes it a middle of the line case at a cost-efficient price. There's better cases out there but you'll be spending a lot more money just to get one. While it's not waterproof, it is still a very serviceable case and I would highly recommend this to anyone in need of a quality case.