We are influencers and brand affiliates.  This post contains affiliate links, most which go to Amazon and are Geo-Affiliate links to nearest Amazon store.
Our friends over at UtechSmart sent us a Neptune mouse to test and review and when I got the package in the mail I was thrown off by the size of the package at first.  It was very small for a mouse I thought, as seen in this next picture.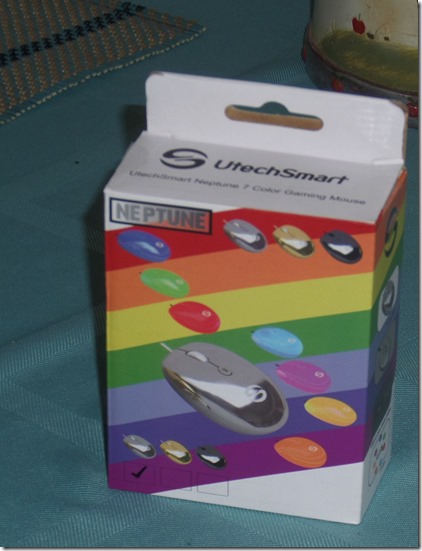 Now the UtechSmart Neptune when ordered comes in three colors Gold, Black, and Silver which is the color I received. In the package was a driver and software disc and a small pamphlet and mouse. Both of which can be seen in this next two pictures and it turns out the mouse is a very compact mouse and the box was just the right size without any wasted packing space.
As you can see from above, the mouse is a chrome finish which is very elegant to look at. I was amazed at the finish and color of the mouse it looks a little like desktop "bling".  You can also see that the device driver disc is also very small but you don't need a large disc for  the software it carries.
The cord is about 5 to 6 feet long and white in color which means it has a nice length to reach the PC from where you place it. Now the UtechSmart Neptune has a few settings that are configurable like DPI for example which allows ranges from 800DPI to 2400DPI. This can be switched on the fly by a click of the mouse button on the top of the mouse near the scroll button.
Watch my Unboxing  and Slight Walkthrough with Color Changing Here!
The UtechSmart Neptune has software you install and can use to  swap what the buttons do and configure them to be whatever you want them to be. It is a nice touch and you can change all 5 buttons but I only changed two since I like the right click and left buttons as they are. You can change the speed of the double click and scroll and pointer speed as well.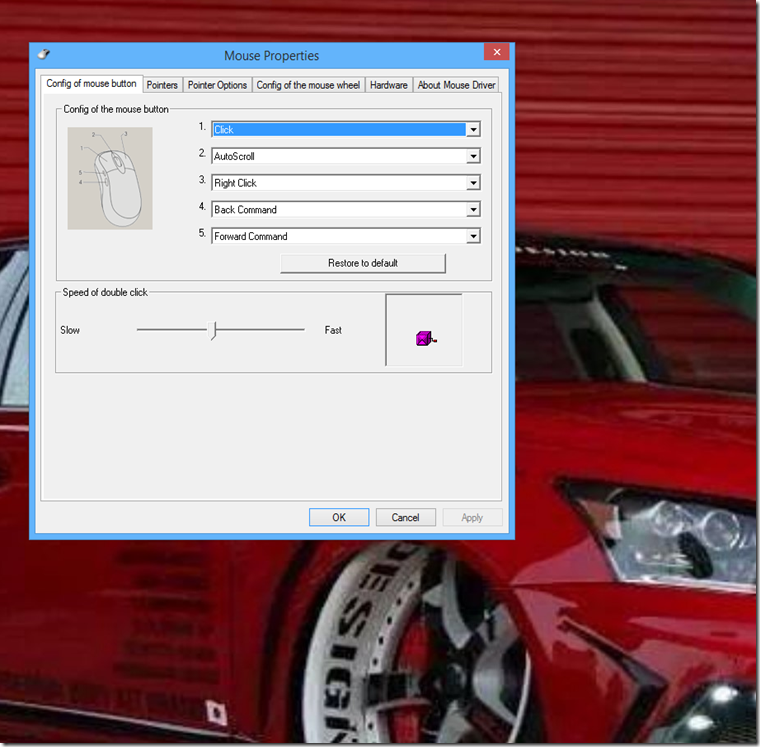 Once you start messing with this mouse you get to see how it can change to the bright brilliant colors in the dark like green, red, yellow, purple, light blue, dark blue, and orange. These colors I didn't think would be as bright as they are since the lights must shine through the mouse case, but they do have no trouble shining through the mouse itself and could I be more wrong there as you can see in the next few pictures.
As you can see these are brilliant colors and you can lock the colors on the UtechSmart Neptune by pressing a button located on the bottom of the mouse if you want it to stay one color. You can also leave the color cycling or have it breath through each color over and over. Now the DPI button also changes colors to show the stage of the DPI your on.
This mouse weighs in at like 90 grams which is very light for a mouse and I thought would throw me off, but it is very comfortable for gaming. I took this mouse through a few battles on Neverwinter and it turned out to be very nice. You could use this mouse for just about anything and for the low price it easily compares to a medium priced mouse with a high value mouse glow.
I would recommend this mouse for just about anyone. This would make a great present for a child or wants to match there room color or just someone wanting a nicer mouse. This is solid mouse and could be used for anything from gaming to homework. With the small  size it fits well in the hand and can be used for hours on end as I have tried and used it for  long periods.
We are influencers and brand affiliates.  This post contains affiliate links, most which go to Amazon and are Geo-Affiliate links to nearest Amazon store.
Hi everyone I'm James Braga. I was born in Oregon and moved to New Hampshire a few years back. I love most things that have to do with video games and electronics, It doesn't matter if it for a car or a house, if it has electricity in it i will love it . I'm also in school for Information Systems Technology.