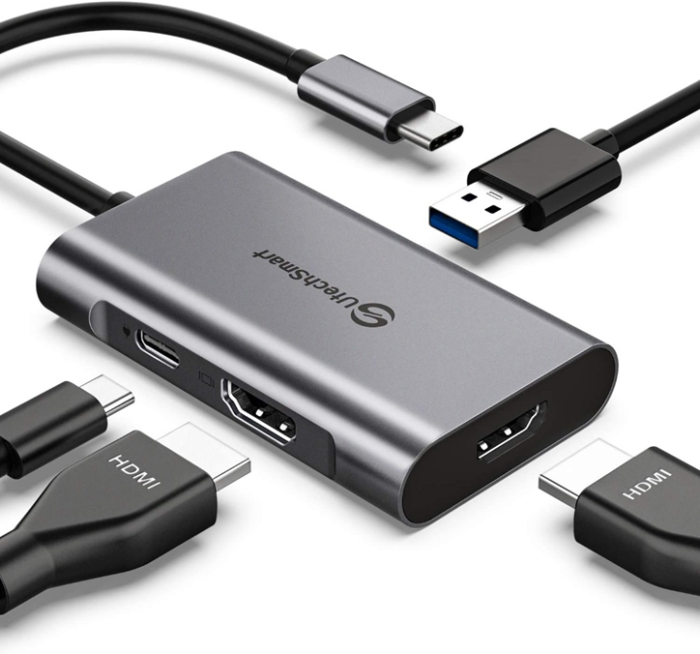 Need to connect additional monitors to your laptop, but your laptop has a limited number of ports?
If you have a laptop with a native USB-C port then you will know that they have many advantages. Although most laptops have a sufficient number of ports, that does not mean that at some point you will not need more ports and that is very tedious. You may think that there is no solution, but USB hubs are a great help when you need to expand the number of ports in an easy and fast way. A USB hub works in a simple way, all you need to do is use a port on your laptop to get some extra ports, so it's the easiest way to get USB or HDMI ports.
You should know that there are different types of USB hubs, the most popular work with USB-A or USB-C. USB-C hubs tend to perform better because the native USB-C output generates more power compared to a USB-A port, meaning you can connect additional monitors without worry. Best of all, a good quality concentrator is usually available at an affordable price, so it ends up being a great purchase that will help you more than once. Note that your laptop needs a native USB Type-C port if you want to use this type of USB hub.
The UtechSmart USB C to HDMI hub is one of the best options to consider if you are looking to connect additional monitors to your laptop, so you can work more efficiently. It is easy to use and is designed to work without installing anything. Please note that your laptop must have a USB-C Gen 2 port. Next, discover the most interesting features of this product.
Features of the UtechSmart USB-C to HDMI hub
If you need to connect more monitors to your laptop, but you don't have more HDMI ports, then the UtechSmart USB-C to HDMI hub will be of great help. The main feature of this USB hub is that it is designed so that you can connect two additional monitors and get an incredible 4K HDR resolution, this is very useful if you want to work in a more orderly and efficient way. Compatibility should not be a problem; this USB hub is designed to work on MacBooks and laptops with Windows operating systems. Keep in mind that you can only use mirror mode if you use a MacBook, if you use a Windows laptop you can share different programs at the same time.
The UtechSmart USB hub not only has an HDMI port but also has a USB-C and USB-A 3.0 port. Using the USB-A port gives you transfer speeds of up to 5GPS. Another feature of this USB concentrator is that it has an advanced security system, so you will not have to worry about problems such as overvoltage, overheating, and any similar electrical problems. Finally, you should know that you can use this device on a Nintendo Switch and most devices that support Thunderbolt 3 (Google Chromebook, Dell XPS, laptops with USB-C ports, some Android phones, and many more devices).
You can buy this item here on Amazon
My name is Joel! I love to read, I go to university like most people my age.
In my free time I usually train boxing, I love music, I also know how to play the guitar and the harmonica.