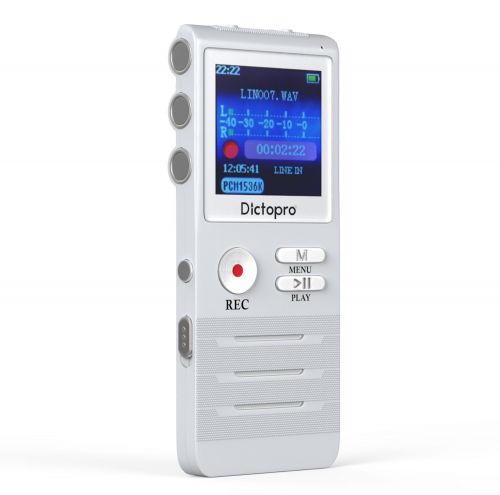 I know as a former college student that taking notes is something that is an absolute must. However, sometimes it can be difficult to keep up with the notes depending on the person giving the lecture especially with how fast some professors can go through the material. The Dictopro Digital Voice Recorder is the solution to being able to record notes and lectures without having to worry about missing anything in class.
This voice recorder is also voice activated which allows you to basically use voice commands to tell it to start or stop recording. It's also very small and can easily fit into one's pocket for easy to carry access. This product features a very nice LCD display so you can see how long you are recording for. The device is able to record from 40ft away so you don't have to be too close for it to pick up whatever it is you are trying to record.
The Dictopro has an 8GB internal memory which allows for up to 700 hours of recording as well as making it very easy to hook up to a PC or a MAC to transfer any recording that you need to for other uses. Having the ease of being able to record a lecture without having to hand write everything makes taking notes and studying that much easier and that is what this device is going to help you do.
8GB Internal Memory for over 700 hours of recording
Lightweight and fits in the palm of your hand
Voice-activated recording
Can record sound from up to 40ft away
Dual microphones for better sound and less distortion