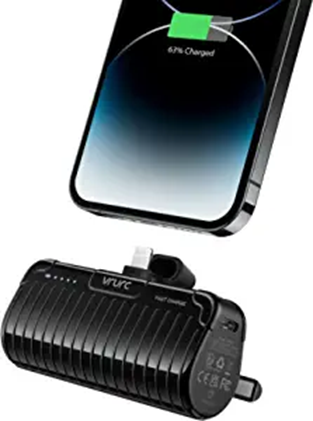 Looking for a compact power bank to charge your iPhone while you're not at home?
Charging our iPhones is always a problem, especially when you are not at home. As you know, the iPhone is so exclusive that it uses a lightning cable, which is not compatible with any other device other than Apple, quite smart right? When we are not at home it can become a headache, so it is best to use a power bank designed for IOS devices, in this way you avoid some problems while you are not at home.
The power bank is probably the best way to charge a cell phone when you are not at home. they are quite small in most cases, so they can be worn quite easily. Although they are portable, not everyone may not be, but the mini power bank is probably the ultimate solution. This power bank is so small that it can be up to 3 times smaller than a mobile device, so there will be no complaints when you use it. The mini power bank can store enough energy to fully charge the battery of any iPhone, so it will be very useful on long trips or when the power fails in your home. Keep in mind that the capacity of a mini Power bank is reduced, so you will not be able to charge more than one cell phone, so if you used it for your own use, then there will be no problem.
One of the best to take into account is the mini power bank VRURC. It is a 5000mAh power bank that will allow you to charge your iPhone no matter where you are, so it will be very useful on trips. Keep in mind that it will only provide power to charge the iPhone once. Next, discover the most interesting features of this product.
Features of the Mini power bank VRURC
Charging your iPhone while you're on the go will no longer be a problem with the VRURC Mini power bank. This small power bank has a capacity of 5000 mAh which should be enough to charge any iPhone model (from 6 to 14). As I mentioned before, 5000 mAh will only provide you with enough charge to charge your cell phone once, so if you have friends who also need to charge their cell phones you may have problems. I don't think power capacity is an issue, this mini power bank is mainly designed to take up the least amount of space to make it easy to transport. I would say that the main feature of this mini power bank is that it can easily fit in small pockets, plus it is not very noticeable, so you will not take up much space. Another feature is that it provides 20W fast charging, which means that an iPhone 13 will charge 60% in just 30 minutes, which is quite impressive. The compatibility of this power bank is very wide, from an old iPhone 6 to the last iPhone 14. You can also charge the AirPods using this power bank. Finally, charging the power bank is quite easy, you will only need to connect it to a USB Type-C.
You can buy this item here: Amazon.com: Mini Power Bank For iPhone, VRURC Portable Charger 5000mAh, PD 20W Fast Charging Slim Rechargeable Battery Compatible With iPhone 13 Mini/13/Pro/Max/12/12 Mini/12 Pro/11/11 Pro/Max/XR/XS/X/8/7/6-Black : Everything Else
My name is Joel! I love to read, I go to university like most people my age.
In my free time I usually train boxing, I love music, I also know how to play the guitar and the harmonica.