With over 1.4 billion websites on the internet today, surfing the web can be a painful experience even in this era of super computers. Sadly, as computers and internet connections increase in speed, both the sizes of the web pages and their computational power demands also shoot high. Google's Chrome being the most popular and preferred internet browser across every device, chances are high that you are using it as your mobile or computer web browser. While Chrome may obviously let you browse the internet with high speeds and improved security, you may still be missing out on a multitude of ways that can further enhance your entire browsing experience. From simple tricks that allow you to manipulate your tabs to those that let you monitor your browser, the tricks are endless. With that, here are the ways to improve your browsing experience and interactions online.
Use Do Not Track Feature For Online Privacy.
With the recent version of Chrome, users can specify whether they don't want their browsing activities tracked by the Web sites. While many highly recommended "best VPNs" don't live up to their privacy claims, the Do Not Track (DNT) Chrome feature ensures that you have you have total privacy and peace of mind. To turn on the feature, just press "Alt+F" or "Alt+E" and select Settings. From there, scroll right down to the bottom and click on the "Show Advanced Settings" button. Scroll down once more, review the Privacy section, and then select "Send a DNT request" With Your Browsing Traffic.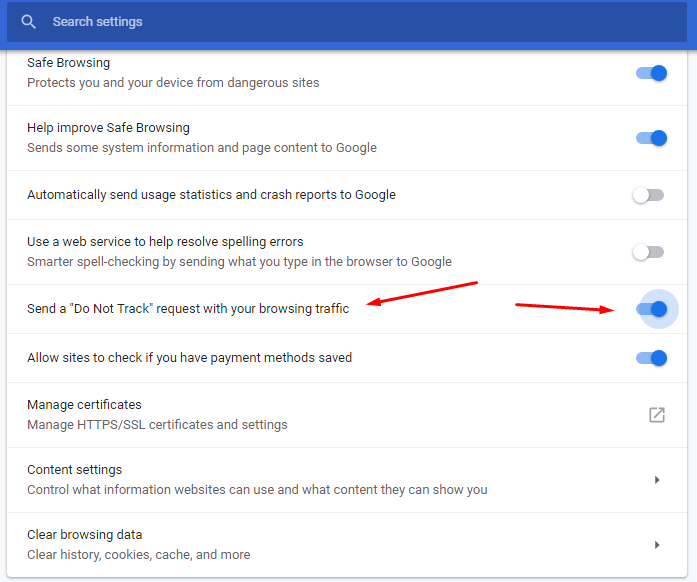 Use the Incognito Mode.
If you want to browse the web without your browser recording any of the pages that you have accessed or files you have downloaded, you can achieve this using the incognito mode. This feature is recommended where you may not want your partner to know whatever you have recently browsed when they get to use your computer. To open the incognito window, simply use "Ctrl+Shift+N."
Restart Chrome Quickly and Efficiently.
When you have lots of web pages open and your computers starts operating slowly, the best thing to do is pause and restart your Chrome browser. While you can easily do this by closing your browser completely and then clicking its icon, you will end up losing all the tabs that you had opened. However, you can efficiently open it and reload all the tabs that were open by just entering "chrome://restart" right into the browser's address bar and clicking Enter.
Set Pages to Always Load Automatically
If you have pages that you must visit every time you launch your browser, you can set the pages to load automatically. Having these useful pages, launch right when you launch your Chrome can be a huge time saver especially when they require log on. To set this feature, simply press "Alt+E or Alt+F" and select "Settings." While there, click ''Open A Specific Page" from the On Startup section and click the "Set Pages link."
Save All open tabs for later Use.
Have you ever got yourself doing something really important online, but then had to close your computer and run somewhere? Whether you had opened 10 or 20 tabs, you can turn all these pages open tabs into bookmarks in just one folder using Chrome. To do this, use "Ctrl + Shift + D." This will open a "Bookmark All Tabs box" and you can proceed to select a Name for the folder.
In most cases, web pages will load slowly simply because you are using a slow computer. While the easiest thing to do may be to add more memory to it, there are an endless number of tricks that you can still use to improve your whole web browsing experience. We hope that you will have fun applying these simple but useful tricks to achieve the perfect browsing experience.
I have been obsessed with computers, tech, gadgets and games since the early 1980's having grown up on the Commodore 64 and Amiga computers.
By day I work in the IT Security Industry and have been in IT for over 20 years. On my spare time I am a Vlogger, Blogger, Streamer, Gadget Reviewer, affiliate marketer, influencer and entertainer. I am also an avid movie fan, TV Show fan, Anime fan, video game fan and fan of trying anything and everything new.