ECOFLOW RIVER Pro
.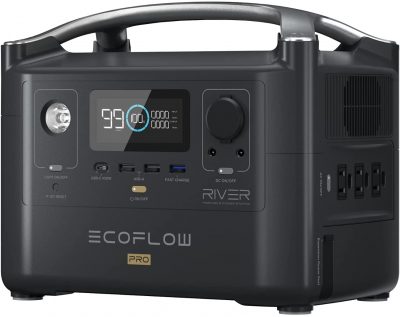 Who is ECOFLOW?
Founded in 2016, EcoFlow is a U.S-Chinese hardware firm that focuses on selling portable
power station
. When it first launched, the startup burst on to the scene with its River product on the Indiegogo platform. It was such a huge success that collected about $1 million for the company. Nowadays, the River is widely available in the States. Customers can find and experience it in multiple brick and mortar store such as Home Depo, HSN and even on some popular e-commerce website as Camping World,
Amazon
and the ECOFLOW website itself. ECOFLOW's highest priority mission is providing clean and reliable power to both individuals and communities. They emphasize in delivering industrial level power more accessible to everyone, especially the outdoor lovers. Thanks to their innovative products, customers will have the idea stress-free solutions for all the seasons being outdoors. From hiking, camping, picnicking to spending a night with the bonfire, ECOFLOW's product can easily satisfy the pickiest customers out there.
EF ECOFLOW's Technology Advantage
The products at ECOFLOW are engineered with one of the world best technologies for
power station
. The most outstanding and well-known one is the market-leading X-Stream. Back in 2017-2018, that's when the company focuses on developing and releasing the X-Stream technology. Thanks to this technology, ECOFLOW's products will have faster recharging time. Within an hour, your ECOFLOW'S device can charge up to 80%, even when it is completely empty. This allows consumers to maximize usage efficiency. At the same time, consumers don't have to worry about transporting. They can easily access and connect to power from the solar energy or even from the car. The second state-of-the-art technology is the X-Boost. By using it, the generator can power devices up high wattage devices. This is a very essential feature, since it expands the range of devices that generator can support. With this high range of support, customers don't have to worry about the compatibility between the ECOFLOW's products and their own personal devices. The company offers various products that can suit different targeted consumer needs and lifestyles. The company has a crystal-clear vision about their targeted audiences: Home Users, Outdoor Users and Professional Users. As mentioned above, they use innovative and industrial-leading technology to achieve their goal: reinventing the way the world access energies. With that mindset, ECOFLOW starts off their line up with the ECOFLOW River series.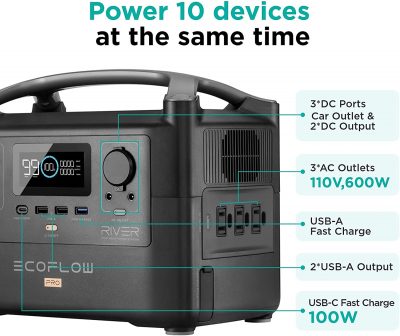 EF ECOFLOW RIVER Pro – The most portable power station for outdoor adventures
This is the entry level for ECOFLOW product lines. In this series, there are four different products with unique capacity and usage. Each product has its own slogan, emphasizes its main purposes as well. You can have the "Power at hand" with the
River Mini
. You are always ready for some adventures with "Grab your adventure from River. With the River Max, you are freely to "expand your horizon". And finally, brace yourself to step into the wild with River Pro, which is the most advanced product in this line up. The ECOFLOW River Pro comes with 10 total output ports, which supports you to charge simultaneously 10 devices at one. As mentioned above, the device also comes with the X-Stream technology. Within one hour, customers will have up to 80% of the charge. If they want to have the generator fully charged, it will take about 1.6 hours total. Have I forgot to mention that this generator can also be solar powered, and car charged as well? With the solar power, it will take from 4 to 8 hours to get fully charge. Meanwhile, if you charge the ECOFLOW River Pro in the 12V – 8A charger from your vehicle, it will take up to 8 hours for a full charge. These numbers are very impressive for the 720Wh
power station
. By default, the ECOFLOW River Pro can support up to 600W devices. However, thanks to the X-Boost technology, customers can use it to power higher watt devices, up to 1800W. Specifically, you can charge your rice cooker or coffee machine on the go conveniently. With 720Wh capacity, it can keep the devices in our examples for about 0.8 hours. This is one of the best advantages that the River Pro offers. Basically, this
power station
can fully support your outdoor life with ease.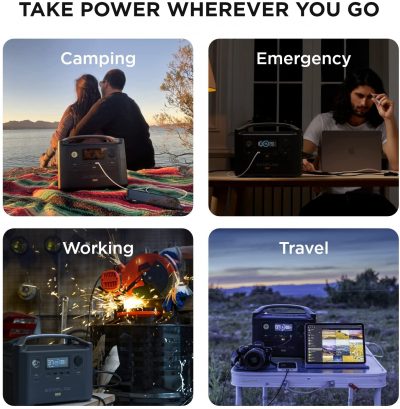 Nate Does a Quick Video Showcase on the EF ECOFLOW RIVER Pro
The Portable Power is in Your Hand
All the information and specification of the
ECOFLOW River Pro
must have amazed you so far. However, the best is yet to come. This
power station
earns the definition of "portable" in many different perspectives. With the weight at 16.8 pounds, consumers can easily carry this station power during their outdoor trips. Moreover, with the dimension of 11.4 x 7.1 x 9.3, this product is not that bulky at all. You can conveniently put it in the backseat, or even inside your trunk. In addition to the weight and the size, the River Pro will surprise you with how upgradable it can be. If you are really in need of abundant power for your trip, you can also purchase the extra battery for your River Pro. Together with the River Pro, the extra battery will provide double the capacity than the River Pro does itself. That means you can watch 16 hours straight from your projector or utilize your PC for almost two and a half hours. Thanks to this combination, the River Pro can also become an ideal portable power backup for your home as well. Not only does the River Pro efficiently provide portable power for you, but it also comes with detailed monitoring information. On the screen, you will find all the essential and useful information about your River Pro. There are remaining charges, battery level Indicator and Percentage. It will also have high / low temperature indicator as well current Input / Output. Moreover, there will be an overload warning as well as the overload protection too. If you are looking for a reliable and outstanding station power, River Series from ECOFLOW, especially River Pro, should be on your watch list. It was also honorably mentioned by Forbes "RIVER from ECOFLOW is the real deal. It's something you might want to think about keeping on hand for camping." You can buy the product at this
link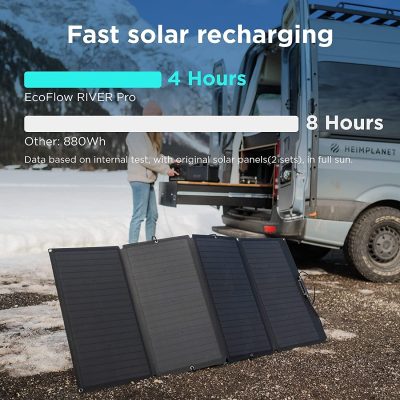 You can find full list of EF ECOFLOW Power Station Products Here:
| # | Preview | Product | |
| --- | --- | --- | --- |
| 1 | | EF ECOFLOW Portable Power Station DELTA, UPS Power Supply 1260Wh Battery Pack with 6 1800W (3300W… | Buy on Amazon |
| 2 | | EF ECOFLOW RIVER Pro Portable Power Station 720Wh, Power Multiple Devices, Recharge 0-80% Within 1… | Buy on Amazon |
| 3 | | EF ECOFLOW RIVER 288Wh Portable Power Station,3 x 600W(Peak 1200W) AC Outlets & LED Flashlight, Fast… | Buy on Amazon |
| 4 | | EF ECOFLOW EFDELTA Solar Generator 1260Wh with 160W Solar Panel, 6 X 1800W (3300W Surge) AC Outlets,… | Buy on Amazon |
| 5 | | EF ECOFLOW DELTA Max (2000) Portable Power Station, 2016Wh Expandable Capacity with 6 x 2400W AC… | Buy on Amazon |
| 6 | | EF ECOFLOW Solar Generator RIVER Pro, 720Wh Portable Power Station with 160W Solar Panel, Power… | Buy on Amazon |
| 7 | | EF ECOFLOW Portable Power Station RIVER Max, 1.6hrs Fully Recharge 576Wh Backup Power with 3 x 600W… | Buy on Amazon |
| 8 | | EF ECOFLOW DELTA Pro Portable Home Battery, Expandable Portable Power Station, 3.6kWh-25kWh, Huge… | Buy on Amazon |
| 9 | | EF ECOFLOW Portable Power Station DELTA mini, 882Wh Solar Generator (Solar Panel Not Included) with… | Buy on Amazon |
| 10 | | EF ECOFLOW Portable Power Station River Mini, 210Wh Backup Lithium Battery, Fast Charging, 110V/300W… | Buy on Amazon |
If you can't find me at the table coding, then you can find me at another table playing boardgames. I want to share the fun, the intense, the `ah-ha` moments, the sabotage, the nerve wracking experience … that Boardgames can offer to the community.