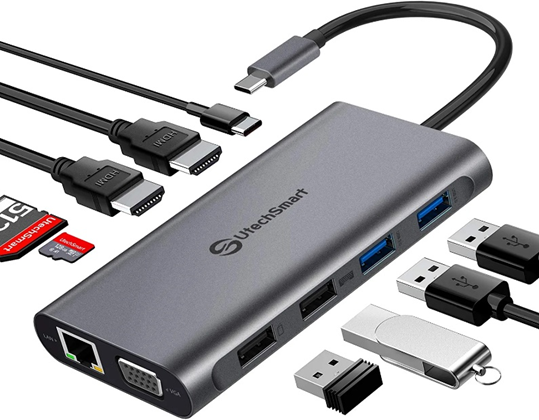 Need to plug more peripherals into your laptop, but it has a limited number of ports? Discover how the UtechSmart 11-in-1 USB docking station can solve that problem
USB C docking stations are one of the best options if you want to increase the ports on a laptop or device with native USB C. With one of these things, you can connect almost all the peripherals you want, so, it is a good option for those who need some additional ports. You can usually connect portable hard drives, keyboards, flash drives, webcams, external monitors, and many more peripherals.
You should know that there are different types of USB docking stations, some work with USB-A and others with USB type C (there are even some that work with an Ethernet port). In general, USB C docking stations usually work better than USB-A, since the power supply is much more stable, so you do not need to connect it to a power adapter in case you want to connect devices with higher consumption. Another feature is that they also include a USB C port, which allows you to charge a cell phone incredibly quickly, so it is a great opportunity to take advantage of the fast charging that some cell phones can offer.
The UtechSmart USB C 11-in-1 docking station is the best solution for those who need to connect more devices to their laptops. It has a large number of ports, which should be enough for you to connect all your peripherals without problems. Easy to use and no drivers needed. Next, discover the most interesting features of this product.
Features of the USB C 11-in-1 UtechSmart Docking Station
11 ports so you can connect all your peripherals
Whether you want to connect a keyboard, monitor, webcam, or hard drive, you can do it without any problem. The UtechSmart docking station includes 11 ports of different types, so you should have no trouble connecting most of your devices. You can find 2 2.0 ports, 2 USB 3.0 ports, 2 HDMI ports, a Micro SD port, VGA, and one Ethernet port. Connect anything, all you need is a laptop with a native USB Type-C port.
Transfer speeds up to 5Gbps and internet speeds up to 1000Mbps
The UtechSmart docking station is equipped with 2 USB 3.0 ports, which allows you to transfer large files in a much faster way compared to the USB 2.0 port. You can reach maximum transfer speeds of up to 5 Gbps, so forget about eternal timeouts (note that speed may vary depending on the device you're using). Also included is an Ethernet port, which can support up to 1000 Mbps, which is crazy compared to the wireless connection that usually offers a limited speed.
This 11-in-1 docking station includes 2 HDMI ports, which are compatible with monitors with resolutions up to 4K, so if you have a monitor or TV that supports this resolution, you can use them without any problem. Best of all, you can use 2 monitors at the same time. Note that if you want to connect 3 monitors (using the 2 HDMI ports and USB C) the maximum resolution will only be 1920×1080 60Hz.
You can buy this item here on Amazon
My name is Joel! I love to read, I go to university like most people my age.
In my free time I usually train boxing, I love music, I also know how to play the guitar and the harmonica.