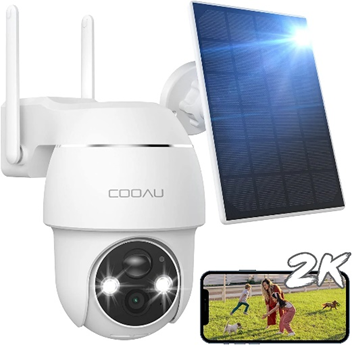 Are you afraid of a burglary happening in your home? Surely you need a good security camera
If you are one of those who care about thefts you will know the importance of obtaining a recording in case that happens, thieves seem to respect private property less and less, so, the only thing we can do is keep our homes monitored with good quality security cameras. Burglars can avoid burglarizing a home if they detect security cameras, so you can decrease the chance of theft by starting to install cameras throughout your home.
Before choosing a security camera it is important to consider some aspects. You should know that some modern security cameras do not accept SD cards, which means that you will have to pay for a subscription if you want to save the videos in the cloud, which is great, but I think that should be something optional and not mandatory, so, if you do not like to pay for a cloud service (which has many benefits), then make sure you choose a camera that can work in all 2 ways. It is also important that the security camera offers a good recording in low light conditions since thieves usually act while we sleep.
The COOAU security camera is what you need if you want to keep your home watched. This security camera available for approximately $100 offers incredible image quality, allowing you to get crisp footage even during low-light conditions. Get a reliable recording in case of a robbery, so you can hand it over to the police. Below, discover the most interesting features of this product.
Features of the COOAU security camera
Incredible image quality
One of the main features of this surveillance camera is that it can record at a resolution of up to 2K to make the recordings look their best. So forget about the 1080p that most cameras usually offer, this camera guarantees clear recordings 24 hours a day. It does not matter if it is raining or the day is hot, the camera will work without problems. Get a great recording range with this 360° camera, which you can easily adjust to with up to 350° horizontal rotation and 90° vertical rotation. The field of view of this surveillance camera is 160°.
Can record during the nights
As you know, thefts can happen at any time of the day, so, it is useless to have a camera that can only offer good image quality during the day, it is necessary to have a surveillance camera that can also work during low light conditions. Not only can the COOAU camera deliver great performance at night, but it also boasts smart features like motion detection, sound alarm, and light alert for burglars to stay away from your home.
Solar panel included
Another amazing feature of the COOAU surveillance camera is that it includes a solar panel so you can use the camera without worrying about annoying cables that can break down over time. The rechargeable battery allows the camera to be recharged using sunlight, so you can use the camera 24 hours a day, 365 days a year. A stand is also included so you can install the camera easily.
You can store the recordings in 2 ways
Unlike most modern surveillance cameras that only allow you to save the recordings in the cloud service, the COOAU camera allows you to save the recordings in 2 ways. You can use a microSD with a maximum capacity of up to 128GB (not included) or you can use the cloud service to watch real-time recordings while you're away from home. You only need to connect the camera to a 2.4 GHz Wi-Fi network (5Ghz connection is not recommended). It also has microphones so you can communicate with your relatives while you are not at home.
You can buy this item here on Amazon
My name is Joel! I love to read, I go to university like most people my age.
In my free time I usually train boxing, I love music, I also know how to play the guitar and the harmonica.