We are influencers and brand affiliates.  This post contains affiliate links, most which go to Amazon and are Geo-Affiliate links to nearest Amazon store.
The world is moving fast and technology is advancing every day, putting us all in a sheer challenge of keeping ourselves upgraded to the newer standards. While most of us carry and use the latest technological products such as smartphones, tablet devices, notepads and other USB charged devices, keeping these devices charged up and always ready to use on our runway is quite a difficult task rather impossible one.
Impossible however is now possible with a new Portable phone charger. The external phone charger is also referred to as the power bank; the name 'power bank' perfectly defines the capacity and usability of the device. In specific, Portable phone charger has the capacity to charge three devices at a time meaning simultaneously! The external phone charger comes with a USB three face wire that fits almost all USB charged devices commonly used. The list of the devices that can be charged and recharged using external battery charger includes:
Apple products: iPhone ( models include 3, 4S, 5, 5S, 5c), iPod and iPad (models 2, 3, 4, Mini, Air)
All android smartphones: HTC one, Nokia Lumia (all models), Google Nexus
All tablets and USB charged devices such as PS Vita etc.
The product is a Pocket Rocket! Portable phone charger has an enormous capacity of 5600mAh that is just more than enough to give your digital devices around 100 hours of more battery life. So now with this pocket rocket, the smart devices never get short of battery life and you never have to get out of the digital world. This portable charger is also smart enough to carefully detect the attached devices and communicate with them in their languages so as to ensure efficient and effective charging system.
Portable phone charger keeps your digital world alive by giving extra battery hours to each of the USB charged devices you carry with yourself. The device comes in a complete package to facilitate its users in every possible manner, moreover, the technical specifications and the physical design of the portable phone charger make the product outstanding.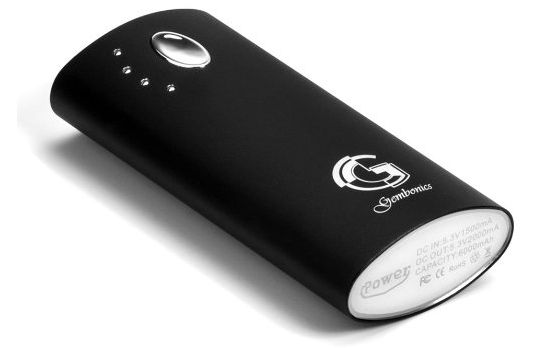 Apart from superb technical specifications, portable phone charger looks physically awesome and I got it for the price of $21. The device comes in smart and stylish design that is easy to carry, compact and very light in weight. To add attraction, this new battery charger quits the conventional dumb black looks and is now available in numerous eye-catching colors like silver, gold, blue, pink, red and black so that when you carry it with you, you look trendy and outstanding.
What else can be handier than the external battery charger? As we said above, it is a pocket rocket. A small stylish device that is just as easy to pack as it is in your hands and what most important is that it does not bore your looks like the common wire messed chargers do. It is just perfect for any packing and for any trip; it is very light in weight, small in size and compact, so put it in your backpack, or a laptop bag, a handbag, a beauty box, clutch or straight into your pockets. The finest portable phone charger is ready to go with you on a business trip, on camping, hiking or just anywhere you want to stay connected!
The high-density battery cells of the charger never let the device to malfunction. Most people carry only a single USB-charged device but in a case of emergency, the external battery charger can simultaneously charge three smartphones; or two smartphones and one tablet.
If you would like to have what I bought, here is the easiest way:
There can be else more powerful that would guarantee that you never get disconnected from your digital world; so grab one today and stay in touch with your friends, family and everyone.
We are influencers and brand affiliates.  This post contains affiliate links, most which go to Amazon and are Geo-Affiliate links to nearest Amazon store.
This is the Dragon Blogger Guest Bloggers account for author's who want to submit articles and only have credit in the post instead of having to manage their own WordPress profile.