A very interesting article on CopyBlogger earlier this week about Will Your Site Survive the Google Shrink Ray which talks about Google Preview which is a new feature on Google Search that shows a little hourglass next to your link results.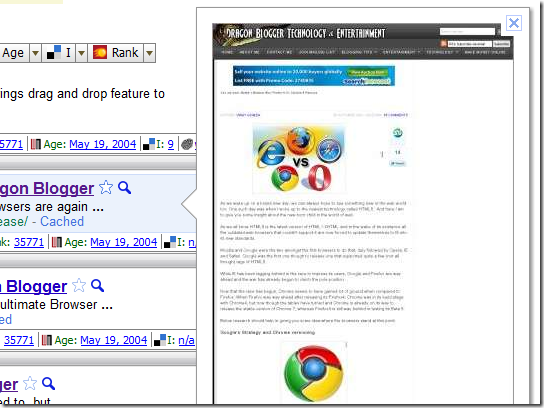 Imagine if Google were to put a popup just by hovering over the link to the site, not just the little magnifying glass.  Lets say this became the standard when browsing search results, or even search results would start showing little image thumbnails of the articles with the search results.  How would your blog stand out, would it attract the extra click from the visitor if they hovered over and saw a preview of what your site looked like?
This is the topic of the CopyBlogger article and it is something to take note of.  Sites that have a ton of ads, traffic or distractions may not even bring in a visit yet ones that have a clean and attractive look may invite a click even if it wasn't the intended target of the person searching.  Website design and cosmetics are going to be as important as ever when it comes to bringing in a user and one way I think is to have clear and attractive images in your blog posts that can help grab the eye and bring attention to your site.
In the screenshot above, my site was snapshot when I had a bug in my CSS and my DIV tags didn't close properly.  This caused my sidebar to completely vanish and now many of my indexed pages had this appearance on Google Preview, I am hoping in the next round of indexing that my pages render properly.
Targeting keywords to rank high in the SERP used to be the top factor, but now your page has to stand the test of having a preview to determine if a potential customer clicks on it or moves to the next site on the search engine results page.  This is something to consider very heavily and the rules of SEO are constantly changing when it comes to bringing in traffic to your site.
-Dragon Blogger