Want a chance to win some cool software? I've got the right contest for you.
SPEEDBit the makers of Download Accelerator Plus and and SPEEDBit Video Accelerator want to give one of my readers a free 1 year license to one commenter who joins the DragonBlogger Black Friday Madness Giveaway.  The contest begins today and ends on 11:59pm AZ time on Black Friday (November 26th 2010).  I will pick and announce a winner on Saturday November 27th 2010.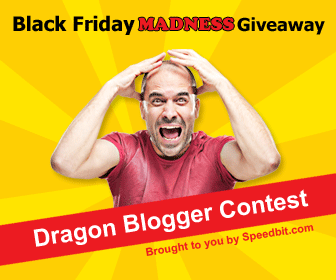 I actually was glad SPEEDBit contacted me because I had been using the DAP (Download Accelerator Plus) free version on and off since 2001 and it does a great job of speeding up downloads by making multiple simultaneous calls to the same file and putting it all together when downloaded.     This program was highly used and recommended if you still download large files off the Internet like game or software demo's or full versions, video files and more.
On To The Contest
Come up with the best answer to the question below and the prize is yours. Get a free application that helps speed up downloading as well as a free video converter application. This contest is sponsored by SPEEDbit, makers of Download Accelerator Plus and video acceleration software and they're running this weekend with their biggest sale of the year. Check it out here: http://tiny.cc/Speed-Dragon
So come up with the best answer to this and the winner is set up with SPEEDbit's two leading pr oducts for one year.
The Question:
What is the best way to use the latest technology to speed-up Thanksgiving with your in-laws?
Let the games begins!
-Dragon Blogger