Clean air is a luxury nowadays unless you live in more rural areas, so what better way to alleviate that issue than with a quality air purifier? Hopefully, by the end of this, I'll have educated you on AIRTOKs lovely line of air purifiers to the point that you feel you can make an educated choice when making your next air purifier purchase! AIRTOK purifiers are even rated for Californian wildfire smoke! That's quite the powerful purifier if you've ever seen a California wildfire!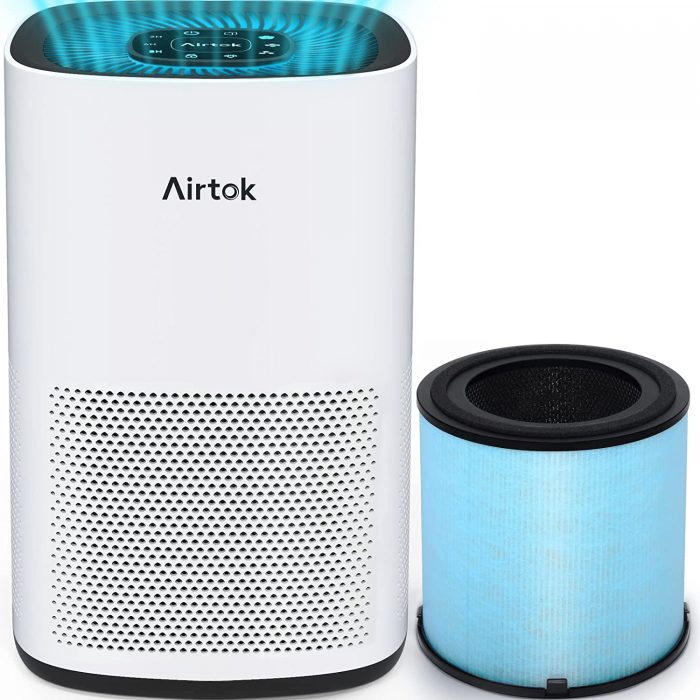 Features
Newly updated Five-Stage Filtration System
With an ultra-fine pre-filter made from blue nano nylon, a True HEPA filter graded at H13, and a 99% effective carbon filter followed by a steel mesh, this is one powerful purifier! It's trusted to remove the majority of airborne contaminants all the way down to 0.1 microns in size! It also has an extremely clear filter change indicator standard for most pieces of air filtration technology such as your standard air conditioner.
Compact but Powerful Design
Measuring in at a mere 7.9*7.9*12.6 inches, this air purifier comes bundled in an easy to find space for package but is still one powerful piece of air filtration technology. It circulates air 1.5 times per hour in a room up to 793ft² (74m²), 2 times per hour in 595 sq ft(55m²); 5 times in 238 sq ft(22m²). So, the larger the space, the harder it has to work to circulate, but it still manages to purify your air more than the leading competitors in even a sizable space! Also with its 360-degree aerodynamic air intake, this means you can place AIRTOKs purifier essentially anywhere and still receive similar performance throughout your home.
Unlike standard motors on most tech like this, AIRTOKs purifier is quiet as a church mouse, meaning you can place it in your bedroom to enjoy clean, fresh air, even as you or your loved ones enjoy a restful night's sleep. It's extremely energy-efficient, rated at less than 24W, and its AC 100-240V plug ensures you can use it in any area without a converter!
Night light, child lock, and timer safety features
It has a wonderful night light function for when you need to get up in the middle of the night for a glass of water, or a snack has a child lock to prevent children in your home from tampering with the purifier, and a timer so that it doesn't continue to run when no one is up to enjoy it! These are all rather nice touches considering the product we're discussing, especially the night light! I get up for a snack at least once a night so that's something anyone in that department can appreciate.
This product is C.A.R.B. (California air resources board) certified! It also holds a number of other certifications for both safety and quality!
Final Thoughts
If you're looking for a quality air purifier, look no further. The majority of purifiers on the market don't even sport a five-stage filtration system, let alone the safety and efficiency features this one does. A good air purifier that's reliable is hard to come by, and while I can't promise this is the air purifier to end all air purifiers, it's certainly a quality one, and you'd be a fool to pass it up. Thanks for reading!
Enter to Win this AIRTOK Air Purifier
Enter to win an AIRTOK Air Purifier

I am just a 25 year old doofus who enjoys rpgs, sugar rushes, and passing out at odd hours.