Check out this new software, PCMag's Editor's Choice for paid tune-up softaware, iolo's System Mechanic!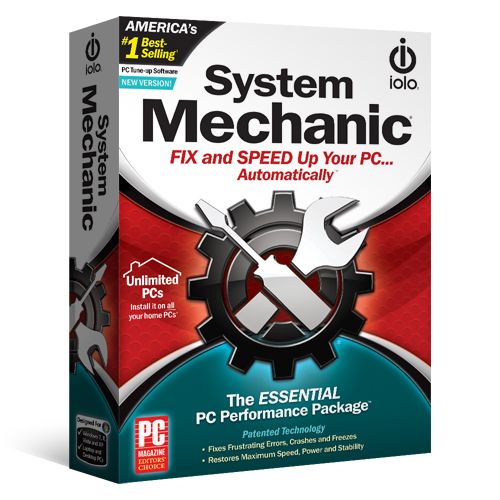 Welcome to iolo System Mechanic, the software that's guaranteed to boost your pc startup, internet, and program operation speed, and even gaming performance! iolo software cleans up over 50 types of junk files and cleans your internet and chat history to protect your privacy and speed up your pc dramatically! It Diagnoses and repairs over 30,000 common PC problems with constant intelligent live updates from iolo Labs! And of course, it has a functional security checker that blocks dangerous programs, system changes, and faulty settings.
Features included in the software:
LiveBoost™ calibrates your CPU, RAM, and Hard Drive in real-time to deliver increased performance speed across all functions of the computer
Guided Recommendations™ allows you to access the System Mechanic community for live advice and updates
Stability Guard™ prevents potential threats from embedding themselves in your computer
NetBooster™ speeds up internet, videos, downloads and games.
ActiveCare® uses patented set-and-forget technology to maintain your device
Total Registry Revitalizer™ Analyzes and resolves problems within the system registry
AcceleWrite® uses real-time technology to optimize file writing speed
PC Cleanup™ cleans up over 50 types of junk files.
Program Accelerator™ re-aligns disjointed program files.
EnergyBooster™ accelerates your PC in an overdrive mode to get the absolute maximum potential
Memory Mechanic™ uses real-time technology to recover lost or wasted RAM
CRUDD Remover™ locates and removes unused programs and leftovers from uninstalled programs.
Startup Optimizer™ accelerates PC startup in 22 ways
Privacy Cleaner™ removes internet and chat history, cache, cookies, etc to push your internet speed to the max!
The Pro version also includes four award-winning products from iolo Software:
System Shield, a triple-certified anti-virus software; Search and Recover, which can recover deleted files, photos, emails, and other media from any internal or external drive, and DriveScrubber, while securely erases data from your hard drive.
Enter to Win a Copy of System Mechanic
Win IOLO System Mechanic(8 people will win!)

Also make sure you download your copy of System Mechanic today and try it free for 30 days!