Originally Nate received one of the QUINEAR neck massagers from the brand to review and it's ability to deliver TENS therapy right to your neck while leaving you hands free convinced me to buy a unit for myself as well. So we both can tell you that this unit is fantastic and really helps ease tense neck muscles. One thing to note is it is not a vibrating massager, but it is a TENS electric muscle stimulation unit that will stimulate your muscles to help relax and sooth them. Combined with heat which can range between 95 – 113 ºF you can really feel this thing start to work very quickly. It has 5 massage modes 16 intensity levels so whether you like a very gentle tingling to a very pulsating constrict/release on your neck muscles it has you covered.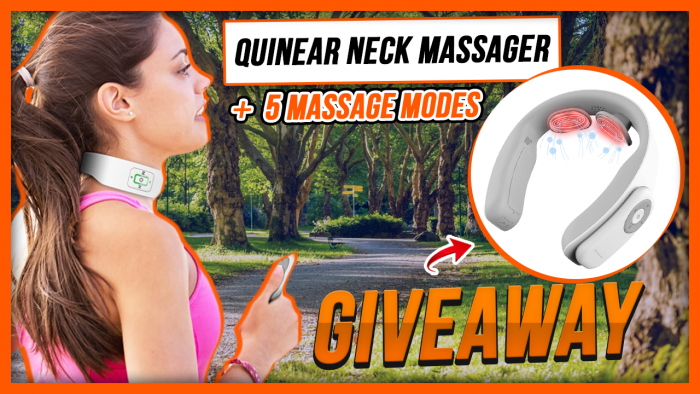 The nubs that are placed at the back of your neck are super flexible and stay in place, my wife noted however that if your neck is very slender it may be a little to large to stay in place on it's own so you may have to brace up against a pillow to hold it in place better. Though for Nate and my own neck it stays in place without having to press anything against it with ease.
This massage unit has a Built-in 1200mAh battery and is portable, you can control it with the remote or buttons directly on the device itself.
This is your chance to win one of these QUINEAR Electric Pulse Neck Massage Devices and good luck to all who enter.
Note: Prize can only be delivered to USA Residential address and there are no prize substitutions for this one since QUINEAR will be shipping the product directly.
Enter to Win a QUINEAR Neck Masssager
Enter to win a QUINEAR Neck Massager with Heat
Previous QUINEAR Neck Massager Giveaway Winner
Enter to win a QUINEAR Neck Massager with Heat