We are influencers and brand affiliates.  This post contains affiliate links, most which go to Amazon and are Geo-Affiliate links to nearest Amazon store.
With the rise of Covid variants, it is really not a good idea to be at the gym at this time. Indeed, it is more economic friendly idea to have your own gym at home. You don't have to buy all the excessive tools and equipment, but the essential ones only. And one of the must have for home gym is the stationary bike. Today, we are going to show you one of the most trending stationary bike on Amazon from YOSUDA.  This is a joint review written by Dang with video and usage done by Justin.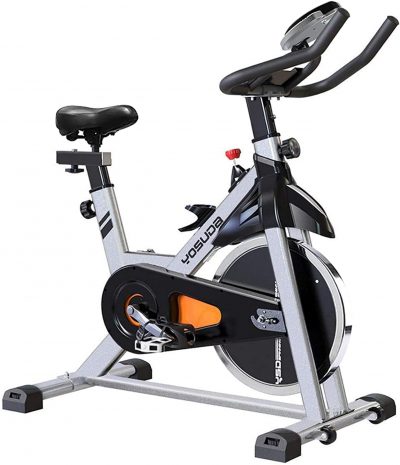 Unboxing and Assembling the YOSUDA Stationary Bike
The bike only takes about 30-40 minutes to assemble, and unpacking and cleaning and less time if you don't have dogs trying to eat Styrofoam while you unbox it like I do in the video.  The bike can be assembled with just one person, though note the front wheel part of the bike is fairly heavy so you may want some help if you find it too heavy for you to lift comfortable for the part where you set in the foot bar under it.  You can watch the sped up unboxing and assembly video walking you through all the assembly parts.
The Partner for Your Fitness Routine
One of the most notable features from the YOSUDA stationary bike is the 35-pound flywheel. The flywheel will provide a smooth experience for the customers. It helps to simulate the feelings of riding the bike on the real road. After a few minutes of warming up, you will not be able to tell the difference between being on the road and working out on this bike. Also, there is no sudden disrupted movement while cycling. Believe it or not, these movements can easily ruin the experience of indoor biking. It is a huge distraction during your work out. You can solely focus on your routine.
Another thing that I like is the pure wool brake pad comes with the YOSUDA stationary bike. The material is more durable, and reliable than rubber. It prevents you from being distracted by rattling, metal-on-metal noise like what it does from other lower-quality indoor bikes. One or two minutes might not bother you that much. But if you are planning to do at least half-an-hour workout, this will become very problematic.
The fact is as you get more tired, you will need to spend all your energy to cross that imaginative finish line. However, it will impossible for you to do so when there is always a distraction on the background. The YOSUDA stationary bike will take care of that matter for you. The only thing left you need to worry about is exercising. Also, in the package, it will come with an extra brake pad. You can easily install or replace it if it wears out in the future.
Pair your YOSUDA Indoor Bike with Shokz OpenRun Pro headset and you get a fantastic way to listen to your podcasts, audiobooks, fitness program or music while cycling and keep your ears open to hear if someone else needs your attention in the house too.
Ease of Comfort for Resistance Training
Another feature from the YOSUDA stationary bike that I find very helpful is the cage pedal. For any activity with bike, it is very dangerous if your feet slips out of the pedal while exercising. Thanks to the aluminum alloy cape and adjustable covers, the YOSUDA bike will prevent any possible accident during your workout; especially when you start to get tired. Also, it will provide an ultimate support for your feel while pedaling.
*Justin's Note – The Cage Pedal is good in theory if you have normal sized feet, but I have a sized 13 sneaker and found it was a huge pain trying to expand and squeeze my sneaker into the cage itself, even when it is relaxed and expanded it crimps closed and just wouldn't really fit well around a size 13 show so I ended up just flipping the pedal over and not sliding it around my shoe.  It does however help against accidental slips where you may injure your shin if the pedal spins around and would smack your leg if your foot slipped off the pedal, so if your shoe size is normal I can see how it would be beneficial.
According to healthline.com, an average person can burn about 272 calories in half an hour of biking. With the YOSUDA stationary bike, you can achieve more than that. By replacing the A3 grade steel with the M10, the YOSUDA stationary bike can provide a consistent resistance throughout your workout. The new material is more rigid and durable, comparing to the old one. Why resistance is so important ? In fact, it is one of the most important keys in working out. First of all, it changes the way our muscles communicate with fat cells and reduce the diabetes risk. Secondly, it can increase muscle size, which increase the number of calories we burn at rest.
Even though it sounds very challenging, the YOSUDA will provide convenience at your fingertip. You will not get stuck with on resistance level for the whole ride. Instead, it comes with an adjustable knob; which is extremely to use. You can adjust the resistance multiple times according to your state and condition during the workout. After adjusting the knob, you can feel the difference right away. The resistance is so durable, that even after a long workout, it won't get easier. Instead, you will still feel your thigh is burning hot for every movement you do.
As I mentioned previously, the company focuses on making products for customers with diverse background. You will not get intimidated, or discouraged with their high quality products. You will also have full control of the bike if things go out of hand. Simply, you just have to pull the brake and the bike will stop immediately. On top of that, with the heavy steel frame installed, the YOSUDA can support up to 27o lbs in weight. Together with the adjustable sit height, you will experience the maximum comfort during your workout. With all the provided features, you will not be able to come up with any excuses why your resistance game has not improved yet.

Justin's Final Thoughts
So the seat that comes with the YOSUDA Bike for me ended up being uncomfortable after 20+ minutes of use, and this is likely due to me being husky and weighing a bit.  I ended up having to get a Zacro Gel Seat cover for my YOSUDA Bike it was made for and fits perfectly with the YOSUDA bike and makes sitting on the YOSUDA bike a much better experience if you are doing it for 30+ minute workouts as I try to do.  I often will just listen through chapters of my audio books and time flies while pedaling along, but soon I will be setting up a projector and TV in front of my bike so that I can binge watch Netflix and Amazon Prime content while I am exercising as well.  With all the health and fitness apps that you can subscribe to and cast from your phone, there is zero reason to pay for an expensive fitness bike when this YOSUDA one works so well and is so much more budget friendly.  I cannot stress enough how great the resistance bar is, you set this thing up and your thigh muscles will ache within minutes, your heart will beat so much faster as you simulate trying to pedal up hill by dealing with extreme resistance and I can tell you it feels as if you are using a stair climber on your legs when you set the resistance up.  This bike makes very little noise too while pedaling and I am able to do it while my whole family is asleep without waking anyone.  I personally am hoping to try their rowing machine next and then I will have a full body workout with just 2 machines in my room.
About YOSUDA
YOSUDA focuses on making quality fitness equipment. They carefully test and quality control each and every single products. YOSUDA ensures customers will receive products without any defects. Moreover, they offer a variety of fitness equipment products for customers with diverse backgrounds. From casual workout to professional training athletes, anyone can find a product matching their requirements at YOSUDA.
The YOSUDA stationary bike is currently on the top 10 for stationary bike category on Amazon. You can buy the product at this link
We are influencers and brand affiliates.  This post contains affiliate links, most which go to Amazon and are Geo-Affiliate links to nearest Amazon store.
If you can't find me at the table coding, then you can find me at another table playing boardgames. I want to share the fun, the intense, the `ah-ha` moments, the sabotage, the nerve wracking experience … that Boardgames can offer to the community.