We are influencers and brand affiliates.  This post contains affiliate links, most which go to Amazon and are Geo-Affiliate links to nearest Amazon store.
Search engines are a dime a dozen these days. They all seem to do the same thing, which is, allow you the user, to find pages out there that hosts information you need. For years I have had my favorites, and have been reluctant to change, that is until more recently.
Back in December, I graduated college. That is significant for several reasons, one being my age, the other being that I have no more disposable money that I would have used for tablets, or tech of various kinds, and no more Xbox One Live Gold membership. That is until my son told me about Bing.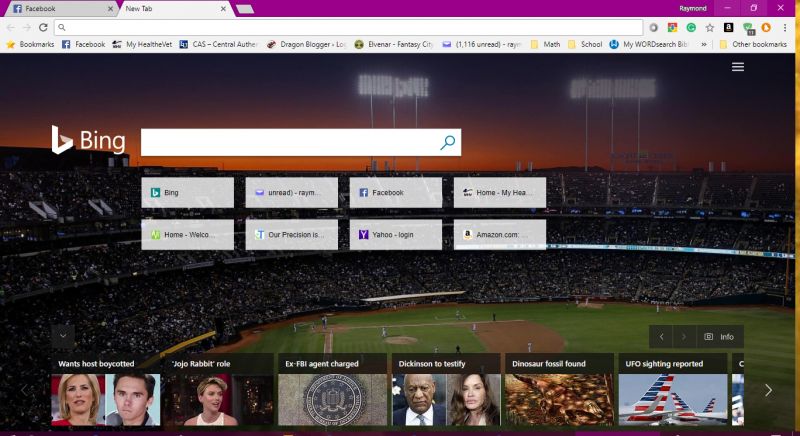 I am not a huge gamer, but I do have more than one that requires the Gold membership to be active. I was facing a crisis, and I was not sure how to resolve it. I needed to find the extra money to buy my way back into the action. This is where Bing came through.
First and foremost, Bing is a search engine. It is a pretty good one as well, and I had been meaning to try it, but my loyalties lay elsewhere. However, I decided to give it a try and before I knew it, I had amassed a good number of reward points just for doing nothing more than search the internet and open a few web pages they suggest.
At first, it did not seem like I would gain enough points to buy my Xbox One Live Gold freedom, but I managed to get there. So, for the month of December and January, all for the price of zero dollars, and a few minutes of my time each day, I was able to cash in my points and get a month's membership free.
In fact, as of this writing, I have not paid for my Xbox One Live Gold Membership even once. It is like money in the bank, and it could not be easier. All you need is a Microsoft account, (free), Bing, (free), and a little (free) time. And, just in case you are wondering, Xbox Live Gold Memberships are not the only thing you can earn.
The very first thing you need to do is go to www.bing.com and set it as your default search engine. Then, if you do not have a Microsoft account, create one. (Hint, if you have an Xbox already, you have an account, just enter your email and password associated with your Xbox. Also, if you use Windows, you have one as well.) Once you are all signed in, you will be directed to what you should do next. If that is not clearly shown, I would say, check out what you can earn, https://account.microsoft.com/rewards/redeem/.
Many items, like the Gold membership, allows you to set them as your goal. This way as you earn points, you can see how close you are to getting what you desire. One interesting thing, in the case of the Gold membership, you can earn 1 month free, 3 months free, or 12 months. So, if you already have an active subscription, you could choose a longer membership goal and start saving points early.
Now, I mentioned there being more things besides the Xbox Gold Membership. You can if you should use it, earn skype credits. You can enter various sweepstakes, including getting a Surface Pro tablet. If movies are your thing, you can apply your points to movie theater tickets, (Actual dollar amount varies by theater, with $5.00 being the standard value.) You could donate your rewards to various charities so that those charities can use them to supply the needs of various groups.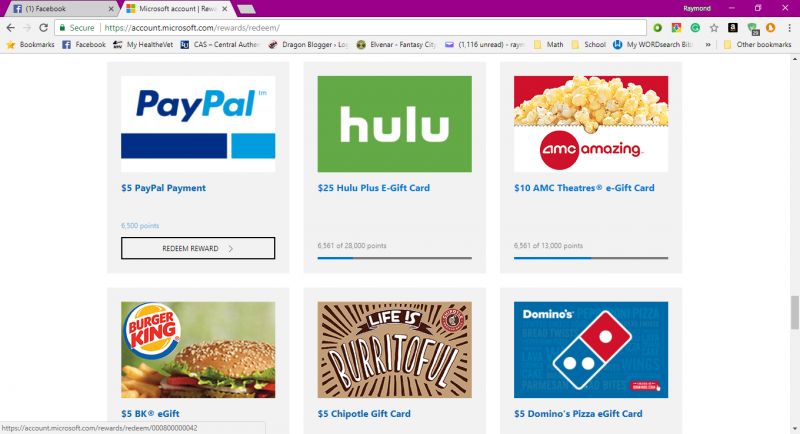 You can enter to win an Xbox One, get department store gift cards, earn a chance at 1 million Microsoft Reward Points, and so much more. Some rewards are tangible, as in a gift card, while others are possibilities, like a raffle ticket would be. Whichever way you chose, each offers exciting possibilities.
At this point, you're probably wondering how to earn points. The first way is to run through their daily set. This is on their rewards page, with the possible point values chagrining based on your level of participation. Today, for example, I have 3 items in my set. 2 at 10 points each, and one at 50. Usually, anything over 10 points, takes you to a game of some sort, well, really a quiz.
For the quiz, you could answer anything between 3 and 5 questions. A few times, more. Many are based on news items that appear on the Bing homepage or are related to current events.  Even if you do not do too well, you generally always get the full point value, and if you take the time to explore a little, you may find the activity educational, and entertaining.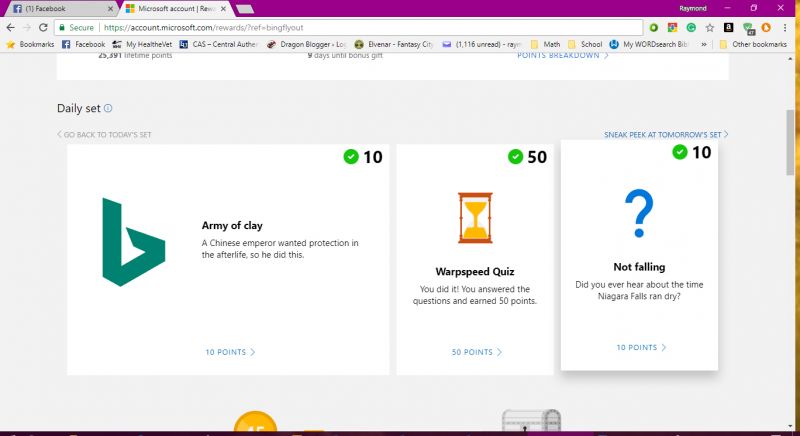 Today, I got to see images of a dry Niagara Falls, something I did not know had ever happened, and the Chinese Terracotta Army.  All I had to do is open the two web pages, and I got 20 points. The last one is a quiz, and the subject is chemistry. I know very little on the subject, but in about 3 minutes, I earned 50 points. Had I paused to read up on the options via the supplied web page information, I could have learned a little bit about the topic.
So, even though I just got started for the day, I can look up and see that I have managed to earn 165 out of 430 possible points for the day. This is for the web browser I am currently using. If I were to use the default Microsoft browser, I would earn a little more. I can also use my Android or iPhone device and earn 100 of those points, and with the Microsoft edge browser, another 20. Also, If I were to make and purchases in the Microsoft Store, I can receive a point for each dollar spent, this is on top of the points I get from searching and having fun.
I have been at this for a good bit, and as of this moment, I only need 514 more points to earn a free month of Xbox Gold Membership. To gain what additional points I can I am choosing to go to the Bing homepage, and click on the various news links they post. There are generally more than enough to click on to fulfill the possible point allotments for the day.
After running through the possible searches just based on the News stories listed on the Bing Homepage, I now have only 369 points remaining. Time to go to the tablet and use the Bing app. Now I have but 269 to go. Lastly, I am going to open the Microsoft Edge Browser for the final 20.  While I had hoped to get this all done today, I will have to wait another day, but with only 239 points remaining, It will not take long. Had I used the Edge browser sooner, and all along, I would have likely completed this much sooner. As it is, I have been losing out on 20 points a day.
For now, All I can do is put my best foot forward and correct this in all future searches. I imagine some are thinking that it would just be easier to simply pay the money required for the Xbox Live Gold membership and be done with it. Sure, it would be easier, and if you can afford it, go ahead and do so, but you would be missing out on a lot of fun. For me, I choose fun.
We are influencers and brand affiliates.  This post contains affiliate links, most which go to Amazon and are Geo-Affiliate links to nearest Amazon store.
I have worked in and around many different types of computers. In the Navy, I used a magtape drive computer that was a step down from pen and paper. I later worked for a big computer company and after that, taught computer class's nation wide. I had the privilege of teaching 14,000 students in a 2 years period of time. Afterwards, I owned a small computer training and repair shop for a few years. I have owned C-64's, Pc's of various types, Amiga's, and even Mac's. I now have included the android to my collection. At any time, I have close to 15-20 computers or combinations of computers and game systems in the house. I look forward to more.