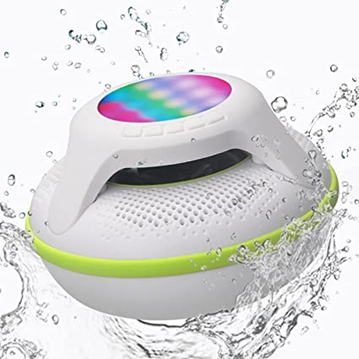 Looking for a waterproof speaker to spend time with your family by the pool?
If you are a water lover you would surely like to have a speaker to play the music while using the pool. Swimming without music will be boring after trying this familiar waterproof speaker Waterproof speakers must be certified to be used without fear of harm. The Ypllake speaker is ideal for spending time with the family listening to their favorite music while in the water. The Bluetooth speaker has a fun and modern look. It is ideal for children to use the horn while showering or while using the pool. It's easy to set up and works for adults and kids. This portable speaker is IPX7 certified. It's a great purchase and your family will surely be happy.
What is IPX7 certification?
IPX7 certification is a rating that indicates the level of impermeability of a product. It is important that products that resist a large amount of time underwater have this certification. IpX7 certification allows a product to be fully submerged to 1 meter deep and can withstand up to 30 minutes. The Ypllake will not dive underwater and can run for many hours without any worries.
Ypllake waterproof speaker feature
The Ypllake is an amazing Bluetooth speaker that can withstand water. It has a fun design and a modern look. It is a horn that can be used by children and adults. This Bluetooth speaker can float on the water and allows you to listen to your favorite music when you are in the water. A feature of this speaker is its LED lights that offer a fun design. This speaker is characterized by offering a crystal clear sound and good quality. It uses 10 w of power and 3 passive radiators this allows you to hear the music clearly no matter where you are. Another feature of this speaker is its advanced Bluetooth. Includes updated BT chips. Bt chips allow a greater range of Bluetooth this allows pairing the devices without needing to be too close. They are ideal for children, this speaker includes LED lights to offer a more fun look. You can adjust the brightness of the LED light. The most amazing thing is how easy and fast to pair with your device, you can connect your device up to 30 feet away and it will have perfect quality. You can use the Ypllake speaker anywhere you want (shower, fishing, pool, and much more). Includes 5 different light modes. You will be able to recharge the speaker using a charger (included). For a low price, you will get a good quality speaker.
Summary
If you are looking for a good quality waterproof speaker available at an affordable price the Ypllake is what you need. It will work for children and adults, plus it has a modern and fun design.
You can buy this item here: Waterproof Bluetooth Speaker,Ypllake Shower Speakers Bluetooth Wireless Waterproof Pool IPX7 Floating with Light Stereo for Outdoor Pool Hot Tub : Electronics (amazon.com)
My name is Joel! I love to read, I go to university like most people my age.
In my free time I usually train boxing, I love music, I also know how to play the guitar and the harmonica.