We are influencers and brand affiliates.  This post contains affiliate links, most which go to Amazon and are Geo-Affiliate links to nearest Amazon store.
Smart watches are all the rage these days.  Apple, Samsung, Motorola, LG and Huawei are a few of the major players.  All of them offering different sizes, shapes, and different OSs.
Their prices ranges are anywhere from $200-ish to $500-ish.  If you read reviews their actual functions are a bit all over the place.  In part because of the maker and their OS and what phone they best work with usually have to pair up.
Over at Overbuying.net they have the ZGPAX S79 which is a alternative to dropping $200 to $500 on something your not entirely sure about.   It looks a lot like the Apple Watch from Apple. Now I can't say I have an Apple Watch or tried one but I have had a few people ask me if I like the Apple Watch mistaking the ZGPAX S79 for one.
Phonebook / call log / message/ music sync
Save time: access notifications quickly on your wrist using smartphone sync.
Music playing
With built in apps and on-board storage, enjoy your music on the go.
Built-in camera
Capture life's moments with the built-in 0.3MP camera
1.54 inch touch screen
The 1.54 inch HD display delivers stunning clarity and color.
Sleep monitoring
Wear the S79 at night to track and improve your sleep pattern.
Pedometer
As a fitness companion, the S79 tracks your health measuring every step you take to help you achieve your health goals.
Sedentary reminder
Sometimes you just need a gentle reminder to stay active: built-in motion tracking helps you to minimize sedentary times.
Extra features
Sound recorder, alarm clock, calendar, calculator.
Stainless steel watch case
Premium stainless steel provides enhanced durability with a stunning gloss finish.
Super soft rubber band
The deluxe rubber material delivers a refined, comfortable fit on your wrist for extended wear.
Pin buckle design
Classic stainless steel pin buckle, convenient to wear and take off.
Resolution 240×240 pixels
Wrist size: 16cm – 22cm
Compatibility: Compatible with iOS and Android OS
Note: This phone will only work with GSM networks: GSM850/900/1800/1900MHz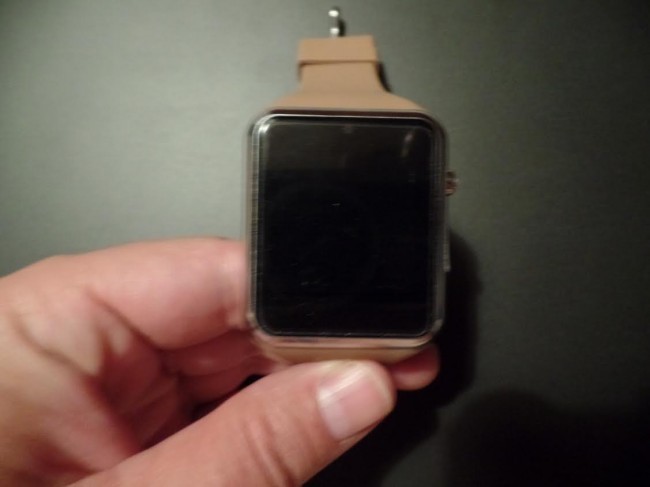 So the ZGPAX S79 has a large screen and it a little thick.  The screen is 1.54 inch HD screen with a 240×240 pixels. I don't have a large wrist by any means and it was a little big on me.  But not so big it was uncomfortable.  I don't wear much jewelry so that might play a part in my opinion of the size but it is pretty big.  The band is made of some rubber type material.  It is comfortable and secure but it did make my wrist sweat a bit.
Something a little different about the ZGPAX S79 is it can be a companion wearable to your phone but it also can be a phone on its own.  Adding a T-mobile SIM I not only have a smart watch but a phone that I could make and receive phone calls on, send and receive texts on and all from my wrist without it even needing to be paired with a phone.  It has a microphone and speakers to accomplish conversations all from the ZGPAX S79.  Think secret agent man talking to his wrist.  The sound is decent too for it being a watch.  I have not had any issues understanding who I was talking to and they understood me well enough.  It felt funny talking into my wrist though.
The ZGPAX S79 can also be that companion watch without being its own cellphone.  Connecting via Bluetooth ( The S79 has BT 3.0) I can initiate and see who is calling on a Bluetooth connected phone.  You can store music locally when you add a micro SD card in the available slot.  You can also stream music from a phone or tablet to the ZGPAX S79.   It works, sound isn't optimal but it was fun to play with.  There is also some more functionality when using an Android phone and the available companion android app you install on the phone.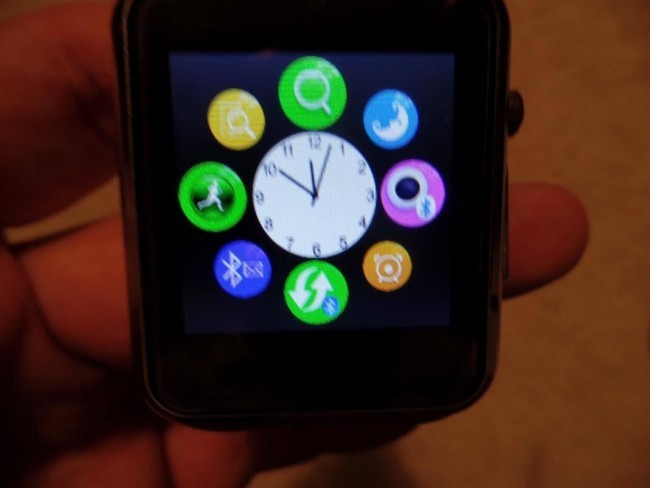 The ZGPAX S79 also provides a pedometer and sleep monitor which can help track your movements and your sleep.  It has some fun functions like viewing the camera on your phone or tablet while recording video.  And it has its own .3 megapixel camera you can use to take pictures right from your wrist.  Or you can use the built-in voice recorder to have that reminder to snap pictures of a suspect.  Or maybe record incriminating statements made by the suspect. Again a little secret agent man fun, for me at least.  Many of the expected options you have on a phone.  You also have a calendar, phone book for contacts, and an alarm clock.  If you need that reminder to get moving the ZGPAX S79 will do so as well with it sedentary reminder.  It will even remind you to pick up your Bluetooth connected phone if you wonder too far away from it, or if someone tries to take it and steal it.
So the ZGPAX S79 is fun, it is functional, and it may be what you need for a smart watch or it may be the economical way for someone to make the decision to invest $200 to $500 or more in a wearable device. All in all this is fun toy that can accomplish much more than many other smart watches including making phones call all on its own.  In my testing with random usage the battery lasted about a day and a half under normal usage, without any usage the battery lasted about 2 days between charges in my testing.
Considering price and the fun of this watch I will give it 4 stars out of 5.  Grab one, have fun, and be that secret agent man.
Disclaimer:  Everbuying sent us the ZGPax S79 Smartwatch to review, all opinions are 100% mine and mine alone.  Note, they are the store that sells this brand of watch, they are not the manufacturer of the ZGPax S79 smartwatch.
We are influencers and brand affiliates.  This post contains affiliate links, most which go to Amazon and are Geo-Affiliate links to nearest Amazon store.
I am just a geek getting older but keeping up.