We are influencers and brand affiliates.  This post contains affiliate links, most which go to Amazon and are Geo-Affiliate links to nearest Amazon store.
Did you ever want an action cam but not want to spend the money on a GoPro.  Well this is my situation too, but are these budget action camera's good enough to use. My friends over at 1 Eye Products sent me their 1080p action cam. This camera is compatible with any GoPro  mount they claim. I will get more into that in a few. In this kit you have a nice amount of goodies ranging from helmet mounts to extra pieces to change position or viewing. They also include a micro SD card for you. First let take a look at the box and your first glimpse of the camera it self.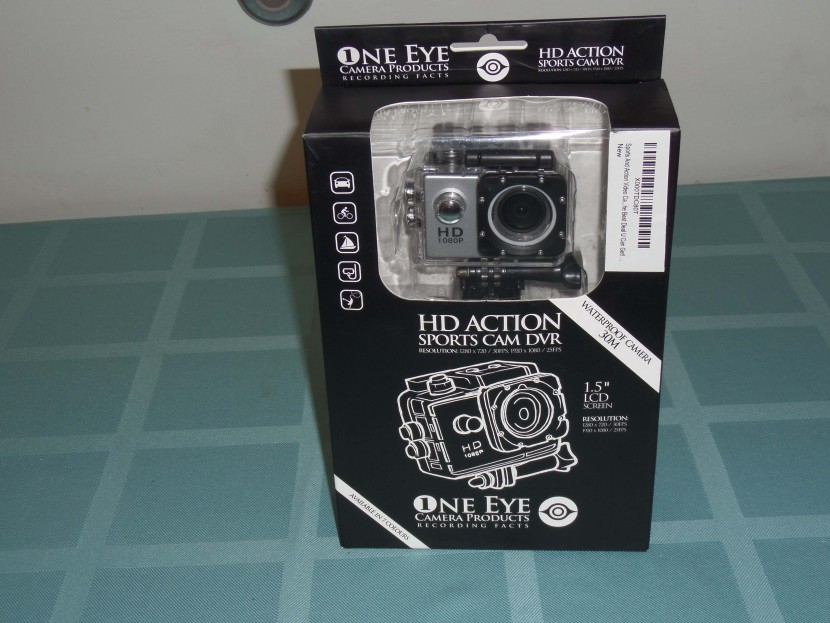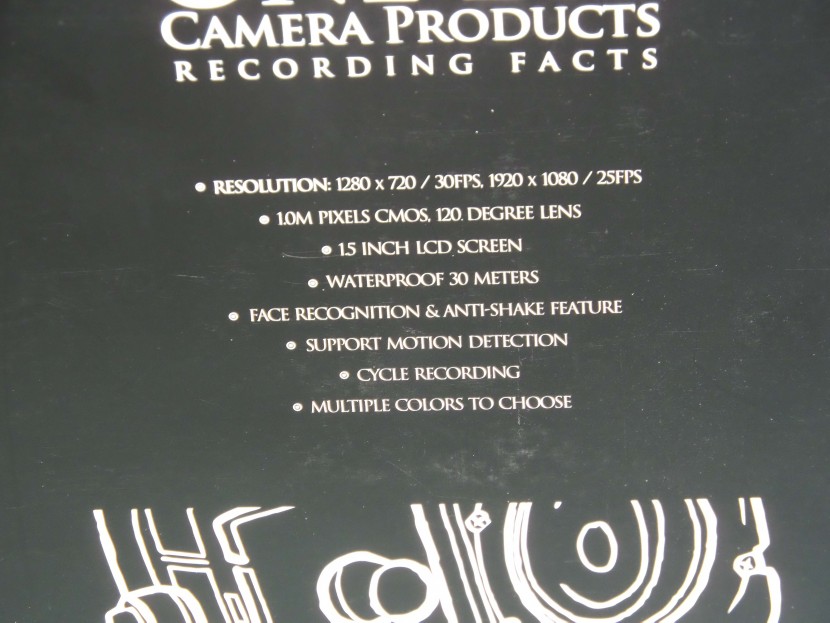 On the back you can see that it records in 1080p or 720p. In 720p mode you will get 30 fps compared to 1080 mode at 25fps. It also show that the screen is 1.5 inch wide.  It is also waterproof when using the waterproof case. Which you can see that test in my unboxing and first hand test of the action camera.
Check Out My Unboxing Here!
Now that you have seen the box and first glimpse of the camera. Let me show you the camera outside of the box. First you will notice that the color change on the camera the new one is blue. Yes you read that right it also comes in the color blue.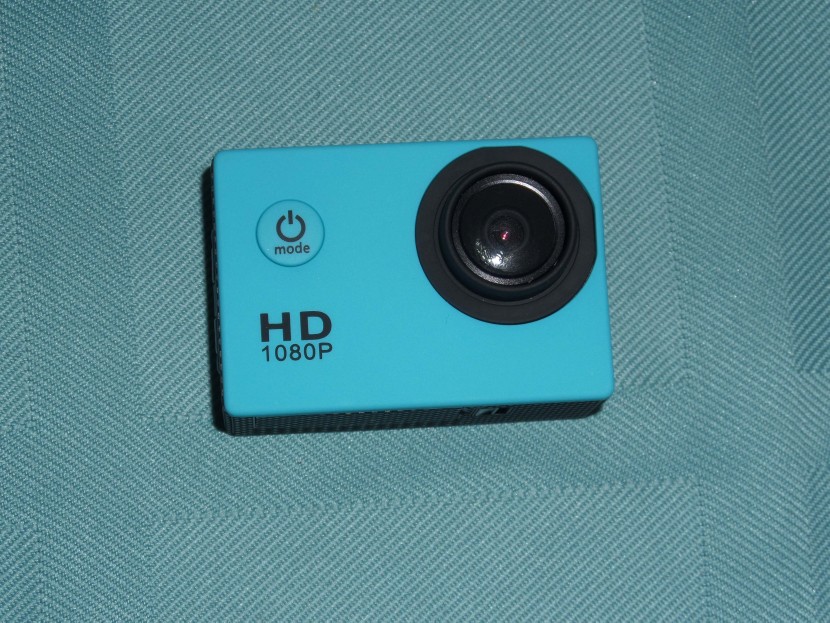 The camera itself is rather small. Which is nice since if you don't want to use the case you can place it just about anywhere. The camera itself has four buttons. Power/mode is on the very front and what you can see in the picture above.  Now you also have Record/OK button. This button is on the very top of the camera.  Then you have scroll up and down. Scroll up is also microphone on and off. Scroll down also shut of the screen to save power. Now these also work when going through settings. I will post a few pictures of these buttons for you know.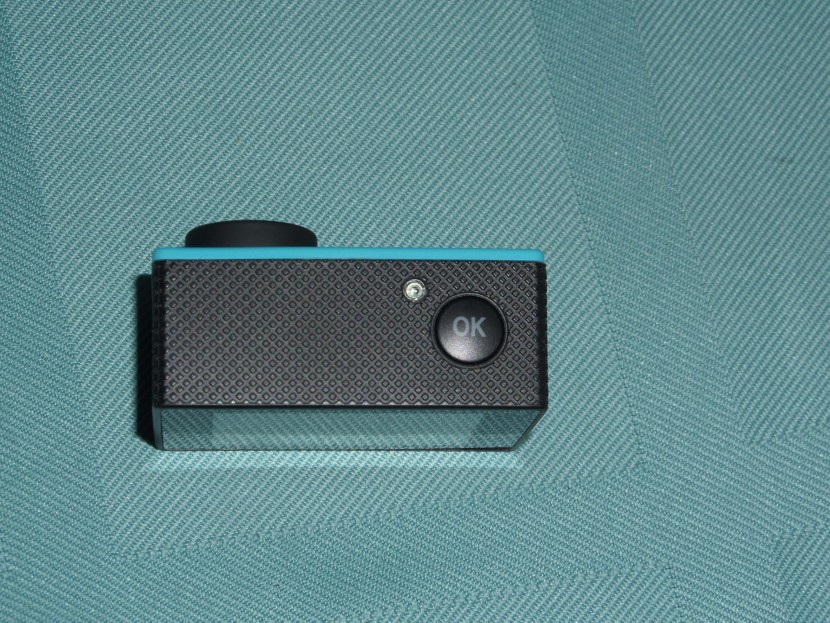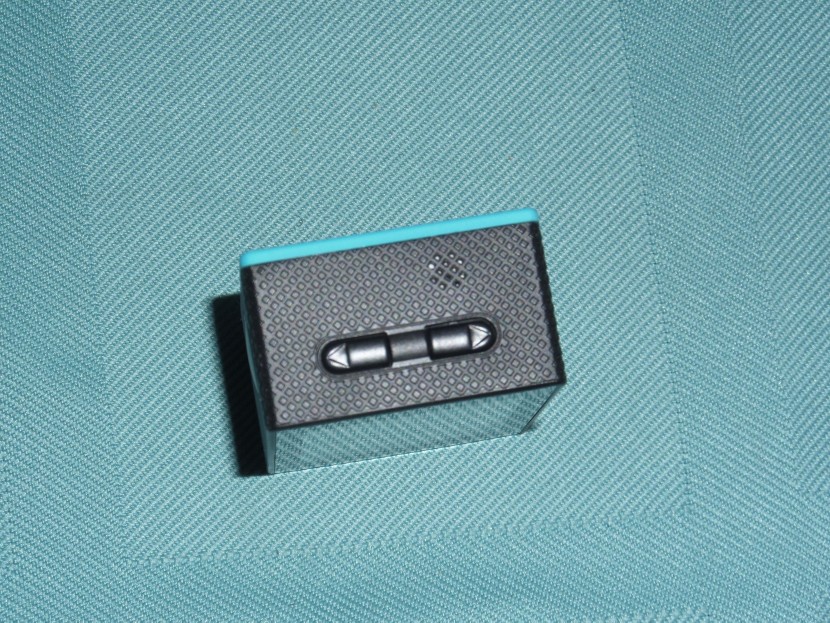 You can also see the speaker next to the scroll buttons. Now when listening to play back the speaker is rather quiet but who is really going to use that. On the other side of the camera you have the microSD slot. You also have the Micro HDMI port and micro USB charging port. Next to the micro USB port you have the microphone.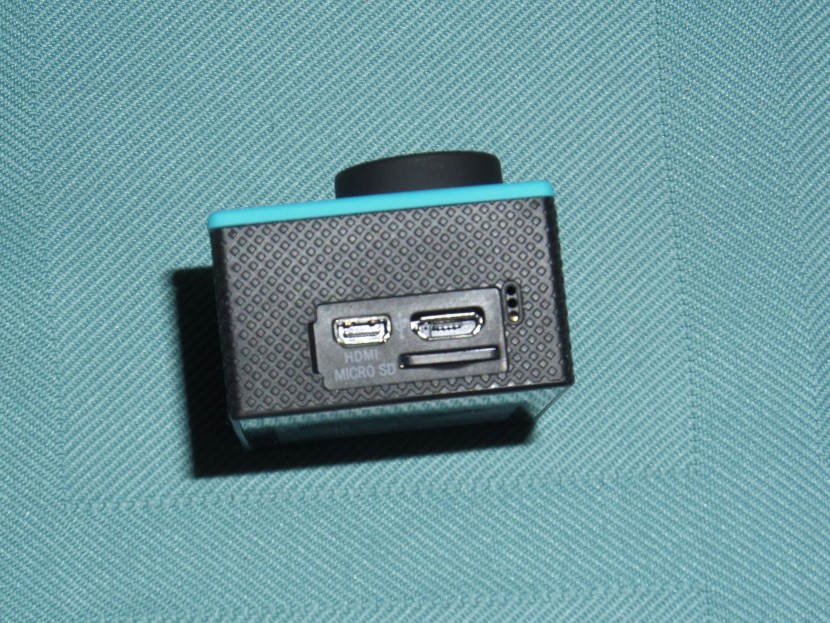 Like I said the 1 Eye Products 1080p Action Camera has a 1.5 inch screen. You can see the screen and a shot of the setting page on the camera.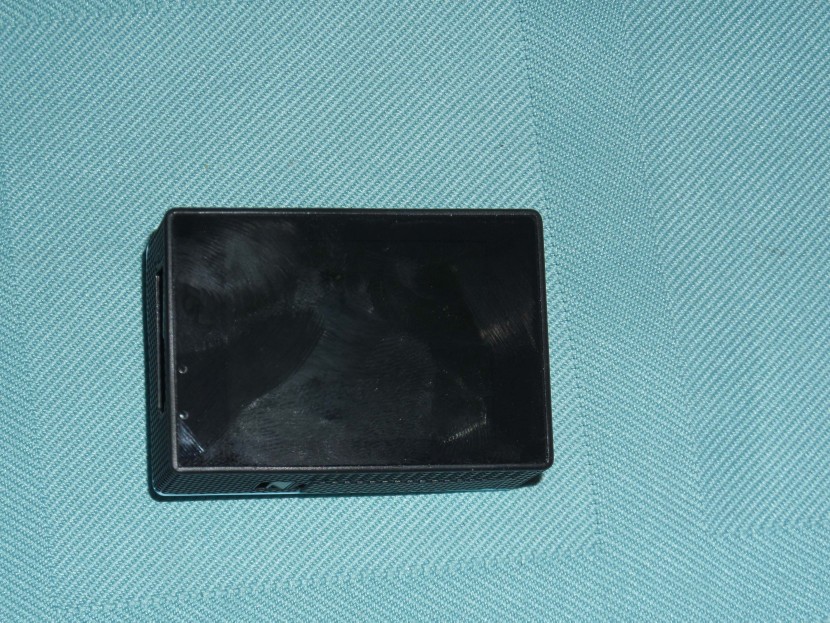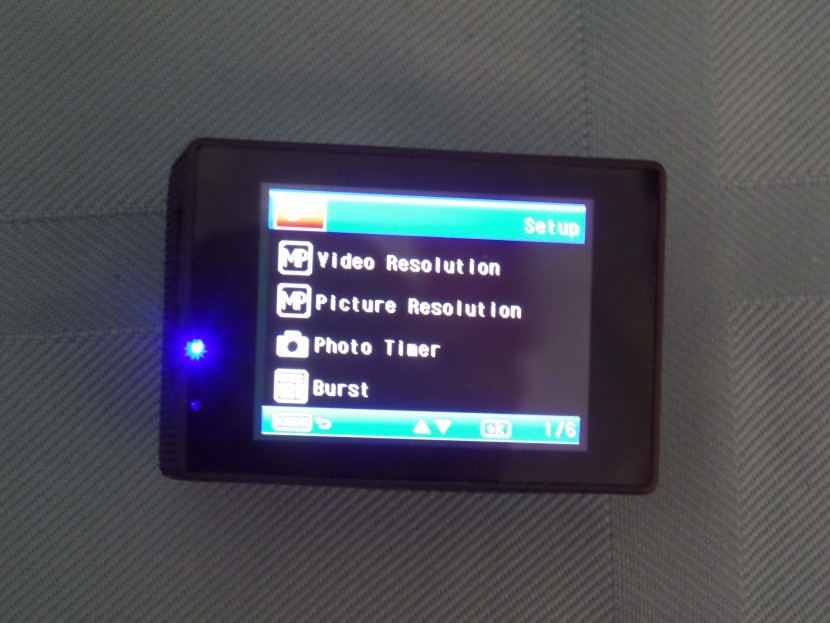 The screen is small but you can clearly make out what is on it even in video play back mode. They claim the camera is 12 megapixels.  The camera has a nice lens which is easy to clean with a lens cleaning cloth.
On the bottom of the camera is a door for the battery. The battery is 900mah.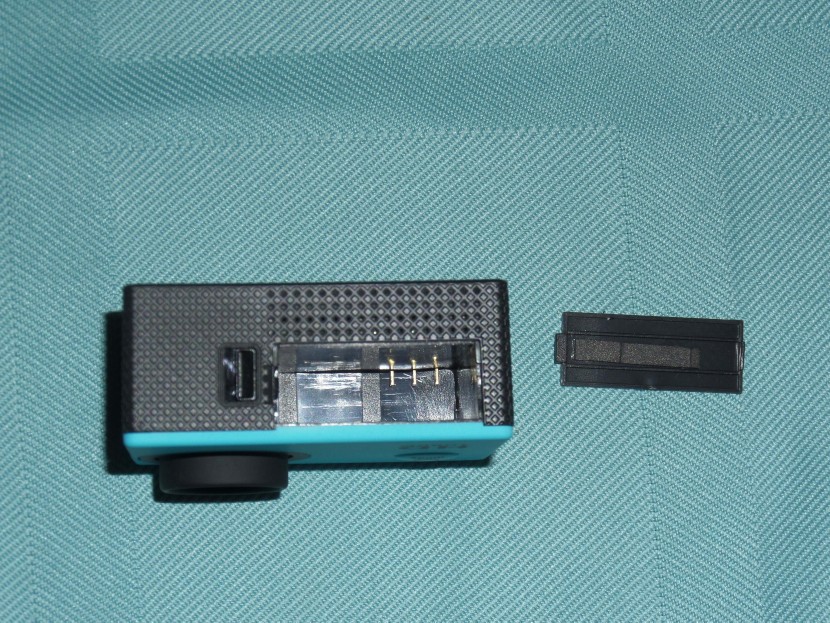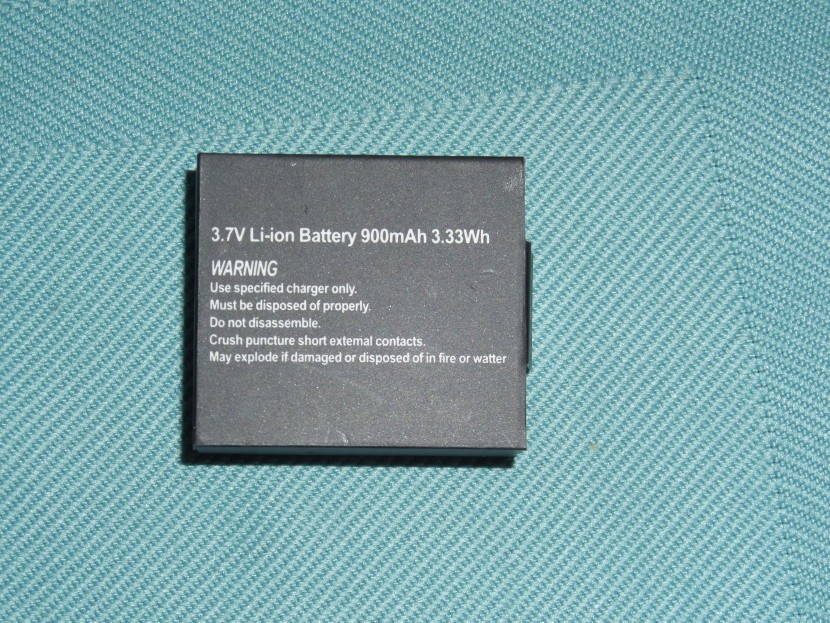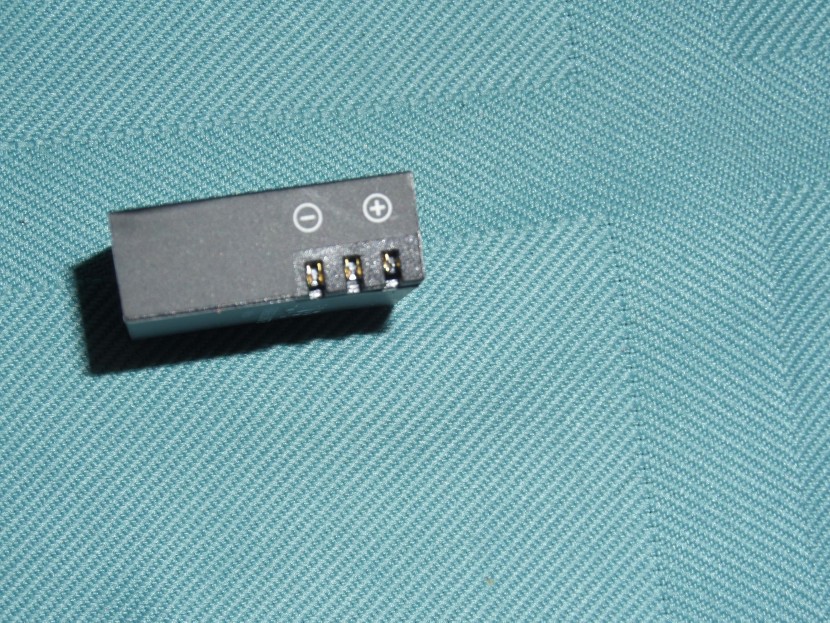 1 Eye Products claims you can get 70 minutes of record time off one charge. I didn't get that but did get around a full hour, which isn't bad. Just wish I got more since it says it take about 3 hours to charge the battery in the camera.. Now charging time varied for me and sometimes it was an hour other times it was a little longer. Let me show you every thing lined up that comes in the package.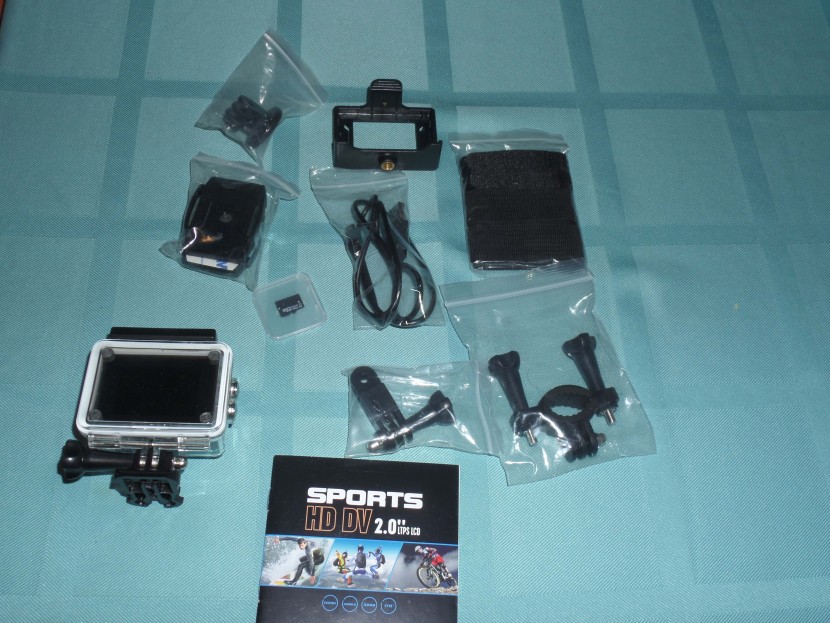 Like I said before it is waterproof they claim up to 30 Meters. Now I not go diving with it to test it but I did test it nonetheless. The case is what make it waterproof. The case add a little size to it but make it much more fun to use. The case is clear and has four buttons just like the camera it self. Now it has a rubber gasket and a very tight seal. You can see the case without and with the camera in it now. I will post a few pictures so you can see it.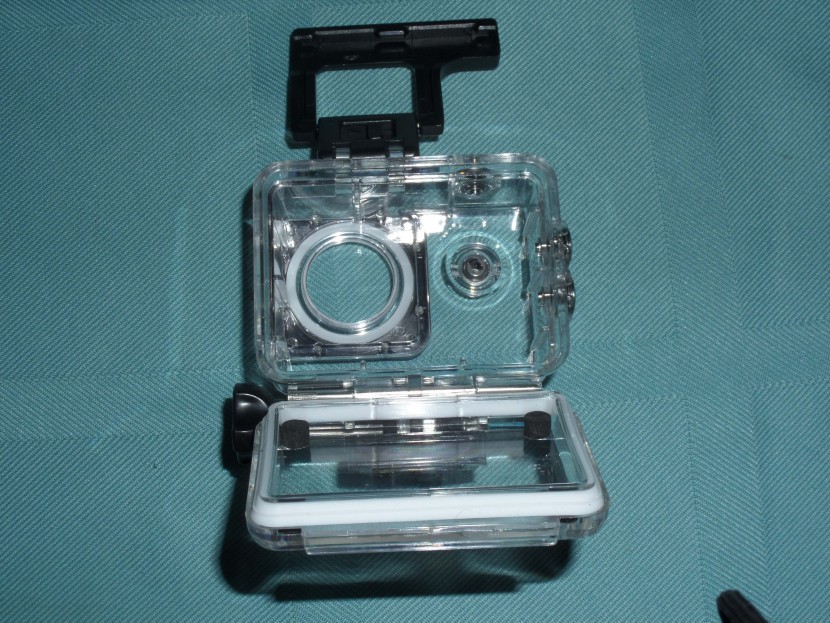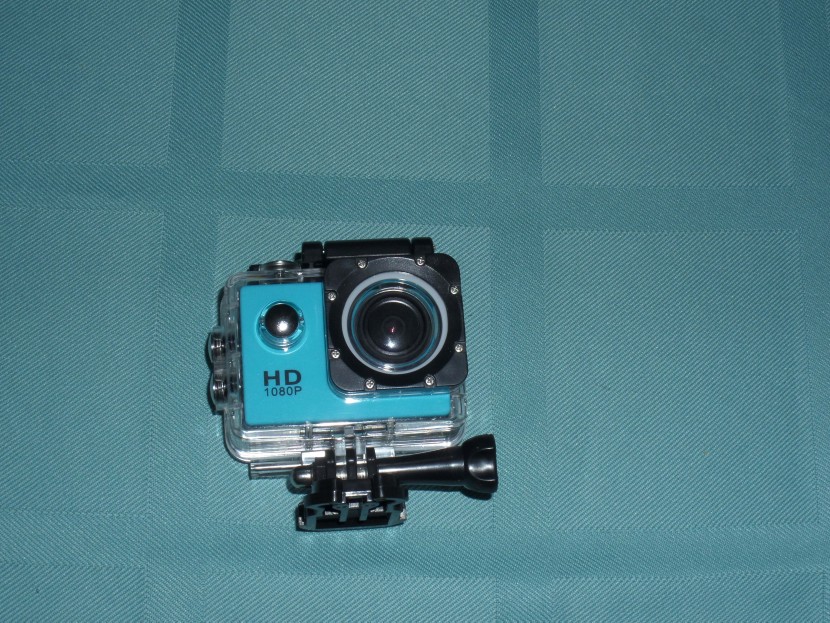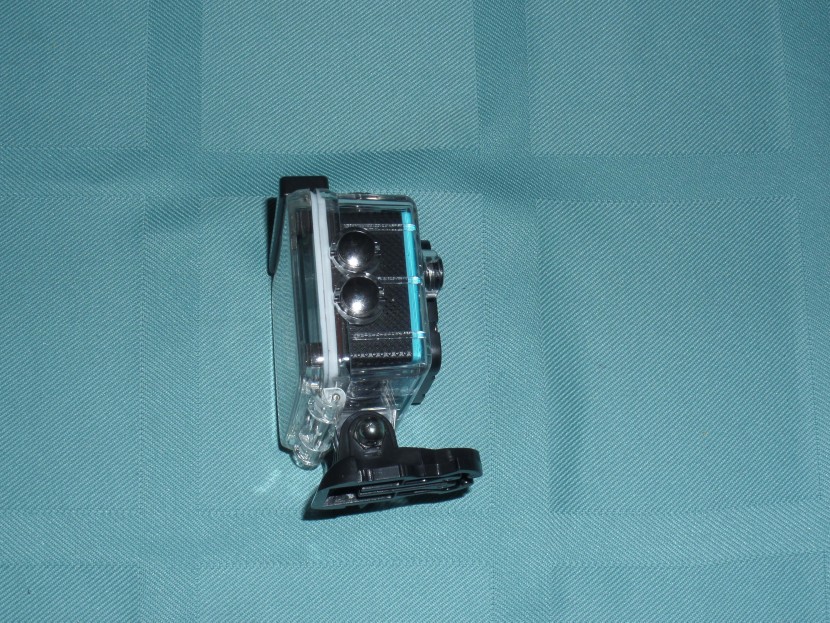 To open the case  you need to move a little button side ways then pop up the latch. This ensures it wont pop up without notice.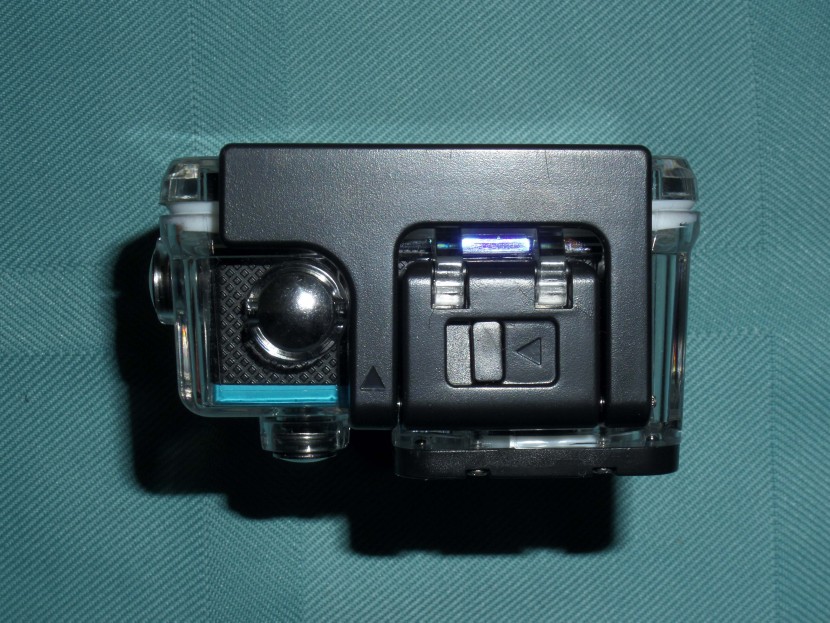 Like I said, I did test it in my bathtub and outside in the rain. You can see the bathtub video in the unboxing. It held up well and did not let any water through. I also left it in the tub over night just for the heck of it. Still dry as a bone.
The bottom of the case  is where the mount connects.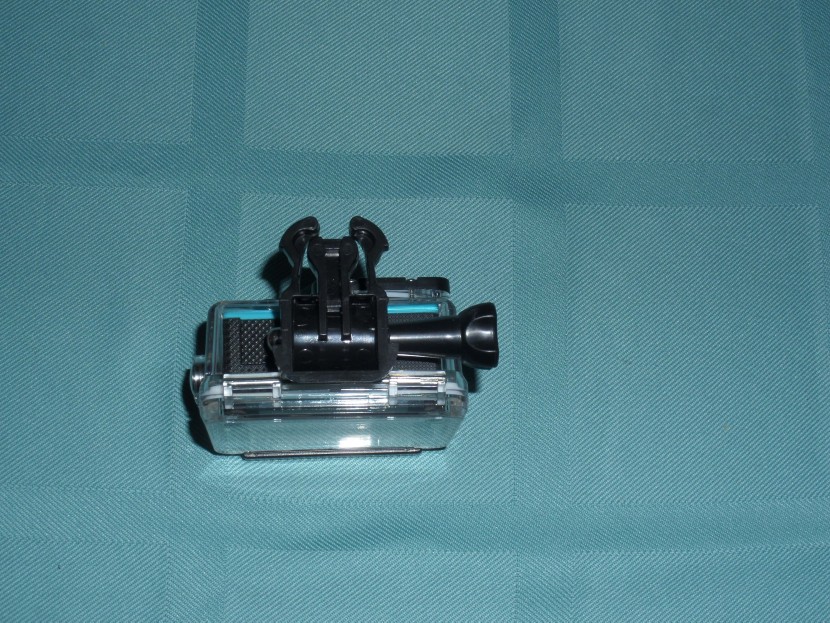 This will connect to the car mount or bicycle mount. Now the car mount is not included but you can purchase any mount that work for GoPro as I said at the beginning of the article.
Here is the one I bought separate and I used this Windshield mount to turn this action cam into a car dashboard camera.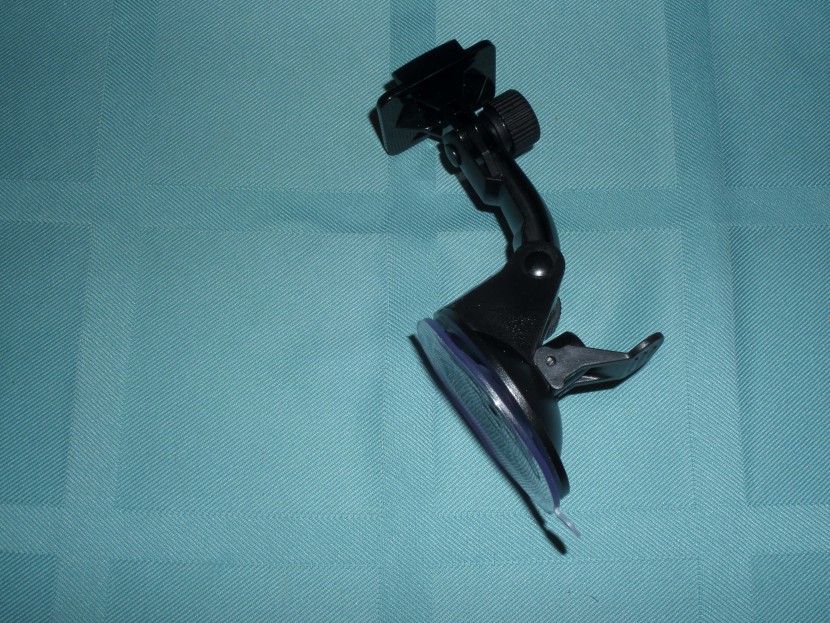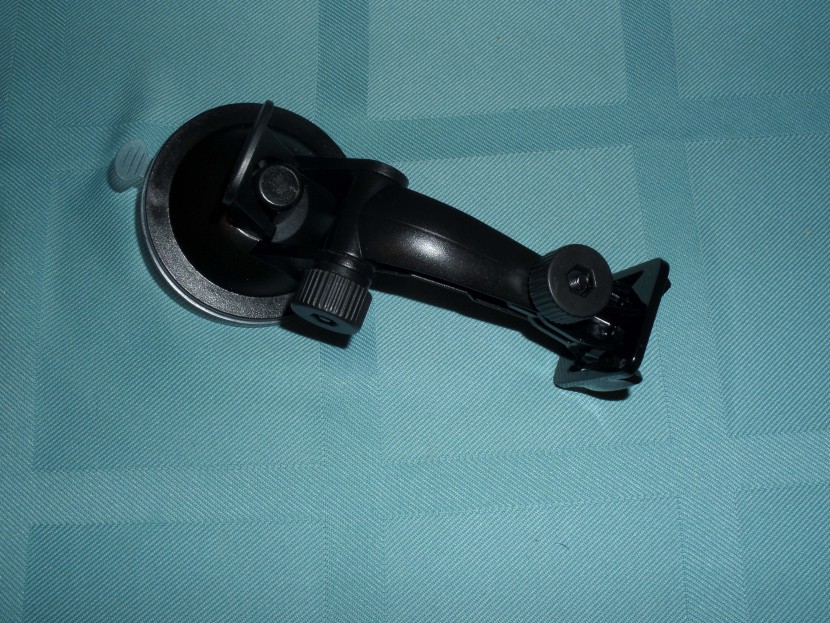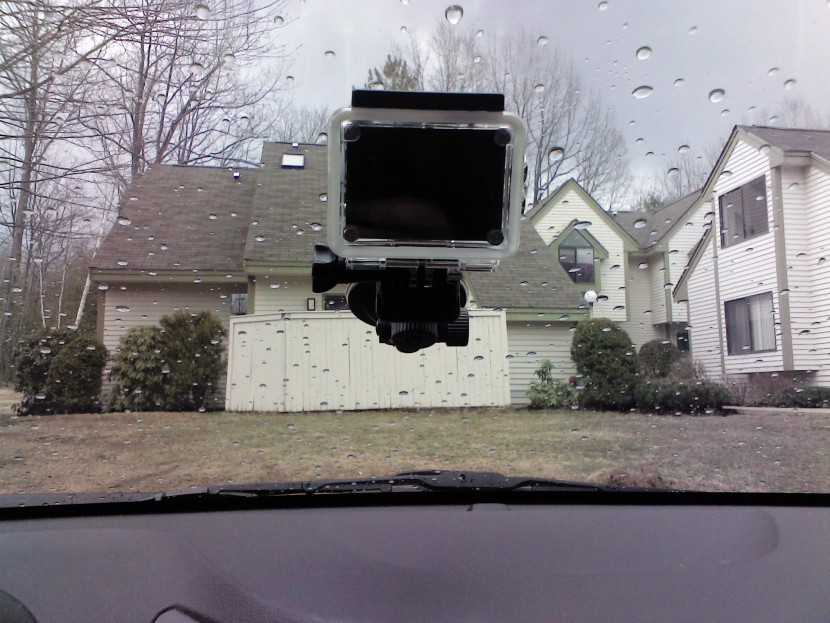 Check out my video of it in action in the Car Here!
Now back to the waterproof case mount I did have one issue with it. The prong that holds it in cracked. Now I'm sure they will replace it if I told them but I had a spare so didn't bother. The second one did not break at all. Let me show you the one that broke so you can see what to be careful for.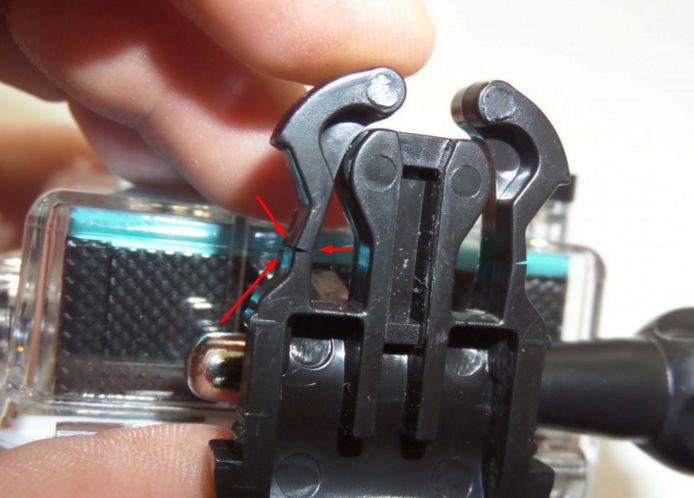 You can see both sides cracked and this may have been my fault to be honest. I was a little rough testing in in the water.
Now some of the other pieces that come with the kit are the bicycle mount and 3M adhesive mount for helmets.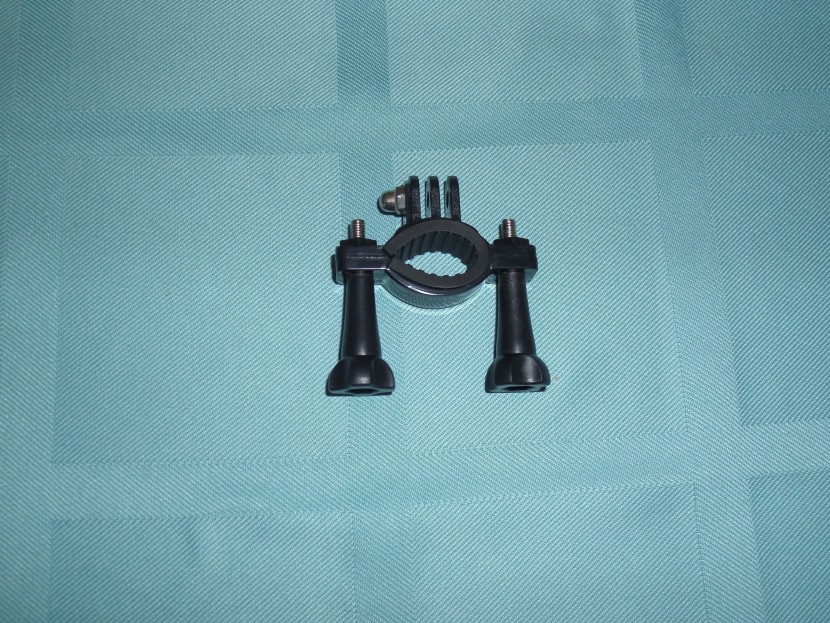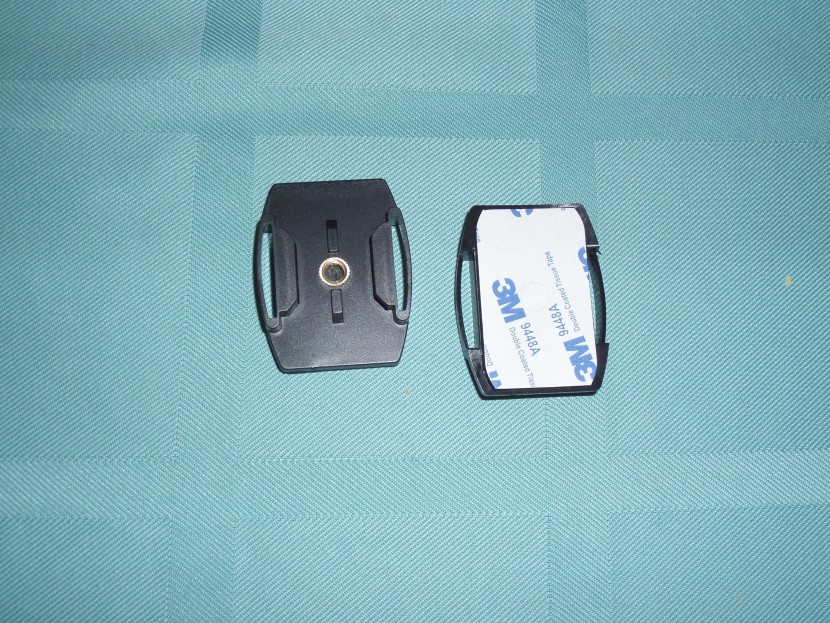 The helmet mounts work great. There just like any other helmet adhesive mount. You can't go wrong and they stick on really good. You also get a tripod mount. The mount are good for home use. You snap your camera in and screw it to your tripod and you are done.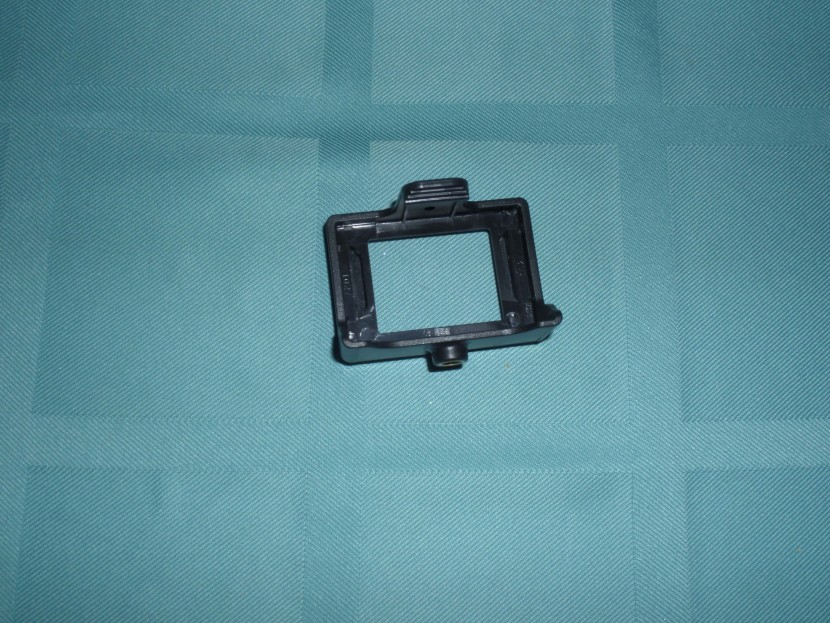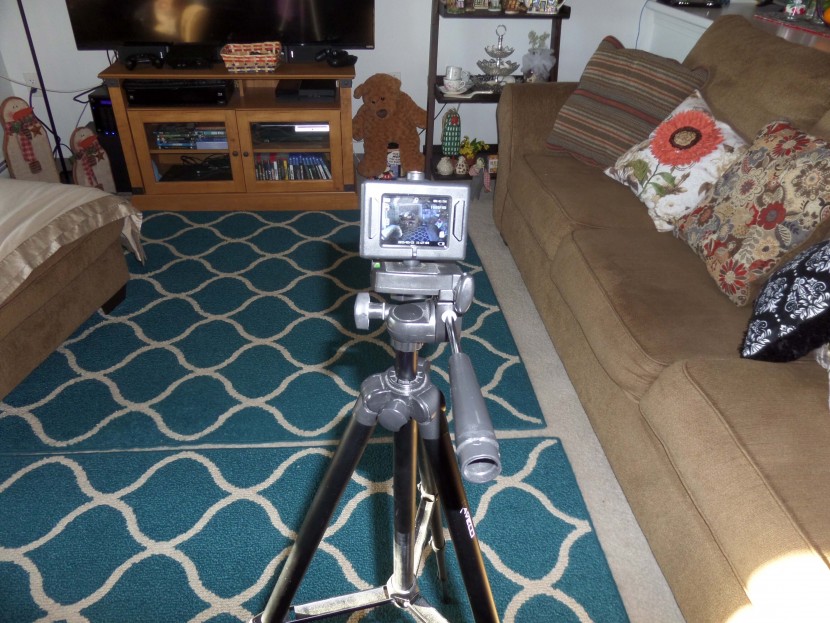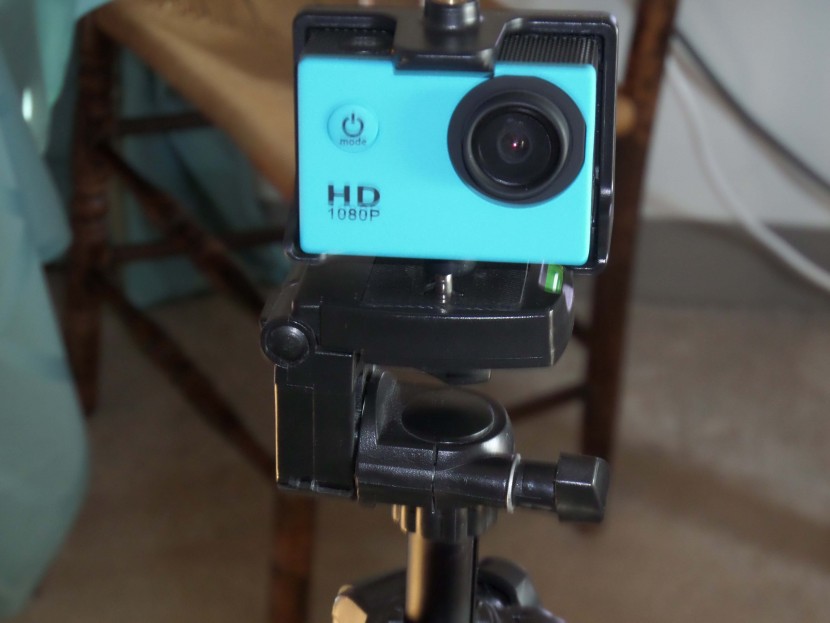 1 Eye Products seem to have thrown almost every thing you need in the kit. Now I would love to see the car kit added down the line to the kit but some of you may not be scared of 3M adhesive or Velcro like I am. Or you could have mounted in your car that way.
There are a few others pieces like Velcro and some pieces that can help you adjust angles on the setups. These pieces I really didn't need to use but at lest they through those in so you have the option.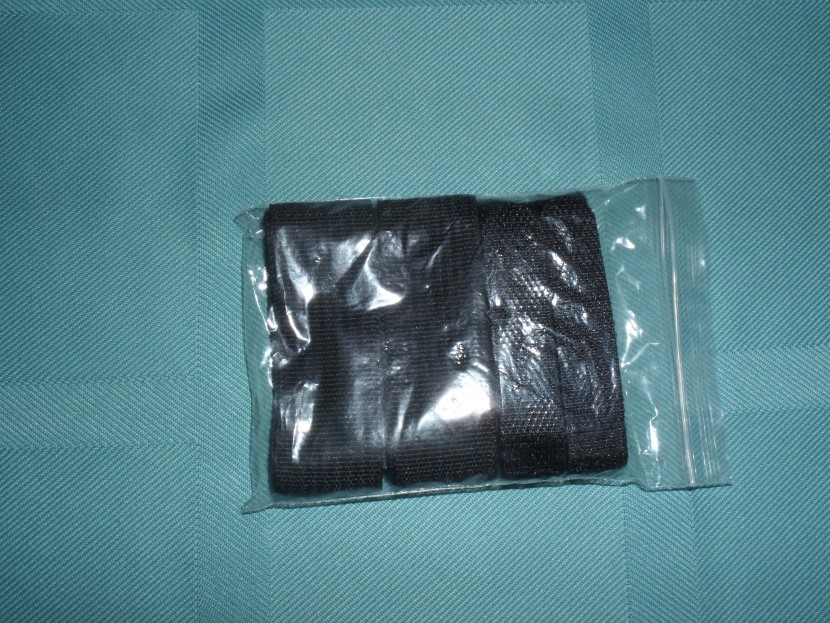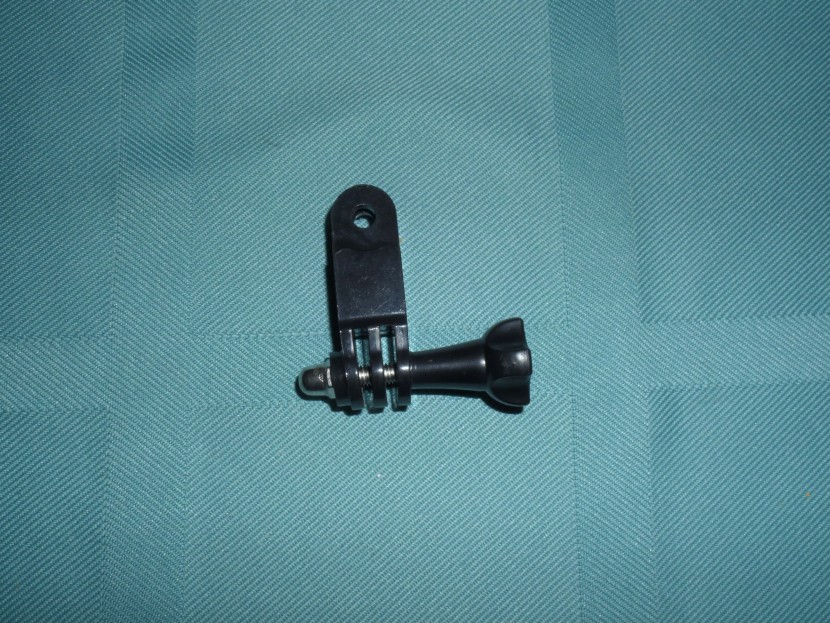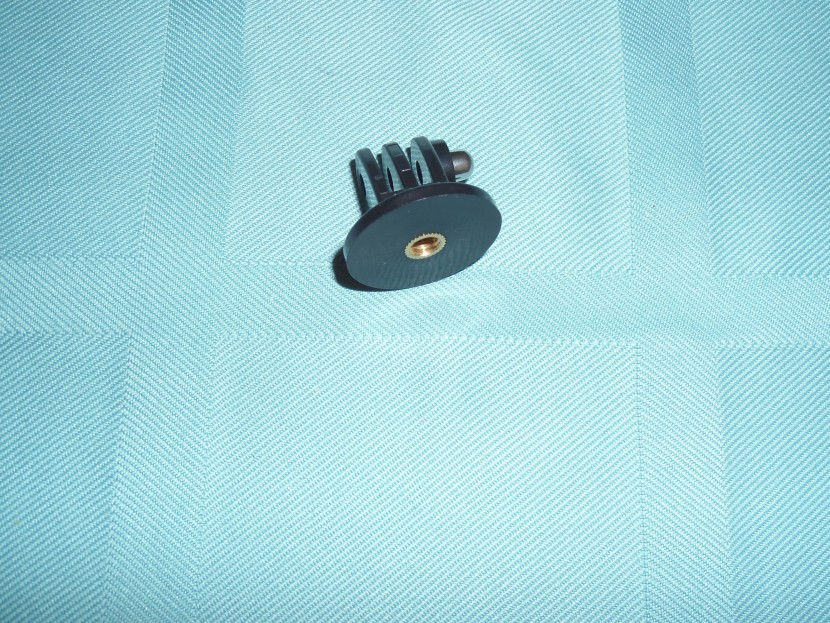 The kit is pretty full and has a great amount of stuff. The microSD card is 8GB which is OK but small for my taste. If you record a lot it will write over previous videos on the card. This was a no-no for me. So I got a 32 GB card. This is the maximum size compatible with the camera. Now the camera when recording breaks the videos down into chunks so you will need to make a movie if you want a long show or clip. This was a little weird for me but not a real big issue. Since this is what made me notice the re-writing over other clips.  This may be something 1 Eye Products can work on in later models but for what they are asking for this camera it has no effect on the review.
A few things I would like to point out is in the settings you can change the screen view, and you can flip it so if your recording upside down the recording won't be upside down when done. You can also set timers or adjust the date. If you want to shut the microphone off you can by pressing the upper scroll button. There are many other items in the settings but I will leave that up to you to discover.
Final Thoughts!
The 1Eye Products Action Camera is a nice piece to add to anyone who is on the go and is a complete kit. You can use it for just about anything. I'm thinking of strapping it to my drone for a different view during flight. They add anything you really need to use it. A very waterproof case that can take a beating. Now I don't say beat it up but it is an action camera so it will get beat on.  For the price or around $39.99 on Amazon you cant go wrong giving it a try considering the extremely budget friendly price and accessories that come with it. Now I'm not saying this is the best action camera out there but for the price it is a great choice. For the person not wanting to drop hundreds of dollars on an Action Camera this could be for you. Or even just to grab for your kid that may want to record their daily play time on the bike or skateboard. The kit is solid and can take a good size beating, I was rough with it and it showed no signs of being damaged or wear. I did have one issue but like I said with the breaking clip but I may have been way too rough when it was un-clipped from the mount. The second one has had no issue and has taken a lot of unclip, re-clip attempts and didn't show any signs of breaking. This is definitely a recommended buy for anyone wanting to record their play time outdoors. I would even say you could use it on the river for paddle boating or even surfing.
Disclaimer:  1 EYE Products sent me there Action camera to test and review. All opinions are mine and mine alone!
We are influencers and brand affiliates.  This post contains affiliate links, most which go to Amazon and are Geo-Affiliate links to nearest Amazon store.
Hi everyone I'm James Braga. I was born in Oregon and moved to New Hampshire a few years back. I love most things that have to do with video games and electronics, It doesn't matter if it for a car or a house, if it has electricity in it i will love it . I'm also in school for Information Systems Technology.