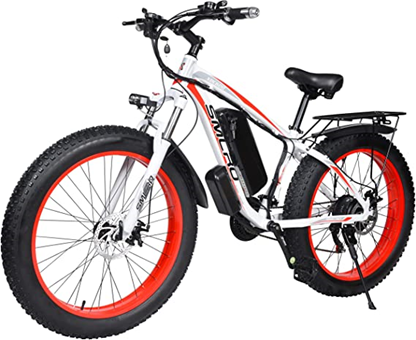 Looking for a 1000W electric bike?
Electric bikes have had rapid growth in the United States. In2021 the number of sales of electric bicycles was up to 148% higher if we compare it with the number of sales in the year 2019. Many people have opted for a bicycle because of how expensive a car can be. Fuel can go up in price at any time and an electric bike can help save a lot of money. The electric bike is ideal for going to work, going to university, or just for a walk. The bike can also help you stay in the good physical condition and is great for improving cardiovascular endurance. The advantage of having an electric bike is that you will need to work less hard to achieve high speed. Electric bikes use a motor that activates the pedaling assistant. The pedaling assistant helps reduce fatigue and achieve higher speed in a shorter amount of time. Finding an electric bike can be a complicated task. That's why I took it upon myself to look for a beautiful, efficient and durable electric bike. The YinZhiBoo SMLRO is an incredible electric bike capable of offering 1000W performance as well as having a beautiful design. This bike is capable of reaching a speed of 25 mph and offers a range of up to 42 miles. If you are looking for a bike with these characteristics you would surely like to know more about this product.
Features of the YinZhiBoo SMLRO electric bike
The YinZhiBoo SMLRO is an incredible electric bike capable of delivering a power of 1000W. This bike has a nice design. A feature of this electric bike is the rechargeable lithium battery. The battery is 48V and 13Ah which is powerful enough to provide a range of up to 42 miles and a speed of 25 mph. Please note that recharging this battery completely can take 5 to 8 hours. The battery offers up to 2000 recharge cycles, this means that if you recharged the bike every day (something surreal) the battery would provide energy for more than 5 years. The bike uses Shimano 21-speed gears to offer comfortable riding. This bike uses 3 riding modes (pure mode, pedal assistant mode, and manual mode). When you use the pedaling assistant mode you can get a range of up to 90 Km. Please note that the range will depend on the state of the road, weather, and weight of the cycle. The frame of the bike is made of high-quality aluminum alloy. The tires have a width of 4″ to resist punctures caused by bad roads or rough roads. The bike is powered by two-disc brakes for safe riding. Keep in mind that this bike comes 75% assembled so you will need to assemble a part of the bike (installation is easy and the manufacturer includes clear instructions). The manufacturer offers a one-year warranty to replace any defective parts.
You can buy this item here: YinZhiBoo SMLRO Electric Bike E-Bike Fat Tire Electric Bicycle 26″ 4.0 Adults Ebike 1000W Removable 48V/13AH Battery Shimano 21-Speed Shifting for Trail Riding/Excursion/Commute UL and GCC Certified : Sports & Outdoors (amazon.com)