Kingston Digital ships the largest capacity and fastest USB 3.0 drive to date with the launch of the Kingston HyperX Predator 512gb and 1TB Drives.  We are talking about a 1TB USB 30 flash drive that is the size of a finger and it is capable of storing not only 1TB of data, but also is capable of 240MB/s read and 160MB/s write speeds.  I have tested much smaller versions of Kingston USB 3.0 flash drives and can attest they do live up to the speed specs they represent, but I couldn't believe that a 1 TB flash drive is being released.
You practically can fit all the data you will ever need to store on a single flash drive, though some would say that is putting all of your eggs in one basket.  These drives are enterprise class drives and aren't cheap, the 512GB model goes for over $1700 and the 1TB model is not yet released but should release in early 2013.
Kingston HyperX Predator 3.0 Features and Specifications:
Highest capacities: uncompromised data storage to carry your digital world on a portable USB drive
Highest performance: unparalleled speeds to save time while transferring content rich data
Zinc alloy metal casing: resilient protection for data in a cutting-edge design
HyperX valet keychain: exclusive accessory for a stylish twist to portable storage
Guaranteed: five-year warranty and free technical support for added peace of mind
Speed¹ USB 3.0: 240MB/s read and 160MB/s write
USB 2.0: 30MB/s read and 30MB/s write
Backwards compatible with USB 2.0
Capacities²: 512GB, 1TB (later Q1)
Dimensions: without key ring: 2.8346″ x 1.0606″ x 0.8268″ (72mm x 26.94mm x 21mm) with key ring: 3.4854″ x 1.0606″ x 0.8268″ (88.53mm x 26.94mm x 21mm)
Operating Temperature: 32°F to 140°F (0°C to 60°C)
Storage Temperature: -4°F to 185°F (-20°C to 85°C)
USB 3.03: latest USB standard guarantees backwards compatibility with USB 2.0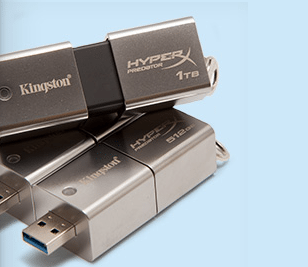 What reasons can you think of that you may need a Kingston Digital 1TB USB flash drive and what would you store on it?  Entire operating system and files perhaps, run a portable OS from any computer anywhere with every bit of data you ever needed?  Maybe this is for big studio's to transport 4k resolution movies on the go since it is too much data to transfer online, I imagine 4k movie files would be nearly 1TB in size depending on length of the film.