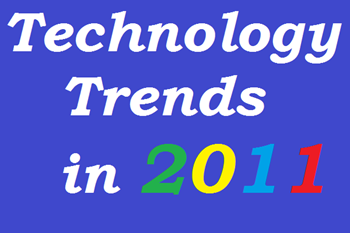 In a year full of interesting developments in the technology space, we experienced events ranging from the death of arguably the greatest visionary of the personal technology space – Steve Jobs – to hacking attacks which affected over 70 million Sony Playstation users in one particularly shocking incident. Needless to say, there aren't enough words to describe all the phenomena which captured our attention in the twelve months of 2011!
In this post we shall look at the most popular and the fastest growing Google searches related to computers and electronics in the US in 2011, in addition to the most recent statistics from Facebook.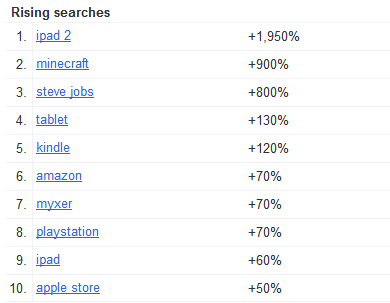 The 10 technology related searches which registered the fastest growth in popularity in 2011 are:
iPad 2
Minecraft
Steve Jobs
Tablet
Kindle
Amazon
Myxer
Playstation
iPad
Apple Store
Clearly and not entirely unexpectedly, Apple takes 4 out of the top 10 slots, and probably had a decent share of the "tablet" search traffic too! The launch of the iPad 2, the death of Steve Jobs and some amazing new additions to the Apps list were most certainly topmost among the factors responsible for this explosive popularity surge.
Amazon launched the Kindle Fire (you can win one right here on Dragonblogger.com for FREE! in a contest coming up on January 1st) in addition to a few more e-Readers, thus accounting for the rise in search numbers.
The hacking incident involving leakage of account information of over 70 million Sony Playstation users most likely led to the over 70% rise in search traffic.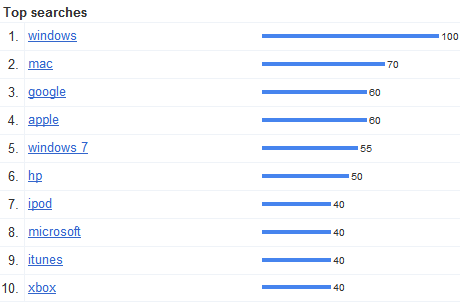 The 10 most popular search terms on Google, in the computers and electronics category in the US in 2011 were:
Windows
Mac
Google
Apple
Windows 7
HP
iPod
Microsoft
iTunes
Xbox
Clearly, the BIG 3 in the technology world have dominated searches in 2011, along with HP.
Microsoft – 1st, 5th, 8th and 10th – Windows, Windows 7, Microsoft, Xbox
Apple – 2nd, 4th, 7th and 9th – Mac, Apple, iPod, iTunes
Google – 3rd – Google
HP – 6th – HP
Meanwhile, Facebook crossed 800 million active users, with over 350 million of them accessing it through mobile phones!
Makes you think that maybe Facebook phone might catch on in 2012 if it comes out with over 350 million users accessing Facebook through a phone.
What trends do you predict for 2012 in the technology field?