We are influencers and brand affiliates.  This post contains affiliate links, most which go to Amazon and are Geo-Affiliate links to nearest Amazon store.
Gaming chairs are chairs that are specifically designed for people who spend long hours in front of their computers, either for gaming purposes or for office work. This is because all of the features of gaming chairs are aimed towards giving comfort to the gamer.
What are the benefits of using gaming chairs?
Posture Protection. Spending long hours hunched in front of your desk can really ruin your posture. Gaming chairs are designed for spinal protection so even if you spend long hours in front of your desk, you can comfortably sit back and relax your back, saving your posture.
Prevention of Health Issues. Spending long hours gaming or doing office work can really give you health issues that bring about back and neck pain. Since gaming chars allow you to relax while you play your game or work, these issues can be prevented.
Gaming and doing your office work can feel very uncomfortable when you are sitting on an ordinary chair. When there is discomfort, you become less productive in your work and you feel stressed easily even if you have just been sitting. But gaming chairs are usually designed for your comfort which is why even if you spend long hours sitting, you will never feel stressed and exhausted.
Gaming chairs come in many styles and brands, but if you are shopping for one, it is important to choose the best gaming chair in the market. Here are reviews of 3 of the best gaming chairs in the market to help you shop wisely.
DX racer gaming chairs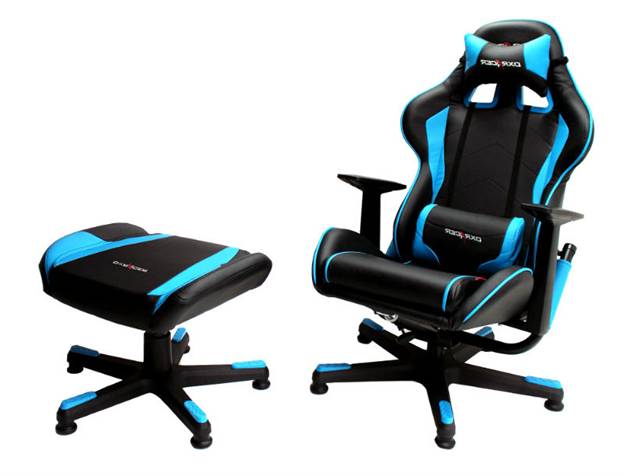 This is the most popular gaming chair in the market nowadays with a reputation of being cool and sporty looking. Dx racer gaming chairs are racing style chairs.
Design: dx racer gaming chairs come in many different colors and models that you can match your chair of choice to your office design perfectly.
Comfort: this gaming chair features an ergonomic design with high and straight back that can be adjusted to your preferred angle as well as it is a reclining chair. This makes it possible for both your neck and back to relax. The armrests are also adjustable and padded, giving you ultra-comfort while working or playing. Seat height can also be adjusted to what is comfortable for you.
Durability: dx racer gaming chairs are not only built for cool design and comfort but also for durability. They are built using a high-density sponge and with a steel framework to make the seat stable, last long and keep you safe even if you are sitting on it every day.
The only problem with these gaming chairs is its weight, which is 70 lbs. Making it very heavy and a challenge to assemble. But overall, since this chair is good not only for gaming and working but also for resting, this makes it a must-have multi-purpose gaming chair.
Kinsal gaming chairs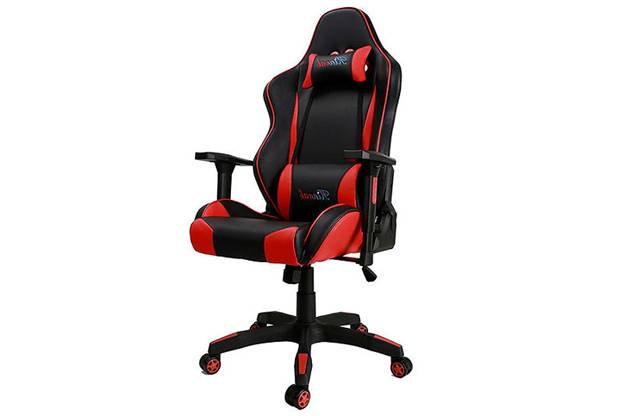 This is another racing car seat styled gaming chair that also comes in many different colors.
Design: these gaming chairs are made with PU leather, which is what makes them neat-looking.
Comfort:  built with an ergonomic design with lumbar and neck support, reclining feature and cushioned all over, it is impossible for users not to feel comfortable.
Convenience: maneuvering the chair is very easy because of its 360-degree swivel feature and caster wheels that allow you to move smoothly, quietly, and without damaging your floor.
Durability: these chairs are made with tubular steel frames for guaranteed durability and safety. Its PU leather is only crafted for quality but it also makes the chair easy to maintain.
The issue with these gaming chars is that it is usually only for gaming purposes. Unlike others its PU leather is not that breathable. You may still feel the leather stick when you sweat and feel hot. But, these chairs were recently upgraded for higher level of comfort. 
Giantex executive racing style gaming chair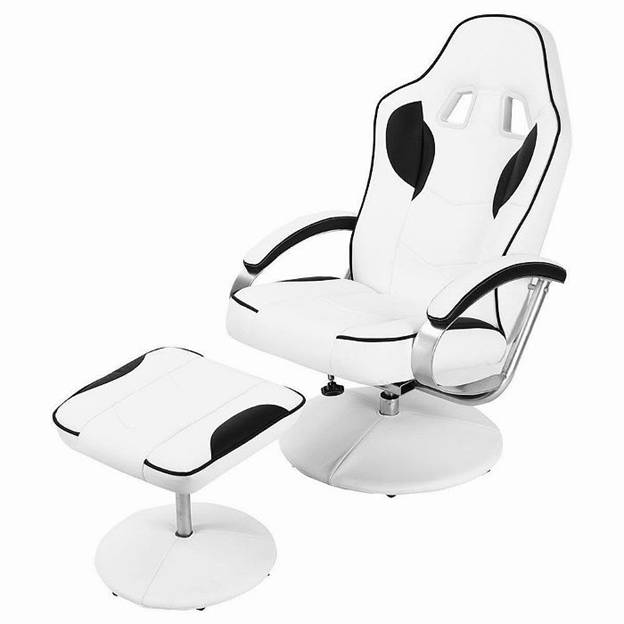 This is considered the most budget-friendly racing style gaming chair in the market. This is popular for oath gamers and office workers not only because of its looks but also of its wonderful features.
Design: this chair comes with an elegant, white PU leather exterior that makes it suitable not only for gamers but for executives.
Comfort: this chair is also padded all over for comfort. The seat can be adjusted as well as it has a high back and adjustable armrests so you can adjust the comfort level you desire. Its reclining feature allows you to rest or take a nap comfortably.
Convenience and durability: turning around in multiple directions is easy because of its silent swivel feature. The 5 wheels can also take you to other parts of your room without creating noise and causing damage to your floor. This chair is crafted with PU leather and with solid nylon base alloy material, making it last long even with everyday use.
Even if this chair is also a challenge to adjust, it is still considered good for its affordable price.
The best gaming chair can save your health and your finances, making it a better investment than massage chairs. After all, once you have a good gaming chair, you won't be needing any massage chair anymore.
About the Author:
Emily Lopes is a medicine student highly interested in the newest computer technology trends. Her aim is to merge technology with medicine and create a whole better world for the upcoming generations.
We are influencers and brand affiliates.  This post contains affiliate links, most which go to Amazon and are Geo-Affiliate links to nearest Amazon store.
This is the Dragon Blogger Guest Bloggers account for author's who want to submit articles and only have credit in the post instead of having to manage their own WordPress profile.