The Riwbox XBT-780 headphone provides a great sound without breaking the bank. If you're looking for a solid headphone that gives you clear sound with solid noise reduction, this is it.
Sound and microphone
The sound on the Riwbox XBT-780 headphones is sharp. These are now my favorite headphone for watching Netflix. That's due to the sharp sound and the shape of the headphone. Audio comes through clear, and these are built to reduce the noise around you. The microphone also has a good sound quality so it works for phone calls. Unfortunately, the headset I received doesn't have English as the default language and I can't figure out how to switch it. Not that it matters, but I thought I'd mention it. The bass is good, although it's not as powerful as some headphones, but I also like how it sounds because it doesn't drown out the audio.
Comfort
Onto my favorite part about these headphones: They're incredibly comfortable. While most headphones give you a neck ache after a bit, these are fantastic. Through the years, I've worn a lot of big headphones, and these are one of the softest and more comfortable ones. These are designed to fit around your entire ear so it doesn't push against the top of your ear. They are also bigger but not so heavy that they pull down on your head.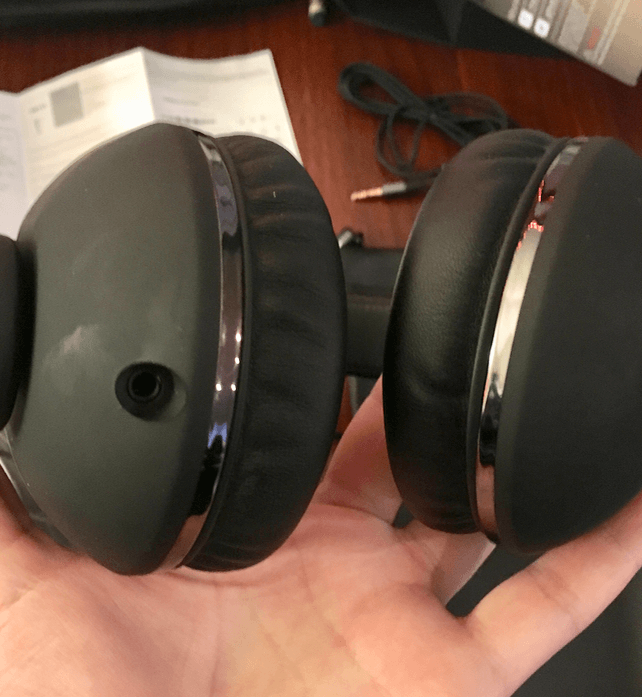 Battery life
The battery life is actually quite surprising for the Riwbox XBT-780. On the instructions say it takes between two and three hours for these headphones to fully charge, but I noticed it took about an hour. They also (so far) last longer than the 18 hours it says. I used these over and over for quite some time and they kept lasting. When the battery dies, you can use the headphone cord and keep listening. Overall, the Bluetooth connection is stable and I haven't encountered any problems while connecting them. I just turn them on and they automatically connect. There is also an audio cord to connect the headphones when your battery dies.
Specs for the Riwbox
Bluetooth 4.0
Foldable headphones
Has a built-in microphone
Noise Cancelling bluetooth 4.1+EDR
Driver diameter: 50mm
Impedance: 32Ω
Sensitivity: 107dB ±3dB
Frequency range:2.4-2.4835G(Hz)
Power rating:30MW
Mic sensitivity: -58dB ± 3dB
Mic frequency range: 30MHMHz-16KHz
Play time:About 18 hours
Standby:≥180 hours
Charging time:About 2-3 hours
Charging Current:500mA
Compatibility:Cellular phone, Bluetooth device; support remote control of play/pause, previous/next track, volume up and volume down
Can be connected to two cells at the same time
The box comes with:
Wireless Headphone
Audio Cable with Mic and volume control
USB Cable
Manual Warranty Card
Carrying Case Bag
I received this product at a discount for the purposes of testing it and reviewing it.  All opinions expressed are truthful and 100% my own.
Jackie is a writer out of Denver, Colorado with a never-ending passion for good TV shows, gadgets, and old-school video games.
Compensation Area of Interest I've been writing articles online for over 8 years, but I'd like to start getting into the review world. I love, love, love TV shows and gadgets.