The popularity of mobile photography has achieved cult status in recent years. With the top premium smartphone manufacturers incorporating crazy technologies on their device cameras, the consumers benefit the most by getting their hands on a professional-level equivalent phone camera. The preposterous megapixels added with an accurate sensor and enhanced software all contribute to elevating the level of smartphone photography to a whole new level.
However, phone cameras do come with some specific limitations, which ultimately prevent you from snapping out the best image every time. The fact is phone cameras will always have a bunch of performance glitches as they are not designed naturally to perform with the precision of the mainstream digital cameras. You can, however, take advantage of some of the latest phone camera gadgets in the market to enhance the quality and accuracy of your mobile camera shots.
There are some particular websites that offer spectacular deals for you daily on such smartphone camera gadgets. Such online tech shops help you obtain the best camera gadgets at the lowest price possible to help you save some extra bucks.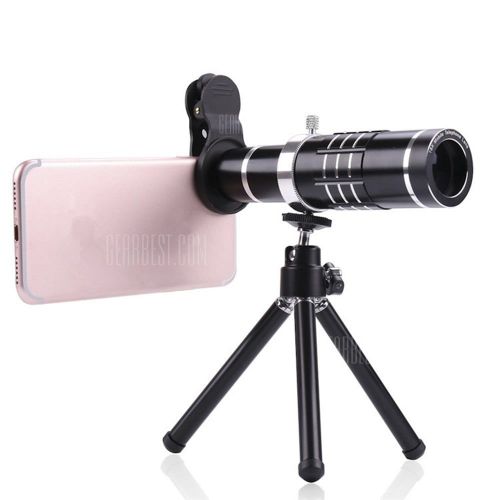 1. Camera Lens
For those people who like to squeeze out their smartphones every now and then to capture the perfect moments, the limited zooming range on the camera poses the most annoying problem. You are left with a completely inaccurate and distorted image, or you have to get physically close if you try to capture far-off objects. Either way, the method of capturing distant images is not the most convenient.
However, with an external camera lens gadget, you can capture distant objects effortlessly without compromising the quality of your shot. These lenses can offer effective magnification power between 2X – 5X zoom feature. They are compact and convenient for carrying it around in your pocket as well.
2. Lightweight and Foldable Tripod
Holding up the phone physically and aligning the perfect angle for a shot is always not the most convenient option, especially if you're out snapping on multiple occasions in a single day, or even recording an extended length of videos. In such cases, tripod gadgets provide the ideal solution by eliminating the need to physically constraint yourself while capturing images or recording lengthy videos.
Tripods are also the better option for mounting your phone on any type of uneven surfaces. Due to their tri-leg design, they can stand comfortably on any surface with consistent stability without the risk of falling and damaging your device.
3. Selfie Ring Light
Selfie is one of the key reasons why phone photography boomed in the initial stages. After all, that was one of the features that eluded the camera market before smartphones came out with their front-facing cameras. In the golden age of social media, selfie photography ranks on a much higher scale than any other type of content. A single selfie photo can make the difference between obtaining an elevated online status or becoming an internet meme.
Since most smartphones do not come with a front flash feature, taking good selfies in low light conditions becomes an impossible scenario. Selfie ring light gadgets help you to click the perfect selfie even in dark lighting conditions by projecting just the right amount of lights on your face.
4. Portable mic
Your everyday usage of a smartphone camera does not just involve capturing random pictures of stationary objects. In addition to that, quality video recording also plays a crucial role. However, a phone video recording is not nearly as effective and impressive without a clear and crisp background audio. The majority of the social media platforms at present allow their users to create and post short videos, and this is where a portable mic comes into play.
The conventional microphone gear can become quite bulky and inconvenient for carrying it around. However, there are copious numbers of microphone gadgets that are light and compact, making them an ideal portable unit.
5. Smartphone LED flashlight
Taking daylight photography is almost too easy and effortless for any type of smartphone, even the most basic ones. However, with limited exposure to natural lighting, mobile photography begins to show evident limitations. The flash mounted next to the rear cameras is always not the most effective in brightening up the place. However, with an external LED flashlight unit, you can take the brightest pictures even with the most limited lighting background.