We are influencers and brand affiliates.  This post contains affiliate links, most which go to Amazon and are Geo-Affiliate links to nearest Amazon store.
Since time immemorial man has always loved capturing the good days and representing their good memories in pictorial form. What started off as cavemen drawing on the cave walls, soon gave way to monarchs commissioning portraits of themselves. Over time the priceless invention of the camera happened, and there has been no looking back since then.
Today, a single photograph fails to captivate people, and moving photographs (or videos as we know them) have become the most widely accepted form of content on the internet. Not only are people relying on video to document their personal lives, but businesses are leveraging this trend to drive home better customer engagement. Today, 87% of businesses have video as a part of their marketing strategies, and most of them believe that it drives home improved results.
The biggest advantage of video is that people across demographics have an affinity towards it, and no matter what your brand is, your target audience will find it relevant. To have your video garner the engagement you expect from it, you must focus on creating it to perfection. Here is a detailed guide to help you in this regard.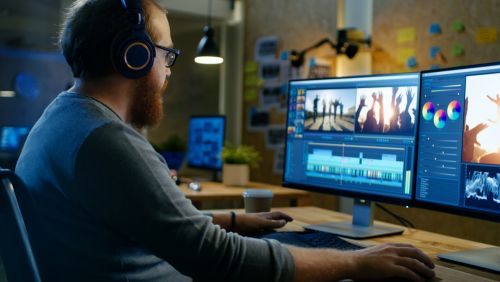 Brand Videos Need Not Be Promotional
A common misconception about branded videos is the fact that they should talk about the brand and illustrate its products, services, or values and illustrates why it is a cut above the rest. Understand that people do not like to hear about a brand boasting of itself. 
Instead, if you can give them something of value, they will remember your help. Coming up with such informative content regularly will help you to establish your brand as an industry expert and prompt people to choose it over others.
Understand Your Target Audience
Before you get down to creating the video content, you need to evaluate your target audience and categorize them into groups based on their familiarity with your business, age, geographical location, etc. Then create videos for each group based on their taste and comprehension abilities. Such a targeted approach will result in a better reach for your videos.
Do Not Compromise on Picture Quality
These days most smartphones allow one to record a video in HD or 4K resolution. Understand that for creating a branded video, such quality will suffice, and you do not need to buy an expensive camera. However, have proper lighting and ensure that there is no mixing of natural and artificial lights. 
Natural and artificial lights have different color temperatures, and mixing of the two will affect the video quality. While the latest video editing tools can fix several shooting glitches, poor quality films show in an edited video as well.
Use an Intro Maker
The first 15 to 20 seconds of any video determine whether the viewer is going to watch any further. And as a brand taking the baby steps to video making, creating a poignant intro is one of the most important things to remember. There are several intro making tools available online and, based on your editing proficiency and budget, go ahead and make a pick.
Try to add a logo of your brand in the intro to establish an air of familiarity. The use of brand colors is another important step in this regard.  It helps to establish a familiarity with the brand making customers more likely to choose your brand when they see your name on the shelf.
Cross-promote Your Video
The beauty of video is the fact that it caters to people from diverse demographics. If you are creating a video for one social media platform, it is a good practice to share it on other platforms as well.  For example, brand videos created on YouTube can be shared on Facebook, whereas those on IGTV can be shared on Instagram. That way, you improve the reach of your videos, and the message is delivered to a wider audience.
Include Subtitles in the Video
If you are a business that is looking at the eye of expansion, you cannot expect everyone who purchases your product (or avails the service that you offer) to speak the same language as you. To cater to a geographical and linguistically diverse community, every brand video that you create must have subtitles or closed captioning. Knowing how to add text to video online is one of the essential skills for anyone planning to prepare a brand video.
Show the People Who Make the Brand
It is a good idea for you to face the camera and have members of your team participate in it as well. This helps potential customers give a face to your brand, thus making them more likely to choose you. In fact, you can create a video on your journey so far, take viewers on a virtual office tour and even create a slideshow from photographs of your team events. If your team engages in any CSR or community initiatives, creating videos on that is a good idea.
Be Cautious on the Music
Most of you would agree that adding music helps breathe life to a video. While this is true and something that brands must consider, there are some things that need to be considered. If your subjects are humming or singing in the frame, make sure that there is no echo. Even with the best video editing tools, it is near impossible to do away with the echo. 
Further, if you are simply using the music of the internet, take care to ensure that it is not copyright protected. Social media platforms like YouTube have an algorithm of identifying copyright music and taking stringent action against the offender. Not only will the video be put down, but your channel or account may also be suspended.
The process of creating branded videos is one that is continuously evolving, and as you work on more videos, you will improve your skills. Do not hesitate to take the leap and begin your journey. With this guide, you are now ready to create videos that will give your brand the visibility you wanted. So worry no more, and join the bandwagon. 
We are influencers and brand affiliates.  This post contains affiliate links, most which go to Amazon and are Geo-Affiliate links to nearest Amazon store.
I am interested in all things technology, especially automation, robotics and tech that helps change how society will live in the future.