Many times I've come across blogs which have .com domain names but are hosted on Blogspot. Most of these blogs still have the Blogspot favicon beside the URL and Page Title. This somehow reduces the brand value of your blog. Here we shall see how a custom favicon can be added to your Blogspot blog.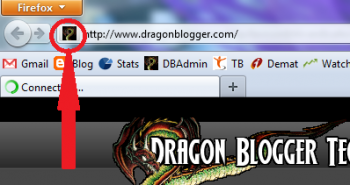 This process of adding a custom favicon to your blogspot blog can be done even if you are using a .blogspot.com domain name. In fact it is totally independent of what your domain name is!
In the past when I had been looking for a technique to add my own favicon to a blogspot blog, I came across many tutorials which explained the process very well, but there was one problem. The Blogger favicon still remained as it was!
Here I'll give you the latest and working method :
1.Go to any Favicon generation site like Favicon.cc and make your favicon. Then download it to your computer.
2.If you have a free account at some site like 110mb.com, upload the "favicon.ico" file to that account.
3.If you don't have a free hosting account, make one now and upload the file. It would take just around 5 minutes (check the spam folder for hosting account confirmation).
4.Now go to EDIT HTML page of your blogspot blog. Just search for "html" tag using CTRL+F, and you will find the following piece of code :
6.Replace the URLs, Keywords and Description etc. and save the template.
Some added advantages of this method include added SEO benefits from the meta tags and Page title styling.
In addition to using this method for "blogger.com" blogs, you can also use the inbuilt custom favicon upload feature currently offered through "draft.blogger.com". Just go to the Blogger-in-draft dashboard, open the layout page of the blog, and replace the Blogger default favicon with your own!