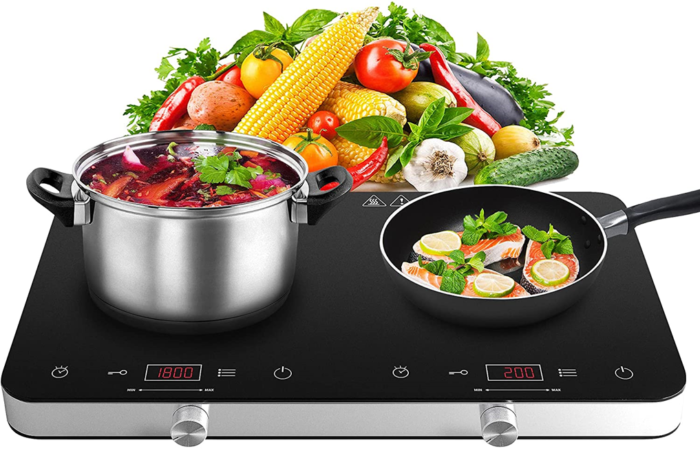 Looking for a portable electric stove to cook easily and quickly?
If you usually live in a cold place you know that you can not always get a profitable source of gas, which can often become a problem for cooking, so, many people prefer to use an electric stove to cook food, I would say that you get more benefits than disadvantages since the plate of an electric stove usually heats up fast, In addition to the fact that all you need is a source of electricity, so you will not have to depend on gas for cooking. One of the most popular options is portable electric stoves, designed so that you can move them without problems.
The portable electric stove is in a few words l a stove with some burners, this means that it does not have a full size, so you can move it very easily. Although it has a portable design, they still require a considerable amount of power, so unless you have a portable high-power power station you will still need to use it from an outlet. They offer great performance, and, in most cases, you should get the same result as a full-size electric stove. Prices can vary, but you can get it at a great price so you can cook without relying on gas.
The COOKTRON 2-burner induction cooktop is a great option to consider if you're looking to cook during cold climates where gas is difficult to get. All you need is to have electricity in your home so you can start cooking your favorite foods. Below, discover the most interesting features of this product.
Features of the COOKTRON 2 burner induction cooktop
If you are looking to cook using electric power, then the COOKTRON 2-burner induction cooktop is what you need to try. The main feature of this portable stove is that it offers an incredible maximum power of up to 1800W, this will allow you to heat the burners to a temperature of up to 464 ° F, and best of all is that the burners will heat up quickly, so you do not waste too much time waiting. The power can be adjusted from 200W to a maximum of 1800W (you can also adjust it in 200W increments).
Like all electric stoves, the temperature can also be adjusted, you can choose a minimum temperature of 140°F up to a maximum of 464°F, you will only need to move the knob to change the temperature, this is ideal to avoid burning meat or vegetables. This electric stove can also be adjusted from the touch sensors so you can use it in a more comfortable way, it also has some modes to increase safety and avoid accidental burns in homes with children. 2 powerful fans are responsible for keeping this electric stove running without any risk of overheating. You can see different alert symbols on a display screen to keep you informed of any problems.
You can buy this item here on Amazon
My name is Joel! I love to read, I go to university like most people my age.
In my free time I usually train boxing, I love music, I also know how to play the guitar and the harmonica.